SportsNation Blog Archives

South Carolina Gamecocks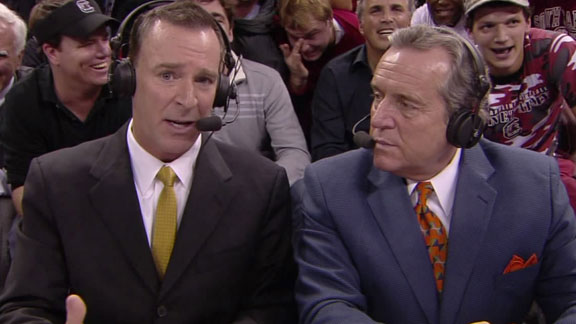 So about us suggesting yesterday that South Carolina had no chance to beat Kentucky? Oops. Clearly, we should have listened to our old friend Vizzini's advice that you never go up against Devan Downey when an upset of No. 1 is on the line. And anyway, if you want analysis, you go to Andy Katz, Dana O'Neil and Pat Forde. We're just here for our looks.
Kentucky's stunning loss at the hands of the Gamecocks has thrown the race for No. 1 wide open (again). But does it really matter? If this was football, Kansas and Kentucky might be sweating a bit. And Texas could go ahead and book rooms for the Cotton Bowl at this point. Yet through the miracle of a playoff system, they're all still prime championship contenders.
In fact, wherever the two teams end up ranked in next week's polls, are the Jayhawks and Wildcats still the best championship bets out there?
Eric (DE)
Is Eric Bledsoe a legitimate one and done player?
Andy Katz

Can he go after this season? Yes. There is a need for more point guards. Should he go? No. He could use another season and would be the star attraction next season assuming John Wall, Patrick Patterson and DeMarcus Cousins bolt, too. Of course Kentucky won't be as talented. But Bledsoe still needs to work on his decision-making and distributing. He can shoot and has the natural speed and lateral quickness down. If Kentucky wins the title, though, I fully expect a mad dash to the draft.
Noah R (Miami,Fl)
Andy what are your thoughts on who takes over the number 1 spot if/when Kentucky loses? Seeing Cuse is ranked number 1 in the RPI and top ten sos and has been very impressive do they get the nod over Kansas and Villanova?
Andy Katz

Syracuse would definitely get the nod over Villanova but the debate with Kansas would be interesting to do. Full Tuesday transcript