SportsNation Blog Archives

Ole Miss Rebels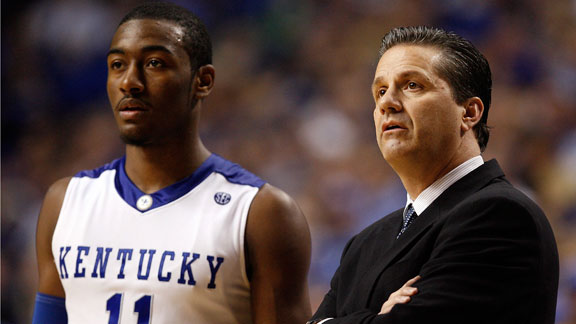 It's getting to be that time, SportsNation. Football season wraps up Sunday. The NBA All-Star Game is a nice diversion, but we're still months away from playoff games. It's about that time of year when we start to pay attention to guys like John Calipari. Well, unless you're John Wall.
By SportsNation's count, Wall backtracked a little more deftly from his weekend comments than golfer Scott McCarron did in essentially suggesting cheating does not a cheater make. But all eyes in the hoops world will still be on the freshman star when Kentucky hosts Ole Miss tonight (ESPN. 7 p.m. ET).
A Big Ten showdown follows that, as Michigan State and Wisconsin (ESPN, 9 p.m. ET) attempt to prove there is such a thing as a showdown in the league. Joe Lunardi's latest Bracketology gives the Big Ten fewer spots than the SEC and Atlantic 10. Is it really that weak?
Peter (Madeline Island)
What are the Badgers going to have to key in on tonight to knock off Sparty in Madison?
Andy Katz

Rebound. The Badgers must rebound against Sparty. The atmosphere should be a classic Kohl game. Full transcript
Terry (the 'Burgh)
If the Big East is most years arguably the USA's strongest mens hoops league, including (maybe) this year, then why don't we ever come close to getting 70% of our teams into The Big Dance like lesser leagues? Is the resulting number just too big?
Joe Lunardi

Terry, 70 percent is by far the exception. The Big Ten has done it in the 10-team era and no one else. The Pac-10 has never had seven and the ACC never did better than six of nine. Ten is the high end for the Big East, and only if everything breaks perfectly. Full transcript
"

It will be awfully tough for MSU to pull out a win in the Kohl Center. But, out of any B10 team, they should be the one to do it. If MSU wins this one on the road tonight, they prove that they are an extremely tough and disciplined team. #1 seed for the tourney.

"

-- amaizenblue402
"

We heard it all year how the Big Ten sucked and couldn't play with the Big East. When State DOMINATED Louisville and handled UConn we thought this trashing and trolling might end. Guess we'll wait until after it happens in this year's tournament to see if they're back again next year.

"

-- spartyon790009