SportsNation Blog Archives

Clay Buchholz
First Tiger Woods, now Clay Buchholz; it's been kind of a weird month for outside observers calling out players for alleged cheating. Blue Jays broadcaster and former pitcher Jack Morris accused Buchholz of throwing a spitball during his win Wednesday against Toronto. Buchholz has been pretty effective this season -- he's 6-0 and has given up just five runs in six games -- but a spitball seems like an awfully old-time way of breaking the rules. Regardless, Buchholz probably will have to deal with surprise cap-brim and glove inspections the next time he takes the mound.
Bill Hare: "'I think the umpires should keep a more careful look at him for a while."
Michael Robert Olheiser: "It could be possible, but Buchholz has had plenty of success before this year."
Peter Schmiedicke: "He kept putting his two forefingers on his forearm and even tapped his finger a few times. Pitchers don't do that, sorry."
Scott Taylor: "Has everyone else been throwing spitters against the Jays too? Their record would seem to indicate it."
Angel E. MenÚndez: "After all this steroids issue, it is great to go back to The old spitball controversy. I thought I was watching ESPN Classic."
Terry Kern: "This publicity can only help Buchholz if he plays it right. Buchholz can hot dog it up even more by rubbing his hair or arm more often than he already does, giving the hitters more to think about."
Join the conversation or respond by signing in or creating a profile and blogging.
Did you know that the Boston Red Sox have the fourth-best offense in all of baseball? It's true. You can totally look it up if you don't believe us. That's a pretty good offense! It's just that the pitching is, well ... less than stellar. Only the Minnesota Twins have a higher team ERA, and considering Clay Buchholz is looking to avoid being the only pitcher in history to give up five runs or more in seven consecutive starts tonight, don't look for that ranking to be set in stone. It's officially gotten bad in Boston, as ace pitcher Josh Beckett was booed on Thursday night after bring lifted in the third inning. Is this as bad as it gets for the Red Sox?
---
Worst of the worst?
It seemed like the Red Sox had everything figured out a few weeks ago, but that was before they lost six straight games at home.

---
Who's to blame?
The Ben Cherington/Bobby Valentine era in Boston has not gotten off to a great start, but most of these starters were on the Red Sox before those two took over.

---
Bigger disappointment?
Clay Buchholz has a much higher ERA, but Beckett is the ace of the Red Sox franchise and an ostensible leader in the clubhouse.

---
Just a fluke?
A 5.29 ERA is awfully high for an entire pitching staff. Are the Red Sox just going through a teamwide slump?

On Aug. 28, CC Sabathia gave up nine hits and five earned runs, including two home runs, in seven innings yet picked up a win against the White Sox. On Sept. 23, Felix Hernandez gave up two hits and one earned run in eight innings and took a loss against the Blue Jays. Who pitched better?
All right, it's a loaded question. Many people would point out Sabathia's start came with the Yankees locked in a tight AL East race and against a White Sox team still in contention at the time. Hernandez, on the other hand, was pitching in front of 12,000 fans wishing it was hockey season in Toronto. Others would answer that five is still five times as many as one.
Still others, namely David Price, would cough loudly and glance at the AL East standings and then at his own stat line ... and then back at the standings.
So a day after Sabathia, Hernandez and Price all won games, who should win the AL Cy Young? We posed the question in a number of ways, listing just the players, the players and their stats and just their stats. In all three cases, Sabathia got the nod.
M@ (Hattiesburg, MS)
As wide open as the AL CY Young race is, I haven't heard Jon Lester mentioned once, even though his numbers are better than C.C.'s. across the board, an equal to Felix. For instance, opponents hit .243 off CC, .213 against Felix and .214 against Lester. Did his flirtation with a no-hitter against the Yankees Saturday put him on the map, finally? Who would you give the CY to?
Joe Morgan (before Hernandez and Sabathia's wins Tuesday)
I think he's always been in the race in my mind. I like what Felix Hernandez has done, but he has won only 12 games. People say that he doesn't get support from his teamamtes, but guess what, every award is a team award. You can't win the MVP without your teammates. Do we look at an MVP candidate and say his team didn't give him a chance to drive in runs? The fact is that Felix has won 12 games and CC has won 20. It is harder to win in a championship environment in New York than in Felix's situation. Just look at AJ Burnett this year. Felix has done a good job this year, but he's not in the same difficulty level of pitching this year as CC. Full transcript
Scott (Boston, MA)
Whats your take on the AL CY Young race? Should it go to the guy with the best pitching stats (Felix Hernandez) or the guy with the most wins (CC) or the guy with the closest combination of both (Jon Lester)?
Nolan Ryan
That's a good question. I would also like to consider the impact that pitcher had on his team being competitive in a pennant race. I don't know who I'd pick. Full transcript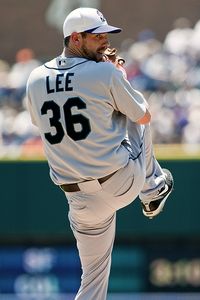 Cliff Lee hasn't had much difficulty polishing his Cy Young credentials against hitters in recent seasons. General managers, on the other hands, have mastered the art of keeping awards out of his hands.
Lee won the AL Cy Young in 2008 but any chance for a repeat in 2009 was derailed when the Indians traded him across leagues to the Phillies. Another offseason swap landed him back in the AL, but will a strong first half only serve to spark yet another trade? Or might Lee mount a Cy Young season from the depths of last place?
"If you guys think you're going to get him easily than you're kidding yourselves. This isn't Bill Bavasi running the team anymore, we are not giving up players like Choo and Cabrera for nobodies anymore. I would almost rather just keep Lee, get the two draft picks at the end of the year and watch Z do what he does best which is drafting great talent." -- SN commenter CGhereICome
Mike W (Chicago)
Lets start this off with Cliff Lee. What are the odds he goes to Cincinnati for a playoff push and what would it take to get him?
Jerry Crasnick
Mike, I find the Reds to be a very interesting stealth Cliff Lee candidate. There's something special going on with that team, Walt Jocketty has a history of making deals like this, and the owner, Bob Castellini, is a very motivated guy. But Edinson Volquez's comeback clearly complicates matters. I think they'd like to give Volquez another couple of weeks before they jump in with both feet on Lee. Full transcript.
How much sleep do you imagine the average MLB GM has gotten this week? One hour? Two? Two and a
half
? The days leading up to the trade deadline will do that to a person. Conventional wisdom states that the first third of the season is used to evaluate what your team needs, the second third is used to get what your team needs, and the third … the third is used to win with your newly revamped team. There are a few hours left in that second phase, a time when championships are forged, nerves are tested and probably a lot of take-out is ordered. Victor Martinez has been the big name flying around recently. The Red Sox are currently working on a
three-team deal
with the Indians and an as-yet unnamed third team that would send Martinez to Boston, Clay Buchholz to Cleveland and several other players to various places to even out the deal. A week ago, SportsNation thought the Red Sox
should have
swapped Buchholz for Martinez straight up. Based on the way the Red Sox offense has been performing lately (hint: not well), acquiring a big bat may be just what the team needs to beat the Yankees. At very least, it might distract from all that
other
unpleasantness.
"

this is a waste for the Sox. Victor Martinez an aging catching who is a DH in waiting. Victor is considered a sub-standard catcher as far a game management goes. He does have a good bat but you can find a DH anywhere. Giving up Buchholtz for Martinez would really be a stupid move on the Sox part

"

-- ed0057
"

I think Martinez would fit perfectly on the Red Sox because with Tek getting older and power production down, Martinez could add more production and depth to the lineup and if he were to do well with the red sox then maybe they could sign him to a long-term deal.

"

-- yungzak
"

If the Red Sox land Martinez, then what happens to Varitek? He's the team captain and he'll be sitting on the bench. You can't DH him, then you have to put David Ortiz at 1B and we all know how well he fields.

"

-- tybae40