SportsNation Blog Archives

Brad Lidge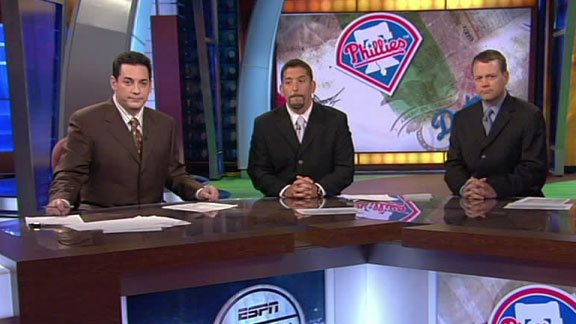 Where is Mitch Williams when you need him? Heck, where is Jose Mesa when you need him? Brad Lidge now has more blown saves (11) than Cole Hamels has wins (10) this season, courtesy of a walk-off hit from the Marlins' Brett Carroll Wednesday.
A month after SportsNation voters ranked Lidge almost dead last among contending closers, the Phillies don't have many options at the back of the bullpen. Brett Myers has battled injuries, Ryan Madson is setting up and Kent Tekulve remains retired. And that could make for a stomach-churning October for fans.
But is watching a closer slowly implode a fan's worst nightmare? What about the crushed hope of a missed field goal at the end of the game or the suddenness of a buzzer-beating basketball shot?
"

This is depressing now. I get no satisfaction out of watching this at all. Lidge is done, i'd be shocked if he gets a look see from another team next year, even as a setup man. If he does, and the Phils eat the rest of his contract, someone is gonna give you a few hundred K tops to try him out in Spring to see if he's got anything left.

"

-- JHove739
"

Charlie has lost it completely; he sticks too "we signed him as the closer" - This is were a good GM or a team run like the EAGLES needs to step in and treat the game like a business; and do what's best for the team;

"

-- GHVentura
Billy Wagner hasn't pitched in more than a calendar year. He's coming off Tommy John surgery at 38 years old. He was reportedly placed on waivers by the Mets -- a team that might as well print its "abled" list to save paper -- now that he's on the verge of returning. And the sad part is you suspect at least half of the general managers in the pennant race got a little excited when they heard the news.
The defending champions have a closer with an ERA that looks like an NBA sixth man's points per game. The Cubs just banished Kevin Gregg in favor of Carlos Marmol, who has walked 52 batters in 56.1 innings. And Ryan Franklin is suddenly the second coming of Lee Smith in St. Louis. We're just saying the ninth inning is going to be kind of an adventure in the playoffs this year.
"

I have wanted Marmol to be the Closer all year. I thought they snubbed him by bringing in Gregg. They also had Marmol change some of his delivery mechanics.

"

-- natesweet72
"

Dodger signs of the apocalypse: ... Jonathan Broxton blowing 5 of 7 saves and still having only 1 loss.

"

-- phcool757