SportsNation Blog Archives

Boston Red Sox
September 28, 2014
Sep
28
Of all the tributes to Derek Jeter from fans, fellow athletes, celebrities and, really, everyone, this -- from Ashley Kelly, wife of Boston Red Sox pitcher Joe Kelly -- might be the best:
When I was 12, I thought I would marry Jeter. Instead I married the guy that took a selfie w/ him during his ceremony pic.twitter.com/3BrkWBQHgy

— Ashley Kelly (@ashleynicokelly) September 28, 2014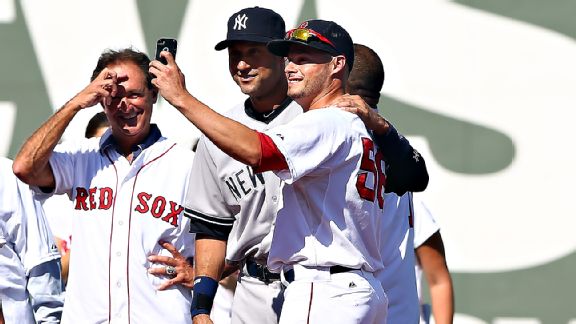 Elsa/Getty ImagesTake a guess as to which one is Derek Jeter.
So there you have it. This post goes out not only to Jeter, but to all the ladies who have had to settle for us non-Jeters. Our condolences.
Meanwhile, here is Kelly's selfie. Sorry, his #2ELFIE.
#RE2PECT #2ELFIE pic.twitter.com/s5ZfaVYSLf

— Joseph Kelly Jr. (@JosephKellyJr) September 29, 2014
H/T Bleacher Report