SportsNation Blog Archives

Evan Longoria
So much for a chance for Robinson Cano to boost his MVP candidacy with some free airtime (granted, it's not like people who play for the Yankees hurt for exposure). The Home Run Derby wanted Robinson Cano, and Cano wanted to take part in the Home Run Derby.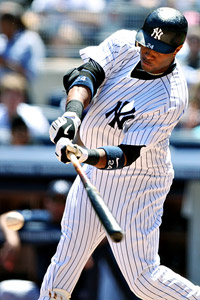 There was only one small problem. The team that pays Cano wasn't interested. Citing a back injury hampering their second baseman, the Bronx Bombers pulled Cano from the hitting contest. And at least one fan thinks that's a dive worthy of a yellow card.
"Joe Girardi better not manage the game, he might get hit with a foul ball and not be available to manage the Yankees for the second half. And Jeter better not play, he might pull his hamstring and be out for 2-4 weeks, too much risk. And A-Rod better not play, he might bounce a foul ball off his toe and we might not have him for the rest of July and part of August.

"In fact, we should just cancel the whole All-Star Game because there might be an earthqu -- wait, better yet -- a giant meteor MIGHT fall out of the sky and hit the stadium, crushing all players, coaches, officials, stadium workers, and fans!" -- SN commenter mfriedmeyer
Pete (San Francisco)
Who are your AL and NL MVP's at the half-way-point of the season? I know we still have half a season to play, but if you were forced to choose someone from each league to be an MVP at this point in the season, who would it be?
Joe Morgan
In the AL, I would pick Robinson Cano. His team has the best record in the league and he's their leader, their star player. He's been their most productive and consistent player on their team. The NL is a little toughter. I would have to give it to 2-3 guys: David Wright, Troy Glaus, Pujols. Then I'd have to give Scott Rolen and Joey Votto a nod. I don't think it's as clear cut in the NL as it is in the AL. Full transcript.
Dan (Detroit, mi)
Is Miguel Cabrera the best hitter in MLB today?
Jerry Crasnick
Dan, Even though Albert Pujols isn't having quite an Albert Pujols-type of year, it's hard to pick anybody over him. Still, Cabrera is having an amazing year. He's got to be right in the MVP mix in the AL. Full transcript.
Short of trading for Carlos Zambrano, the Rays seem to be almost out of ways to make themselves the fall guys in some of baseball's strangest stories. Beaten in a perfect game by the guy previously famous only for calling out Alex Rodriguez? Yep, that was the Rays. No-hit by a guy who threw 149 pitches and walked eight batters? Right again. Involved in a dugout confrontation after a player gave Hanley Ramirez a run for his money as the biggest loafer in the state of Florida? You guessed it.
All of that and Joe Maddon's team is still just three games behind the Yankees in the race for the AL East and the best record in baseball (although there are teams between them and the Bronx Bombers in both cases). Talk about knowing how to make your losses count.
Evan Longoria says that the confrontation between him and B.J. Upton after the latter appeared to jog after a ball to center (at least he didn't kick it) is over and done with. But how bad was Upton's sin?
"

Tickets to the game $180, new glove for the boy $65, hotdogs and drinks $15, watching the outfielder on your favorite team jog to the ball. . . priceless!

"

-- whitesugarshaq
"

I love the Rays... but we have fallen so hard in the last few weeks, its so frustrating! We went from the #1 team in Baseball, to not even being a .500 team in the moth of June. I agree BJ sucks and I think Jennings would bring alot more hustle to the club!

"

-- stoshws6
As befitting a profession in which one must hurl a ball at ludicrous speeds toward gentlemen who could potentially send it hurtling back at even more ludicrous speeds, pitchers in major league baseball can be a bit emotional.
Witness Roger Clemens throwing a bat at Mike Piazza, or Carlos Zambrano destroying a water cooler, or Francisco Rodriguez pointing to the sky after a big strikeout. Or, if you want a more recent example, consider that of Matt "Big Game" Garza. Garza has seen Evan Longoria's tower buzzed before, so when Joba Chamberlain threw at the talented third baseman, Garza felt he had to respond. Down went Mark Teixeira in the next inning, and both benches were warned. Significantly, Garza admitted to
throwing at Teixeira on purpose
, which is either refreshing or dumb, depending on your temperament and affiliation. Beanball wars aren't a new thing in baseball, but they're usually couched in some semblance of denial ("My hand slipped"/"It just got away from me"/"I was distracted by a wave of ennui"). Garza's straightforwardness may be bold or dumb, but one thing is for certain: it'll cost him some spending money.
"

Overall, I love the affect this has on the AL East. We need to see more blood boiling rivalry.

"

-- jasonbye
"

IT IS NOT COOL TO THROW AT SOMEONE'S DOME PIECE...

"

-- rex_aau_coach
"

What a baby. If you he was going to throw in retaliation, he had ample opportunity to hit Jeter at the top of the inning. That pitch barely grazed Teixeira. If that was retaliation, perhaps that is the reason that the Rays are floundering in third place and look hapless, much like last night.

"

-- yankeejoe225