SportsNation Blog Archives

Leodis McKelvin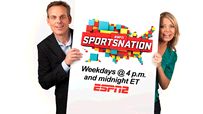 Michelle Beadle and Colin Cowherd call the plays from the sidelines and aren't afraid of audibles during "SportsNation" TV.
Argue the hot topics of the day and vote on the biggest stories from the world of sports. The show airs on ESPN2 at 4 p.m. and midnight ET.
Note: Broadcast voting results as of this afternoon (ET).
How would you rate the Yankees-Jays brawl?
Jorge Posada bumped Toronto reliever Jesse Carlson after crossing home plate. They exchanged words, and the benches cleared.
Could you swim faster than Shaq?
Shaq actually beat Michael Phelps in one of three races (although he swam shorter distances than the Olympian). You get to choose the swimwear.
Will the crowd at the new Cowboys Stadium affect the Giants?
Jerry Jones wants to open his new stadium with more than 100,000 fans. Will they bring the noise or be too busy watching the giant TV?

What do you think of fan vandalism?
The front lawn of a home belonging to cornerback Leodis McKelvin was vandalized following Buffalo's season-opening loss to New England.

Which would you rather wear around your house?
Bill Belichick's hoodie has that casual, day-on-the-sideline appeal, but the Snuggie is warm, cozy and screams, "Home!" with those sleeves.
What is "SportsNation" TV, and how do you make your voice heard? Read about the new ESPN show that features fan opinions with calls, tweets, polls, rankers and more.
We're going to talk about civility. And if you don't like it, you can take that keyboard and shove it ... sorry, we got a little worked up.
Kanye West and Rep. Joe Wilson have made civility a hot topic in recent days, but the sports world can be plenty uncivil all on its own, thank you very much. Serena Williams went off on a lines person at the U.S. Open, Roger Federer dropped in a few choice words of his own in the men's final and Bills returner Leodis McKelvin found his lawn vandalized in the wake of a costly turnover against the Patriots Monday. Pouring a beer on Shane Victorino seems almost quaint.
Next on the agenda? Tennessee's visit to Florida, with almost 90 percent of voters convinced Urban Meyer will make the most of any opportunity to run up the score against Lane Kiffin. Would Meyer be adding to the list of wrongs or striking a blow for civility if he did?
SportsNation blogger JMSuarez15, a school teacher, says athletes like Leodis McKelvin accept a degree of incivility when they sign for big money -- much more money than any teacher makes. And if McKelvin doesn't like it, he shouldn't fumble.
"

Wow! I realize that emotions can make people do regretful things, but to vandalize someone's property over a GAME is over the line. Football players are human too, and they have families and children. Maybe McKelvin deserves to be booed but not this. If you bet money on the game and lost and you're pissed enough to vandalize people's property over it, then maybe you shouldn't be betting on games. I have had my share of meltdowns over football(lol I'm a Jets fan!), but I would never take it that far.

"

-- Jesse111080
"

Here it comes Tennessee. Here it comes. After all that trash talk by your head coach, you are now going to have to stand up and get punched in the face. This game was going to be a beat down before all of this happened but Kiffin gave the Gators one thing they didn't need in the first place, motivation. Say what you want, hope for all you're worth, pray all night. It won't mater on Saturday. When the Gators are beating you by 40 in the 4th quarter, the football is going to be thrown into the end zone over and over with the score climbing higher and higher. And while it's happening just rememeber one thing, you asked for it.

"

-- ottomason