SportsNation Blog Archives

Matt Forte
The NFL is considering a rule that would penalize running backs for using their heads as weapons, docking them 15 yards if they initiate contact with the crown of the head outside the tackle box. Bears running back Matt Forte calls the rule change ''absurd'' and says that rushers will be unable to adjust to the new rule. Is he underestimating his fellow running backs, or will this really be too much to handle?
skylinespartans14: "Next thing you know, they'll outlaw stiff arms because you might poke someone's eye out."
gregsky411: "It will be interesting when Adrian Peterson runs over a linebacker and bolts 50 yards for a TD, only to bring up 2nd and 25."
cjhildy: "IF the players do not like the rule changes that they implement and/or propose for safety then they should stop suing the league for any safety related issues."
That'sEnoughSkip1.6: "So in order to promote player safety, they're gonna make a new rule that forces ball carriers to take full-speed collisions straight in the chest or ribcage?"
vwrice: "This is a stunt by the NFL to get the NFLPA outraged so they can have this rule stopped. This way the NFL can seem like they are trying to do something about head injuries. It insulates them from lawsuits. "
pick573: "Leading with the head is how running backs gain leverage on taller and larger defenders. They'd get swallowed up otherwise. This change would defy the laws of physics. Safety... you've gone too far."
Join the conversation or respond by signing in or creating a profile and blogging.
Lovie Smith thinks Matt Forte will be back this season for the Bears, despite a sprained medial collateral ligament in his right knee that usually takes two to six weeks to heal. But even if Forte hits the short end of that timetable, should he play? The 25-year-old runner is without a contract beyond this season, mostly because the Bears didn't want to give him the same kind of deal fellow backs like Chris Johnson and Adrian Peterson received.
"Take your time, Matt. The Bears don't care about you. Angelo has never cared about any player. Why rush back and risk your future? Especially when every defense in the league now knows you're the one bright spot on the black hole that is the Bears' offense." -- SN commenter mmader1
"This makes Chris Johnson look like a genuis and sends a message to superstars to hold out until you are paid your fair market value." -- SN commenter theglasskey14
---
What should Matt Forte do?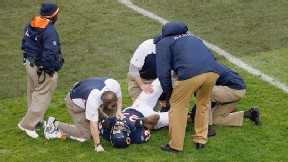 The NFC wild-card race is still wide open, even for a team starting Caleb Hanie at quarterback. Should that influence Forte's rehab plans?

---
Should the Bears open the wallet?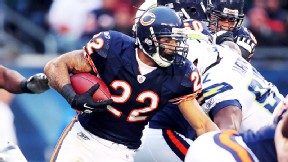 The Bears have already said they will use the franchise tag if a new deal can't be reached, but is that the right call?

---
Would you hold a holdout against Forte?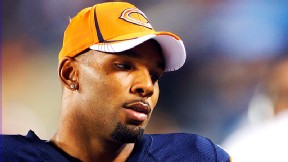 The franchise tag would likely be worth at least $7 million for 2012, but running backs don't always have a lot of prime earning years.

---
Who comes out looking worst?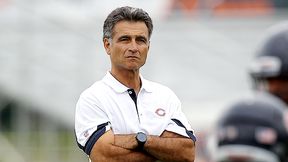 Chris Johnson refused to show up. DeSean Jackson showed up but faces questions about commitment. And Jerry Angelo (above) gave nothing to a guy who gave his health to the team.

There's little doubt who the best running back in football is these days; he's the guy that has more states than Minnesota native Walter Mondale carried in 1984 voting for the Vikings to win the NFC North despite Brett Favre's decision to stay retired.
As long as you have Adrian Peterson, you have a chance. Then again, that's not altogether different from how people felt about Larry Johnson as the 2007 NFL season approached.
You remember Johnson, the guy who rushed for 1,789 yards on a record 416 carries in 2006, a year after topping 1,700 yards with 20 touchdowns in a breakout campaign. Back in June, 2007, voters said he was the second-best back in the game (granted, Secretariat's margin of victory in the Belmont was a photo finish in comparison to LaDainian Tomlinson's lead) and clearly the Chiefs' most indispensable player.
Now it's 2009 and despite better than 800 yards last season, Johnson can't get a sniff when it comes to the backs "SportsNation" (4 p.m. ET, ESPN2) is asking voters to rank for Thursday's show. Just more proof that success can be fleeting at one of the NFL's most physically demanding positions. Be forewarned, Vikings fans.
"

wonder where RBs that had a goodly amount of carries combined with a goodly amount of receptions fit in in all this? For example: Matt Forte had 316 carries last year, far below the 370 curse mark, but also caught 63 passes...combined touches 379, so he's over the limit. May not mean anything at all, but I expect to see a drop off in his production this year simply because teams will scheme to shut him down more, IMO.

"

-- The Mini Ditkas
"

L.T. will duplicate his numbers from last season, and I can tell you now.. I spent too much time watching him log around 50 yards with zero scores to rest easy. Time to find a new horse for my squad.

"

-- noodlerii
Tags:

Joseph Addai, Marion Barber, Ronnie Brown, Matt Forte, Frank Gore, Ryan Grant, Steven Jackson, Brandon Jacobs, Chris Johnson, Thomas Jones, Maurice Jones-Drew, Marshawn Lynch, Adrian Peterson, Clinton Portis, Steve Slaton, Kevin Smith, LaDainian Tomlinson, Michael Turner, Brian Westbrook, DeAngelo Williams, Larry Johnson