SportsNation Blog Archives

Chris Johnson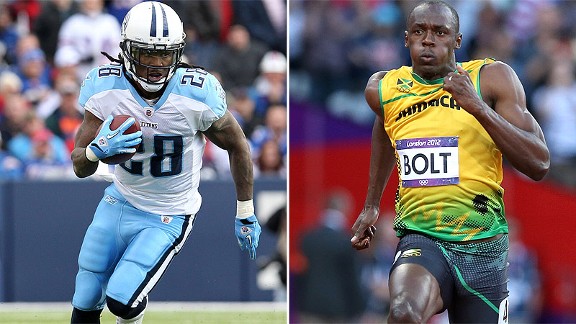 Chris Johnson thinks he might have to train a bit for it, but is confident that he could beat Usain Bolt in a 40-yard dash. Bolt's one weakness in his 100m races is the time it takes him to get up to speed, but would he still blow Johnson away?
Rusty Shackleford: "In Bolt's world record 9.58 run he completed the first 40 yards in 4.11 sec. (taking into account reaction time). Obviously 4.11 is better than 4.24, but you also have to take into account that Bolt was wearing spikes on a track and used a starting block."
ur2cy: "40yds is like 35 meters or a third of Bolt 100m race. Who cares CJ. Bolt may start "slow" to you guys but he is sub 4 seconds even at that distance and start. CJ needs to focus on being the best back again not racing Bolt."
dabulls129531: "In his prime, Barry Sanders would have been a challenge to Bolt"
SpainWinzBballGold: "It could be close because Bolt starts slow. "
HuckleberryJohnnyRingo: "On an average Bolt day, with CJ at his FASTEST, it would be close for 40 yards ONLY!"



Join the conversation or respond by signing in or creating a profile and blogging.