SportsNation Blog Archives

DeSean Jackson
DeSean Jackson has admitted that he didn't give a full effort in 2011 because he didn't want to get injured before signing a long-term deal. Do you believe he'll give 100 percent this season?
ksam5: "Wonder if DeSean feels bad enough to give back the percentage of his salary that relates to his "less than full effort"?"
SBA213: "Glad to see him actually admit it, though I'm not 100% sold he is going to play much different with the $$$."
Gold N Blue: "All of this talk about DeSean being selfish or overrated is nonsense. Nobody held a gun to the head of Philly's management and forced them to sign this deal. They paid DeSean what they thought it was worth to have him around for the next 5 years, and I am sure they took his motivational issues into consideration when they drew up the contract. "
runjet1: "Why would you put yourself at risk of potential career ending injuries w/o some sort of LT deal? I dont get why people are not more supportive. Sure, I can get fired if i dont do my job (i'm not a union member) but I also dont risk a career ending injury b/c of my job!"
BoBikesBama: "why did he bother saying this? that's what I don't understand"

Join the conversation or respond by signing in or creating a profile and blogging.
There have been more than a few noteworthy arrivals in Bethlehem, Pa., in recent weeks, as guys like Nnamdi Asomugha and Ronnie Brown showed for work at the Eagles' training camp. But might Monday's arrival of a more familiar face be the key to this team living up to the hype? DeSean Jackson still doesn't have a new contract in his hands, but the big-play receiver dropped his holdout after 11 days. Rank 'Em: Who are the NFL's top receivers?
"I don't understand why the Eagles, after all these acquisitions, can't re-sign their best playmaker and gamebreaker WR. Ridiculous. If I was him, even though their team is elite on paper, I would choose not to sign with them after getting no love or even sitting down to discuss an extension. I know it's a business, but really?" -- SN commenter SheldonDoe
---
Should Jackson get a new deal?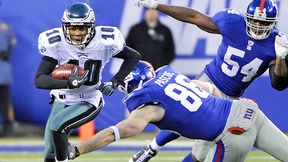 We can all agree Jackson is a bargain at $565,000 in the final year of his rookie contract, but is a wait-and-see approach the best call for the Eagles when it comes to an extension?

---
Jackson or Asomugha?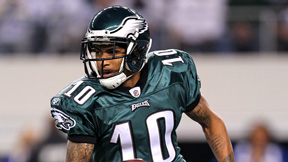 The Eagles added a guy widely regarded as one of the best in the game at shutting down receivers. But is a receiver like Jackson, who opens up the offense, more valuable?

---
Jackson or Terrell Owens?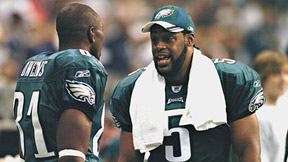 Speaking of valuable receivers, the team's only Super Bowl trip in recent memory came with Terrell Owens catching passes from Donovan McNabb.

---
Does Jackson bring the whole game?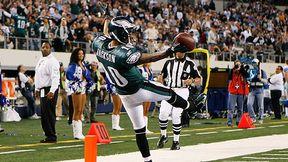 No receiver averaged more yards per catch last season than Jackson, but plenty of his peers topped his 47 catches. Is he special or a specialist?