SportsNation Blog Archives

Dennis Dixon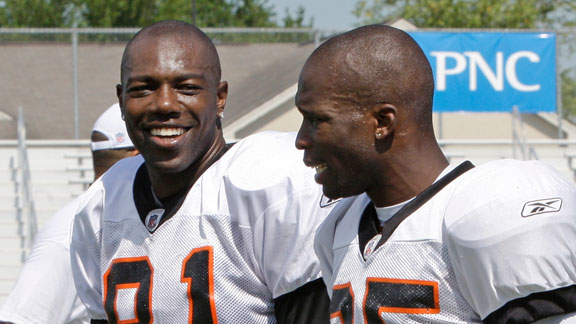 Who knew the Bengals would be the model of stability in the AFC North? Chad Ochocinco and Terrell Owens seem to be getting along just fine -- they're launching a combined reality show, in fact -- and the preseason offered little in the way of headlines.
The rest of the division? Well, that's where it gets interesting.
The Ravens made a splash Monday by adding T.J. Houshmandzadeh to a depth chart that already includes Anquan Boldin, Derrick Mason and Donte' Stallworth. The Browns are dealing with Montario Hardesty's season-ending knee injury and the Steelers are turning to third-stringers from Oregon at quarterback (thankfully for the city's fans, Dennis Dixon and not Akili Smith or Joey Harrington).
Kevin (OH)
JW, love the blog...who's been the biggest surprise (or disappointment) in the preason?
AFC North blogger James Walker
Browns QB Jake Delhomme has played very efficient football. I don't think the Browns could ask for a better preseason. They just need it to continue. Full transcript
Ricky (Cincinnati)
With Greshaim and Shipley, How would you rate the Bengals draft and where do you see them finishing the season?
Mel Kiper
I gave them a B grade the same day of the draft. That was my gut reaction. I think that's about right. Gresham is talented if he stays healthy. Shipley is quick. Not fast, but quick. He can return some kicks. He's a football player. The solid B is about right. The offense can be helped by them. As far as the season, I think the Ravens are the clear cut favorite to win and the Bengals are vying for that second spot. The Bengals will be in the mix for a wild card. Full transcript