SportsNation Blog Archives

Atlanta Braves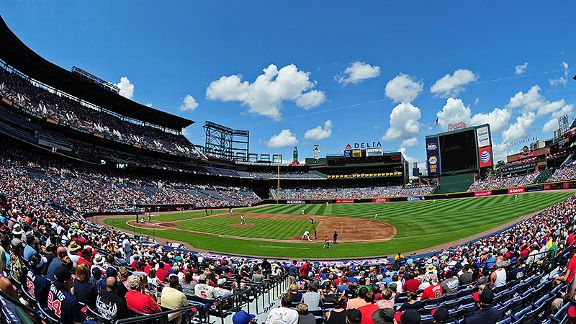 The Braves have had some success at Turner Field, but they're not looking to sign another 20-year lease on the place. The Braves plan to move to another stadium in nearby Cobb County in 2017, leaving Turner Field to an uncertain fate. It's a bit odd for a team to move from a stadium that's so young -- it opened in 1997 -- but the Braves may have big plans for their as-yet-unnamed (and unbuilt) new home.
Here's a sampling of what readers had to say in our Facebook conversation on the story:
Barclay Losse: "This stadium was just built, and they have some of the worst sports fans on the planet. Horrible idea. Go Cardinals"
Krista Austin: "As much as I love the Ted, this is an excellent business decision by the Braves. Weeknight attendance numbers should skyrocket now that it will be easier to get to and from the stadium."
Andy Palmquist: "So, Atlanta has a 21 year old football stadium and a 17 year old baseball stadium and is planning on replacing them both by 2018? Right, seems like a great plan. Hope your taxpayers aren't getting hosed."
Dan Matisoff: "There is nothing wrong with Turner Field. It's pleasant to go to games. You can go via public transportation, and it's easy to get to if you live in Atlanta. The neighborhood is devoid of bars, but there's no reason that it couldn't be developed and improved. There's also virtually no justification for taxpayers to foot the bill for a stadium. So, good luck Cobb County - raising taxes to pay for an unnecessary stadium to try to poach business from the city of Atlanta."
Michael Gallemore: "Those who don't know the situation of Turner Field probably should not be commenting. There is literally no city vibe and no bars, restaurants or anything. Atlanta has probably one of the worst downtown areas in the country. The only thing that keeps it afloat is the area around Centennial Park and Coke/CNN. This is a huge upgrade. I would drive from NC just for the games, then drive back. This will keep people in the area outside of game time."
What do you think? Leave your comments below.
---
Breaking new ground?
Moving to a new stadium can have serious effects on a team in both the long and short term.