SportsNation Blog Archives

Boston Celtics
Kobe Bryant is in the stage of his career at which people start asking him for lists of things. He's already listed the top five players he's faced in his career, featuring such luminaries as Michael Jordan and LeBron James.
Jordan's Bulls made Kobe's list of the top five toughest teams he's faced -- but neither team LeBron James has played for did. In no particular order:
San Antonio Spurs
Noah Graham/NBAE/Getty Images
Sacramento Kings
Jed Jacobsohn/Getty Images
Boston Celtics
AP Photo/Mark J. Terrill
Detroit Pistons
AP Photo/Paul Sancya
Chicago Bulls
Vincent LaForet/AFP/Getty Images
The Bulls, sure. The Spurs, no surprise there. The Kings, though? Remember, during Kobe's championship days, the Kings featured Vlade Divac, Peja Stojakovic, Chris Webber and others. Unsurprisingly, Kobe's got a long memory.
September 21, 2015
Sep
21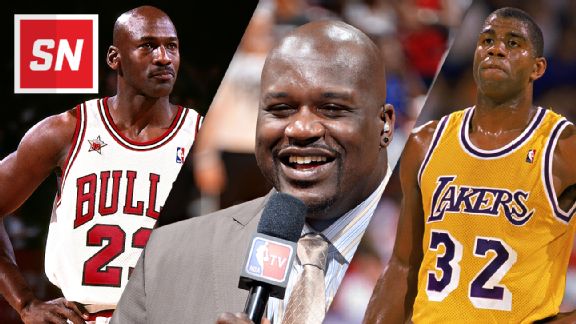 Getty Images
NBA top fives are in the air. Kevin Durant gave his list two weeks ago, and now, one of Durant's picks has made his own choices.
In an interview with The Times-Picayune of New Orleans, former Los Angeles Lakers (and Orlando Magic ... and Miami Heat ... and a few other teams) big man Shaquille O'Neal was asked his all-time starting five. His answer:
"Bill Russell won 11 championships. Charles Barkley is my guy, but I like Karl Malone. Then there's the guy who made me who I am -- Dr. J [Julius Erving]. I've got Michael [Jordan] at the two. Then, I'm going to go with the big guard with Magic Johnson at the one."
Now, O'Neal made sure NOT to put an exclamation point on his list, saying:
"I see a problem with answering these questions. A lot of people get their feelings hurt. Then some of you guys [reporters] be trying to start trouble, like Shaq leaving Kobe [Bryant] off. Then it's Shaq and Kobe.
"But that's my top five for playing reasons and what they did. Russell doesn't have high [statistical] numbers, but with 11 championships, nobody is beating that."
We're not doing that, Shaq! We know you're mending fences with former teammate Kobe Bryant and certainly wouldn't leave him off as a dig. Heck, he wouldn't be on this writer's top five, either -- not because Kobe hasn't been great (he has), but when you get to the upper reaches of the NBA's all-timers list, it's really, really, really competitive.
Having said that, O'Neal did make some interesting choices; Malone and Erving, in particular, don't appear on a great deal of these lists. So we ask you:
September 21, 2015
Sep
21
Brandon Armstrong does spot-on impressions of NBA players, but that's not all. Another game of Armstrong's is impersonating "those guys" you see in pick-up hoops.
His target Monday: point guards who never, ever, ever ever ever, seem to shoot.
It's perfect: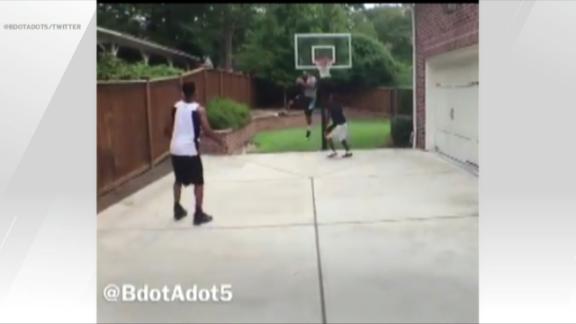 Now, this might remind you of certain NBA players, too. When sharing the post on Twitter, Armstrong dropped the name of a certain Sacramento Kings ball-handler who once won a ring with the Boston Celtics (and, oh yeah, whose name is in the headline of this post).
That one PG who NEVER shoots the ball aka @RajonRondo = w/ @That_Guyy23 @Doitlikederrick #NotTheOfficialRondoBeLike pic.twitter.com/YrCiXpwH2j

— B.A. (@BdotAdot5) September 21, 2015
Note, though, this isn't his official impersonation of Rondo. After all, he didn't do this.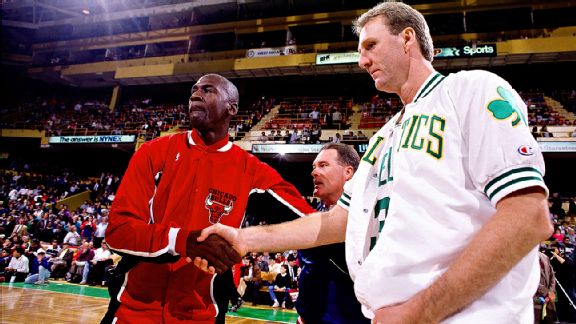 Nathaniel S. Butler/NBAE/Getty Images
Today in Hypothetical NBA Debates: Larry Bird vs. Michael Jordan in one-on-one!
No, we're not asking who'd win a battle in their primes, nor a real-life version of those Bird-Jordan McDonald's commercials. We're talking about a question posed to the Indiana Pacers' president of basketball operations Monday on the Dan Patrick Show.
That question: Could Bird, 58, take Jordan, 52, right now?
"Could I take Jordan? Where's this going? Can I wear my Hickory uniform? Boy, that'd be a good game," Bird said, before offering the goods:
"I hate to admit this, but he'd kill me. ... I'm 40 pounds more than I was when I played, I'm broken-down, I really don't care like I used to, I have a fight in me but it's not the fight that I once had ... but it'd be a pretty close game."
Ah, there's the trash-talker we know and love, unable to fully commit to the idea of getting killed on the court by a rival.
This came as part of a larger conversation based on Jordan's comments from June, in which he said he was "pretty sure" he could beat the members of his Charlotte Hornets one-on-one.
Bird was having none of that, by the way. When he heard Jordan said he could beat his players now, Bird offered a big laugh.
"Now?" he said. "Oh, gee. Come on.
"He can believe whatever he wants. ... He'd have to prove that to me. Man, [star athletes have] to let this stuff go. ... That's just ridiculous."
Bird was also asked if he was ever better than someone who was on his roster while he coached the Pacers (from 1997 to 2000, when he was 40-43).
"I don't know about that," he said. And what about shooting?
"Oh yeah. Oh God yeah. Standing still, shooting? Ain't no problem."
Still, he said, he was never the best shooter while he coached the Pacers.
"Nah, Reggie [Miller] was here, Chris Mullin, Sam Perkins; they had some pretty good shooters."
And speaking of shooting, Bird weighed in on another debate: Is, as a number of sharpshooting legends have suggested, Stephen Curry the best shooter of all time?
"I don't know about that," Bird said. "Chris Mullin was pretty good. ... [But] deep shooter, Curry is about one of the best."
Are you in the conversation, Bird was asked?
His answer, without hesitation: "Yep."
For more from Bird -- including talk of his high school days, whether he could have gone pro at 18-19 and more, check out the full interview here.
David Lee is a popular figure in the Bay Area.
He didn't play the biggest role in the Golden State Warriors' 2014-15 title run. But after his arrival in 2010, the forward was hugely important in restoring respectability to the moribund franchise. And hey, according to Steve Kerr he paid for the team's post-championship trip to Las Vegas.
So is it any wonder that, after news broke of his trade to the Boston Celtics, Lee was met with much love from teammates, including this heartwarming tweet from Stephen Curry? Wait a second, is Steph trolling the 32-year-old?
In honor of my boy @Dlee042 taking the next step in his career, this is how we started our relationship! Love you bro http://t.co/25UqWFtSJj

— Stephen Curry (@StephenCurry30) July 7, 2015
Yes, Curry included video of him blocking the 6-foot-9 forward when the latter was a member of the New York Knicks. The title of the video on YouTube? "Stephen Curry blocks David Lee and David Lee cries about it"!
That is ... fantastic. You know what they say: A lighthearted trolling is the sign of a strong friendship.