SportsNation Blog Archives

Paul Pierce
On Wednesday evening, we spoke with NBA great and current Los Angeles Clippers small forward Paul Pierce, aka The Truth, in an interview to promote "Guitar Hero Live."
Yep, now you're probably envisioning him in a heated battle against Doc Rivers to the tune of some Incubus song while Kevin Garnett chirps at them throwing the utmost shade. No? Well, you are now.
Needless to say, we seized the opportunity to ask him all the hard-hitting questions before his 18th professional season officially gets underway. Such as, what was up with the whole copy-and-paste emoji debacle?
Did he really call "GAME" before he drained that buzzer-beater against the Atlanta Hawks in Game 3 of the Eastern Conference semifinal series? You know, the one that prompted him to give this epic postgame interview:
What is your favorite song to play in "Guitar Hero Live"?
"California King Bed" by Rihanna
PS4 or Xbox One?
My kid's are all about PS4, but I gotta go with Xbox One.
Who is the best gamer among your teammates?
I don't know yet. But I am having a party for everyone this weekend and will have the game set up, so we will find out soon.
What prompted you to share an image of an emoji in your infamous tweet during the NBA emoji frenzy?
The guys gave me a really hard time about that. I was just trying to be different.
Was emoji practice part of your offseason training?
Yeah, I know how to use them now.
Now that you are fluent in emojis, do you have a favorite emoji?
The rocket, definitely the rocket.
How much of a role did you play in bringing DeAndre Jordan back to Los Angeles?
I jumped on the plane with Steve Ballmer and Doc Rivers to go see him in L.A.; there were five of us that flew out there. I knew it would be difficult trying to contend without him. So I went and talked to him. I was part of the camp at his house that stayed until he made his decision. There were so many reports that came out of that, but we were just having fun at that point.
Did you really call "GAME" before your memorable buzzer-beater versus the Hawks?
You heard me.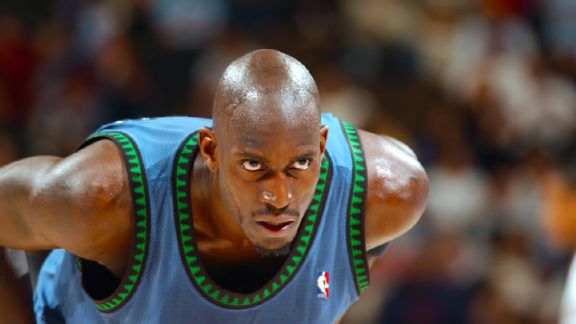 Nathaniel S. Butler/Getty Images
On Monday, Bleacher Report released an oral history of Kevin Garnett. Now, an oral history of one particular player might seem a little much, unless that player is a human anecdote machine -- which the former/current Minnesota Timberwolves and former Boston Celtics and Brooklyn Nets big man most certainly is.
We pulled some of the best quotes from the piece related to Garnett's infamous intensity and trash talk, but it really is worth the whole read:
Joe Abunassar, Garnett's personal trainer: "We had been working out and we went to Memorial Park [in L.A.], and he had forgotten his socks. It was him, [Chauncey] Billups, [Al] Harrington, Ty Lue, Michael Ruffin and a few others. He played every game. He was dunking on guys and blocking shots -- all with no socks on. Hours he was playing. When it was over, there was blood seeping through the front of his shoes. Part of his feet and toes were just bleeding. It was unbelievable."
Chris Bosh, Miami Heat/former Toronto Raptors forward: "Usually I don't talk back, but if he said something to me, I said something back. I had just a terrible game for me [against the Celtics in the 2011 playoffs]. He got me all off my game. He scored, like, four times in a row on me in the crunch. And I was so embarrassed and so upset, and he got in my head. Ever since that day, I never said anything else."
Paul Pierce, former Celtics and Nets teammate: "One time, he asked [Joakim] Noah if he could rub through his hair, like a female or something. ... And I know that kind of made [Noah] hot. And this was when Noah was a rookie, too. I remember Noah looked up to KG. He was like, 'Man, KG, I had your poster on my wall, I looked up to you, man.' And then [Garnett] just said something like that, and was like 'F--- you, Noah.' I was like, 'Whoa.' This kid fresh out of college, looks up to KG, just said he had his poster on the wall, and he tells him that! It crushed him. It crushed Noah."
Pierce again, recalling a light moment between himself (then with Boston) and Garnett (then with Minnesota): "We were both on losing teams at this point. This is probably around the last week of the season. We're talking [trash] at the free throw line. I'm like, 'Man, everybody needs to shut up, because we all going to the Bahamas next week.' And as intense as he was, he had to look up and just start laughing. ... I said, 'I'm going to Cancun. Where are you going, Ticket?' He said, 'I'm going to St. Lucia.'"
Tyronn Lue, former NBA guard: "A lot of people do all their howling on the court and they're faking just for attention, but what he does is genuine. So one day we were at his house and we were watching Puff Daddy's show 'Making the Band,' and in one of the scenes, some new guys came in and were trying to sing and were trying to compete against the guys who had been there. And KG just got so hyped: "M-----f-----, you've got to stand up for yours! You've got to fight! M-----f----, you've got to come together!" He's going crazy, he's sweaty. And he just head-butts the wall and put a hole in the wall of his house."
Check out the story here.
Getty Images
Favorites in NBA's East?
Less than a week into the NBA's official free agency, nearly all of the big names have made their decisions. And while the Western Conference saw little movement, the East saw some deals that will certainly shake things up.
LeBron James, in case you hadn't heard, left the Miami Heat for the Cleveland Cavaliers. The Heat, though, kept Chris Bosh and Dwyane Wade, and added Luol Deng in the process. The Chicago Bulls picked up Pau Gasol and brought over Montenegro-born Nikola Mirotic from Spain to team with a (presumably) healthy Derrick Rose. And the Indiana Pacers on Wednesday saw Lance Stephenson go to the new-look Charlotte Hornets. (Also, let's not forget about Carmelo Anthony staying with the New York Knicks and Jason Kidd leaving the Brooklyn Nets to coach the Milwaukee Bucks.) Naturally, there are a lot of questions ...
Homecomings for former players can be bittersweet, and for Paul Pierce and Kevin Garnett, their return to Boston was no exception. Pierce and Garnett brought a championship to a franchise that seemed to have lost its way, and the Celtics showed their appreciation for the two stars with separate tribute videos on Sunday night. For his part, Paul Pierce seemed touched:

Thank you Boston for all the love u showed for me and KG you have provided me with so many memories I will always love u

— Paul Pierce (@paulpierce34) January 27, 2014

"This was the toughest game I've ever had to play," Pierce said after the game. "Tougher than any championship, tougher than any Game 7." Normally we'd doubt a statement like that regarding a game against a 15-31 team, but in this case, we get it.

Celtics' tribute to Pierce and Garnett

They say that nothing ever ends well -- otherwise it wouldn't end at all. Ray Allen knows how that feels -- after signing with the Heat last offseason, he became persona non grata to former Big Three stalwarts Kevin Garnett and Paul Pierce. Now that Garnett and Pierce are out of Boston as well, however, Allen's new teammates are pointing out what they feel is a bit of hypocrisy. LeBron James in particular thinks the ex-Celtics owe Allen an apology for their comments. We're sure all of these grown men can handle a little disrespect, but does LeBron have a point?

Here's a sampling of what readers had to say in our Facebook conversation on the story:

Nelson Espinoza: "They owe him nothing. Sure kg looks bad for saying he wants to retire a celtic then revoking his no trade clause but this is about playing TOGETHER as much as it was just playing for the celtics and ray allen left em hanging"
Ronnie Freeman: "This just goes to show that lebron and others don't know much. This situation is totally different. Last year the Celtics were still competing for a title. Allen left because he chose to leave. This year the Celtics are rebuilding and Pierce and Garnett were traded away. People should just shut up already."
Nate Harold: "Allen had a choice, KG and Pierce really didn't. Plus, the C's wanted to re-sign Allen, they matched the Heat's offer. In this case, the Celtics were getting rid of PP and KG because they are rebuilding. Completely different situations LeBron."
John Alan: "PP and KG could have stayed for less money, allowing a rebuild, or retire. Instead they chased the ring, just like Allen."
Ryan Conn: "When players leave they are traitors but when franchises get rid of a guy it is all good? Boston was shopping Ray in 2012, gave his starting spot to Avery Bradley, and had signed Jason Terry during the offseason. Boston getting mad at Ray is like if you wanted to break up with your girlfriend and then getting mad that she beat you to the punch."

What do you think? Leave your comments below.