SportsNation Blog Archives

Miami Heat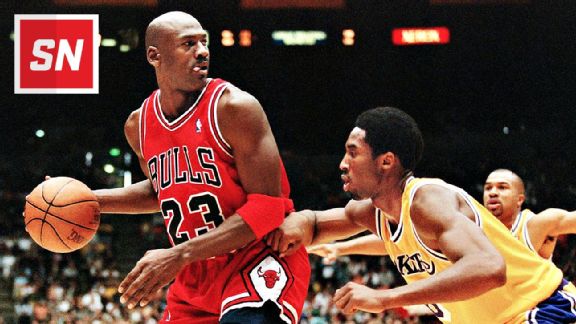 Vince Bucci/AFP/Getty Images
In his 20 NBA seasons, Kobe Bryant has faced a number of brilliant players: vets near the end of their careers, such as Karl Malone and John Stockton; fellow stars who entered the league around his time, such as Tim Duncan and Kevin Garnett; newer standouts such as Dwyane Wade and Stephen Curry.
None of those made his top five "toughest players to face" list. As relayed by our own Baxter Holmes, here it is:
Top five players Kobe says he has faced: Olajuwon, MJ, Kevin Durant, LeBron James, Clyde Drexler. Adds that it's hard to pick just five.

— Baxter Holmes (@BaxterHolmes) December 21, 2015
Michael Jordan? No surprise. LeBron James? Not really either. Kevin Durant? When he's healthy, he's electric. And Hakeem Olajuwon? There's a reason they call him The Dream. The biggest surprise, perhaps, is Clyde Drexler -- but no one is about to claim he wasn't great.
The key point is the second thing Bryant told Holmes: It is hard to choose a top five from 1996 to 2015.
Tags:

SportsNation, Kobe Bryant, Los Angeles Lakers, Chicago Bulls, Oklahoma City Thunder, Houston Rockets, Portland Trail Blazers, Cleveland Cavaliers, Miami Heat
Mario Chalmers might not be on the Miami Heat anymore, but that doesn't mean the guard -- traded last week to the Memphis Grizzlies after seven seasons and two titles in South Florida -- is forgotten.
Look at Monday night. Chalmers broke out (29 points on 13 shots in 23 minutes of a 122-114 win over the Oklahoma City Thunder), and after a big 3-pointer, Dwyane Wade chimed in, unprompted, on Twitter.
Rioooooooooo!!!!!!

— DWade (@DwyaneWade) November 17, 2015
Then, proving he wasn't just having a good time watching an animated movie about macaws with his kids, Wade sent this one out after the game:
Proud big bro iam. @mchalmers15 way to take that champion swagger to Memphis lil bro..

— DWade (@DwyaneWade) November 17, 2015
Teammates for life.
Tags:

NBA, NBA, Mario Chalmers, Dwyane Wade, Memphis Grizzlies, Miami Heat
While they were both with the Miami Heat, Dwyane Wade and LeBron James -- like many teammates throughout the league do -- created their share of elaborate handshakes.
Even though LeBron is gone, Wade hasn't stopped with these creative displays of dap. He doesn't restrict them to the basketball court, either.
As revealed by actress Gabrielle Union on a recent "Conan" appearance (and briefly seen in their full wedding video released in September) she and her husband punctuated their nuptials with a handshake of their own:
As a bonus, Union revealed to Conan O'Brien that Chris Bosh is basically Kramer to Wade and Union's Jerry Seinfeld, all because the couple have a "Ms. Pac-Man" game in their house.
"He's addicted," Union said. "He lives a few doors down, and like 2 a.m. [the doorbell will ring and I'll say], 'Is it Chris? ... Is it Chris Bosh?' ... He'll be at the front door, wanting in, to get on the game."
No word on if Bosh punctuates his visits with this handshake.