SportsNation Blog Archives

New York Knicks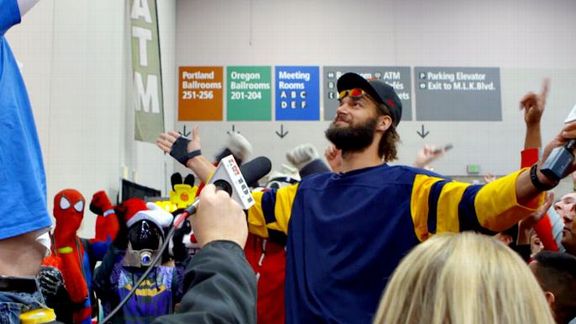 @trailblazers/TwitterRobin Lopez went to Wizard World Portland in 2014. Now he's taken his comic-loving talents to NYC.
NEW YORK -- Robin Lopez had a few reasons to look forward to Wednesday night.
The center, who signed a four-year, $54 million deal in the offseason, was making his New York Knicks debut in front of the home crowd at Madison Square Garden.
But Wednesday was also the eve before New York Comic Con, a four-day convention on the city's west side that is expected to draw more than 140,000 attendees -- including at least one 7-foot-tall NBA player.
"I am [planning on going]," said Lopez, who finished with six points and four rebounds in 16 minutes in his first game with the Knicks.
Lopez has attended conventions in the past, including Wizard World Portland in 2014 when he was a member of the Trail Blazers and served as a special ambassador for the show.
Moving to a new city means an opportunity to attend a new show, but it also meant finding a new comic book shop, something Lopez turned to his brother for.
"Brook's taken to me to Midtown [Comics], obviously," he said. "And I forget the name of the store, it's over by Washington Square, I stumbled upon that one."
Lopez said he leans toward books from DC over Marvel -- his favorite superhero is the Wally West version of The Flash -- and reads "anything Grant Morrison puts out. And Mark Waid, obviously. Nothing surprising about that I guess."
"I grew up with a lot of '90s comics, Mark Waid's 'Flash,' 'JLA,' 'Starman,' all of that."
Unlike most comic fans, Lopez doesn't necessarily go see every movie adaptation, and he expressed some trepidation about next year's DC tentpole film, "Batman v Superman: Dawn of Justice."
"I think they're establishing a different tone from the Marvel films," he said, "and I'm not sure it's exactly for me. But I think there are interesting things about it. It's nice that they're finally getting Wonder Woman in the movies for example."
As for what he's looking forward to most at this weekend's show, Lopez turned to the world of movies.
"I hear Christopher Lloyd [from 'Back to the Future'] is going to be there, and they're going to hand out the Pepsi Perfect bottles to people dressed up as Marty McFly."
So is Lopez -- whose brother has campaigned for a role in the new Star Wars movie as a Wookie -- going to dress up?
"I might," he said. "We'll see."