SportsNation Blog Archives

Orlando Magic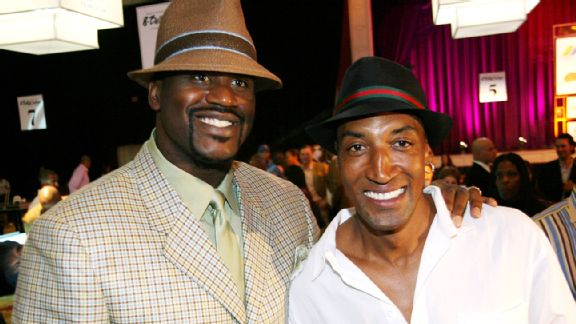 Johnny Nunez/WireImage
A week ago, Shaquille O'Neal and Scottie Pippen got into an Instagram feud over the former's suggestion that an all-time Los Angeles Lakers lineup would beat that of the Chicago Bulls ... by 50.
On Tuesday, Shaq talked about it on his podcast, The Big Podcast with Shaq ... and did nothing to dump water on the fire.
Instead, he poured gallons and gallons of gasoline.
It all started when he was asked if his Instagram post was meant to call out the Bulls.
"Of course not. ... I didn't even make the picture; some other little guy made the picture so I just took it. ... And I said we'd beat 'em by 50. And that's how I feel and I'm sticking to it. I didn't say: 'Hey at Scottie Pippen, we'll beat you guys by 50. Hey, at Rodman we'll beat you guys by [50].' I just said, 'I'll beat you by 50.'"
This is where Pippen went wrong, according to Shaq. O'Neal explains:
"He made it personal when he said, 'Oh, at Shaq, hey I don't believe in hypotheticals.' So he swung first, so I'm going to swing second, and I'm going to swing last. Because I don't let bums disrespect me.
"Yeah, he was a great player, but I'm the bridge, he's the water. He will always be under me. Every now and then he will rise to the occasion and get to the same level as the bridge. But when reality kicks in, I am bridge, he is water, he is under me. Scottie Pippen can't disrespect me. So he comes at me, I'm coming back. And we can do this all day, because I have nothing to do."
Shaq wasn't done.
"He made it personal when he put 'At Shaq, we've got six rings,' like he was the main focus of the six rings. You were not the main focus of the six rings. Don't make me put out the scouting report. He wasn't even a factor in the scouting report. It was all about [Michael Jordan]. ... You double Mike, Scottie was open, Scottie hit a couple shots."
Still not done.
"Let's just talk reality. When you say top 10 players, his name will never be mentioned. When you say top 20 players, his name maybe will be mentioned. So don't come to me like I'm not a player. ... You're a Benz, you're a 550. I'm a 600, V-12. OK?"
At this point, O'Neal was asked if he really meant "bum." His response?
"Bum."
Then:
"Think about why I'm saying 'bum.' Because I have the G-14 classification to say that. Everybody can't say that about a Scottie Pippen, but I can. ... I can say he's a bum."
G-14, if you were wondering, is from the movie "Rush Hour."
Now, does O'Neal have a relationship with Pippen?
"I don't. ... He was cool, respectful and all that. But he made it personal when he came at me, flashing his six rings like he was the main, main factor of the six rings. Stop it, Scottie. We all know you were second fiddle. You'll always be second fiddle. ... You're Robin. you're not Batman. You're not Puffy, you're Mase."
Was Shaq a Robin?
"Yeah, towards the end."
But ...
"Three Finals MVPs ain't got Robin on it. Robin Hood [maybe]."
Then O'Neal went back in on Pippen. At this point, if we'd been tagging these with fire emoji, we'd be out.
"When Michael left, you didn't do nothing. All you did was cry and whine when Phil [Jackson] didn't give you the last shot. He gave it to Toni Kukoc, who was a much better player than you. Toni Kukoc hit the game[-winning] shot. When you left and went to Houston, what did you do? Nothing. When you left and went to Portland, what did you do? Oh yeah, you took us to a Game 7 ... up by 17 in the fourth quarter, what happened? You lose."
For the unfamiliar, this is the infamous refusing-to-come-off-the-bench moment from during Jordan's first retirement, and this is the write-up for the Lakers' epic 2000 comeback (it was actually 16 points in the game and 15 in the fourth).
Shaq was just about done, but wanted to make one last point:
"Those are Mike's six rings."
Woof. Pippen has been invited to go on the podcast to debate; we'll see if that happens.
Click here to listen to the full podcast.
H/T Sporting News