SportsNation Blog Archives

Philadelphia 76ers
September 21, 2015
Sep
21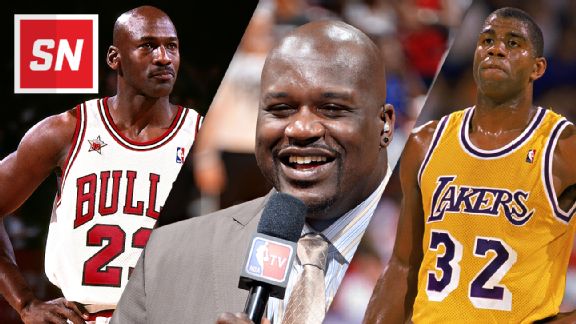 Getty Images
NBA top fives are in the air. Kevin Durant gave his list two weeks ago, and now, one of Durant's picks has made his own choices.
In an interview with The Times-Picayune of New Orleans, former Los Angeles Lakers (and Orlando Magic ... and Miami Heat ... and a few other teams) big man Shaquille O'Neal was asked his all-time starting five. His answer:
"Bill Russell won 11 championships. Charles Barkley is my guy, but I like Karl Malone. Then there's the guy who made me who I am -- Dr. J [Julius Erving]. I've got Michael [Jordan] at the two. Then, I'm going to go with the big guard with Magic Johnson at the one."
Now, O'Neal made sure NOT to put an exclamation point on his list, saying:
"I see a problem with answering these questions. A lot of people get their feelings hurt. Then some of you guys [reporters] be trying to start trouble, like Shaq leaving Kobe [Bryant] off. Then it's Shaq and Kobe.
"But that's my top five for playing reasons and what they did. Russell doesn't have high [statistical] numbers, but with 11 championships, nobody is beating that."
We're not doing that, Shaq! We know you're mending fences with former teammate Kobe Bryant and certainly wouldn't leave him off as a dig. Heck, he wouldn't be on this writer's top five, either -- not because Kobe hasn't been great (he has), but when you get to the upper reaches of the NBA's all-timers list, it's really, really, really competitive.
Having said that, O'Neal did make some interesting choices; Malone and Erving, in particular, don't appear on a great deal of these lists. So we ask you:
He went too soon: Darryl Dawkins, aka Chocolate Thunder, aka Dr. Dunk, died Thursday at age 58.
His combination of personality and backboard-shattering dunks made him a player no hoops fan could forget. So it's only natural that a social media outpouring followed the news, featuring current and former Philadelphia 76ers, big-time dunkers, other stars past and present, and even those who never played in the NBA:
RIP Chocolate Thunder pic.twitter.com/WFFCPqeELk

— Allen Iverson (@alleniverson) August 27, 2015
Rest In Peace Darryl Dawkins aka Chocolate Thunder pic.twitter.com/0FPKTUel6I

— SHAQ (@SHAQ) August 27, 2015
R.I.P to Orlando florida's own "Chocolate Thunder" Darryl Dawkins. You will be missed my friend. You paved ... http://t.co/NXoiej1nDP

— Vince Carter (@mrvincecarter15) August 27, 2015
So sad to hear that my friend, NBA Legend Darryl Dawkins aka "Chocolate Thunder" passed away.

— Earvin Magic Johnson (@MagicJohnson) August 27, 2015
Darryl Dawkins' bigger than life personality will be missed by all. He was a good friend and I will miss him dearly.

— Earvin Magic Johnson (@MagicJohnson) August 27, 2015
I couldn't wait to see Darryl at every NBA All-Star Weekend. He was always the life of the party!

— Earvin Magic Johnson (@MagicJohnson) August 27, 2015
#RIP #ChocolateThunder pic.twitter.com/PsHPFl7UCO

— Chris Paul (@CP3) August 27, 2015
#RIPDarrylDawkins #ChocolateThunder

— Kobe Bryant (@kobebryant) August 27, 2015
RIP Darryl Dawkins #chocolatethunder! All my prayers to family.

— Isiah Thomas (@iamisiahthomas) August 27, 2015
I can't believe the news about my friend Darryl Dawkins. A fun spirited, loving and family man I hope you rest easy. Praying for your family

— Tyrone Muggsy Bogues (@MuggsyBogues) August 27, 2015
RIP to Darryl Dawkins aka "Chocolate Thunder" - a great man, entertainer, athlete and ferocious dunker. He will be missed but not forgotten.

— Kevin Johnson (@KJ_MayorJohnson) August 27, 2015
Darryl Dawkins was an icon, as a Sixer legend but more as a person. He will be truly missed by all. RIP #ChocolateThunder

— Jahlil Okafor (@JahlilOkafor) August 27, 2015
I'm going to miss you so much Uncle Darryl. There will never be another Chocolate Thunder. Love you so much and going to miss you so much..

— Karl-Anthony Towns (@KarlTowns) August 27, 2015
RIP Darryl Dawkins... Dr Dunk... Chocolate Thunder... one of THE nicest men... you will be missed. Prayers to his family, friends & fans

— Gabrielle Union (@itsgabrielleu) August 27, 2015
R.I.P Darryl Dawkins "Chocolate Thunder"

— Chad Johnson (@ochocinco) August 27, 2015
Rest in peace Darryl Dawkins. Wonderful memories of the 1980 Championships vs. Philadelphia. You had your own style. #ChocolateThunder

— Jeanie Buss (@JeanieBuss) August 27, 2015
Nothing eases the summer doldrums like the NBA's most-feared rapper (Lil B) proclaiming he will try out for a D-League team.
The season might still be months away, but the idea that Lil B aka The Based God could be suiting up for the Philadelphia 76ers' D-League affiliate makes us want to whip out the "cooking dance." Yeah, you know the one.
.@LILBTHEBASEDGOD reminds the crowd who owns the cooking dance. http://t.co/EtJqVLk42c

— NBA on ESPN (@ESPNNBA) May 28, 2015
This isn't the all-powerful rapper's first foray into professional basketball (he tried out for the Golden State Warriors' D-League affiliate in 2012) but it could be his first time landing a roster spot.
On Wednesday, the Delaware 87ers reached out to Lil B with a tasteful invitation:
Hey @LILBTHEBASEDGOD come tryout for the #87ers in September! #TYBG pic.twitter.com/Np43hVTshk

— Delaware 87ers (@Sevens) August 26, 2015
Which the rapper happily accepted:
@Sevens @Sixers tryout invite accepted see you there!! Philly here I come thanks to your front office for keeping your word - Lil B

— Lil B From The Pack (@LILBTHEBASEDGOD) August 26, 2015
To state the obvious, this is an incredibly risky move by the Philadelphia 76ers' organization. If they cut him, there will be consequences ... we're talking some serious Based God-style consequences. Has the NBA community learned nothing from James Harden and Kevin Durant's misfortunes?
On the other hand, maybe Lil B has serious skills on the court and the Sixers have made a brilliant move. Perhaps Lil B will suddenly propel himself into the superstar ranks as he curses his foes all the way into the playoffs.
Hey, crazier things have happened ... and he is the Based God.
Though never an All-Star, the late Manute Bol was an NBA legend, known for his incredible height (7-foot-7) and shot-blocking prowess (he averaged a stunning 5.0 per game as a rookie).
His son, Bol Bol, a 6-foot-10 (or is it 6-foot-11?) big man from Bishop Miege High School in suburban Kansas City, shows similar promise as a rim protector -- but his game has so much more. As evidenced by his latest mixtape, he can hit 3s -- be they spot-up or pull-up -- go coast-to-coast with the dribble and drive to the basket like a wing.
Check it out. That move at 3:35 is just sweet.
Now, he just finished his freshman year, so he's naturally got to sharpen a lot of these skills before we can declare him the next Kevin Durant; that shooting motion in particular brings Shawn Marion to mind (although The Matrix often made it work).
But Bol isn't just noteworthy because of his dad and his size; it's early, but he's got a five-star rating by ESPN and is ranked No. 19 in the Class of 2018.
H/T SB Nation
In back-to-back years, the Philadelphia 76ers ended up with lottery-pick big men: Nerlens Noel in 2013 and Joel Embiid in 2014.
So, when the Los Angeles Lakers selected D'Angelo Russell with the No. 2 pick, thus leaving Duke center Jahlil Okafor available, the Twitter-savvy Embiid had a reaction:
OK........... Lol

— Joel Embiid (@JoelEmbiid) June 25, 2015
Now before we start any scandal rumors, we must remember two things: (1) Embiid, who missed the entire 2014-15 season, might still be injured, and (2) the Cameroonian quickly followed that tweet with a bit of love for Okafor, whose father is of Nigerian descent.
Aye my boy is in philly with me #AfricanConnection

— Joel Embiid (@JoelEmbiid) June 25, 2015
Embiid's wasn't the only amusing NBA player Twitter reaction from Thursday night's draft.
After the Minnesota Timberwolves took Karl-Anthony Towns No. 1 overall, point guard Ricky Rubio couldn't help but start the hazing process.
Hello @KarlTowns !! You ready to pick up my dry cleaning tomorrow ?? #WelcomeRook

— Ricky Rubio (@rickyrubio9) June 25, 2015
Towns, whose mother is Dominican, became the first Hispanic player ever to go No. 1 overall in the NBA draft. Atlanta Hawks big man Al Horford, who is from the Dominican Republic, tweeted congratulations to Towns in English and Spanish.
Congrats @KarlTowns so proud. All your hard work is paying off, but you are just getting started! Welcome to the NBA!

— Al Horford (@Al_Horford) June 25, 2015
Felicidades a @KarlTowns me siento muy orgulloso de ti en verte crecer y desarrollarte como jugador. Ahora empieza lo bueno! #NBA #NBADraft

— Al Horford (@Al_Horford) June 25, 2015
When Kristaps Porzingis went No. 4 overall to the New York Knicks, the fans didn't like it. And oh, the players noticed.
The Knicks fans HOT!!!!!!!!!!!! Omg

— BRANDON JENNINGS (@BrandonJennings) June 26, 2015
Yall gotta give him a chance Knicks fans

— BRANDON JENNINGS (@BrandonJennings) June 26, 2015
June 26, 2015
Funny the reactions of NY fans about a player they don't know.

— rudy gobert (@rudygobert27) June 26, 2015
But its ok they might buy his jersey pretty soon anyway =

— rudy gobert (@rudygobert27) June 26, 2015
Lol that lil Knicks fan is going to be on ALL the memes

— Spencer Dinwiddie (@SDinwiddie_25) June 26, 2015
This lil kid is priceless...... Give Porzingis a chance

— Ekpe Udoh (@EkpeUdoh) June 26, 2015
He's very good man... Super talented

— Kyle Lowry (@Klow7) June 26, 2015
Knicks fans are my TL are straight comedy lol

— SLOWMO (@KyleAnderson5) June 26, 2015
A pair of big names welcomed late-lottery picks to their respective new homes:
Congrats to @IAmJustise on getting drafted! Very excited to have you! #wegotagoodone #NBADraft #luckylefty

— Chris Bosh (@chrisbosh) June 26, 2015
Welcome to the family youngin @Original_Turner! #PacerNation

— Paul George (@Yg_Trece) June 26, 2015
Kendall Marshall, meanwhile, thought Myles Turner bore a striking resemblance to Dave Chappelle's character from "The Nutty Professor."
with the 11th pick, Indy selects Reggie Warrington.

— Kendall Marshall (@KButter5) June 26, 2015
(And wouldn't you know, he wasn't alone in making that comparison.)
"He looks like Reggie from the Nutty Professor." -@AminESPN on Myles Turner #NBADraft #analysis pic.twitter.com/Mg4R1m52Av

— ESPN (@espn) June 26, 2015
It appears Rubio wasn't the only veteran point guard ready to haze his new teammate -- this time a player who went to the same school (Kentucky).
Welcome to the valley @DevinBook ... Got your backpack ready!

— Eric Bledsoe (@EBled2) June 26, 2015
Meanwhile, Nick Young seems to think all the young players owe him a nod for their hairstyle.
The haircut is real

— Nick Young (@NickSwagyPYoung) June 25, 2015
I shoulda trademark this haircut

— Nick Young (@NickSwagyPYoung) June 26, 2015