SportsNation Blog Archives

Washington Wizards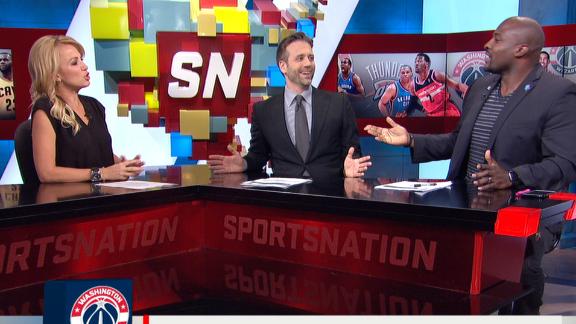 Washington Wizards fans aren't exactly hiding their desire to have hometown kid Kevin Durant return as a free agent.
Durant, though, isn't exactly a fan of their actions, calling them "kind of disrespectful" to current Wizards players.
Max Kellerman agrees. But the SportsNation crew wasn't unanimous. And apparently some Wizards fans didn't take too kindly to Durant's words, reportedly booing him when he touched the ball during Tuesday night's game between the Oklahoma City Thunder and Washington.
Your take?
Though never an All-Star, the late Manute Bol was an NBA legend, known for his incredible height (7-foot-7) and shot-blocking prowess (he averaged a stunning 5.0 per game as a rookie).
His son, Bol Bol, a 6-foot-10 (or is it 6-foot-11?) big man from Bishop Miege High School in suburban Kansas City, shows similar promise as a rim protector -- but his game has so much more. As evidenced by his latest mixtape, he can hit 3s -- be they spot-up or pull-up -- go coast-to-coast with the dribble and drive to the basket like a wing.
Check it out. That move at 3:35 is just sweet.
Now, he just finished his freshman year, so he's naturally got to sharpen a lot of these skills before we can declare him the next Kevin Durant; that shooting motion in particular brings Shawn Marion to mind (although The Matrix often made it work).
But Bol isn't just noteworthy because of his dad and his size; it's early, but he's got a five-star rating by ESPN and is ranked No. 19 in the Class of 2018.
H/T SB Nation
We might have some new NBA playoffs bulletin-board material! At least, if the Cleveland Cavaliers and Washington Wizards meet in the Eastern Conference finals.
It comes from Game 4 between the Wizards and the Atlanta Hawks, in which Washington star John Wall sat out with a wrist injury, and wore this number: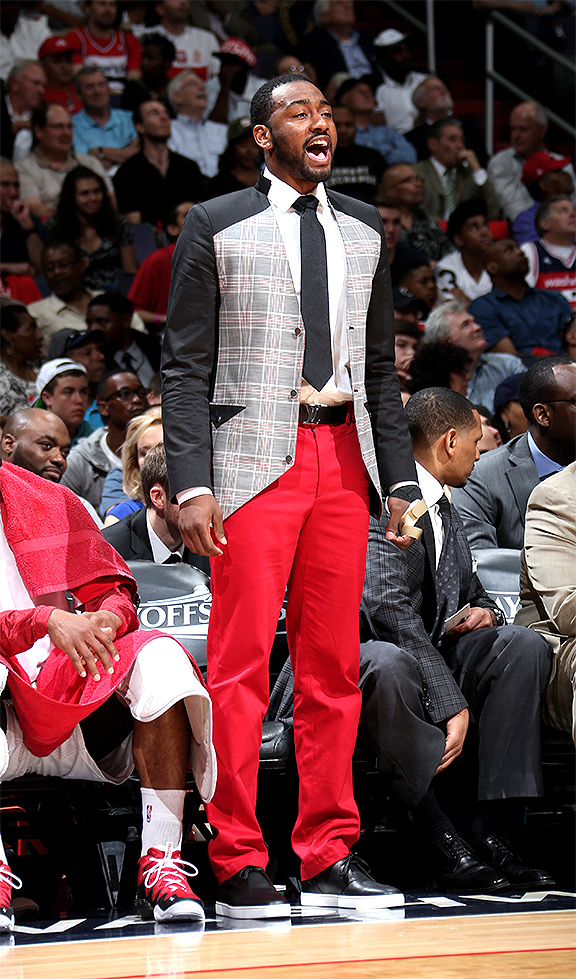 Ned Dishman/NBAE/Getty Images
Loud, yes. But hey, it's the NBA, where we've come to expect such a thing. Bold is beautiful, so live and let live -- oh wait.
#JWall your suit tho! #Turrrbile #WorstThenCrCharlesDraftSuit

— JR Smith (@TheRealJRSmith) May 11, 2015
What was he thinking? https://t.co/bu2jUwrrx9

— JR Smith (@TheRealJRSmith) May 11, 2015
Insert blushing, bulging-eyed emoji here.
Now, we're no fashion experts. So we're just going to leave this here and let you decide whether the Cavs sharpshooter has any room to speak.
Thanks ladies! RT @CavalierGirls: Congrats @TheRealJRSmith looking good sir! #AllStarAllStyle pic.twitter.com/WXJRPIZIm5

— JR Smith (@TheRealJRSmith) February 15, 2015
H/T For the Win