SportsNation Blog Archives

Michael Jordan
September 21, 2015
Sep
21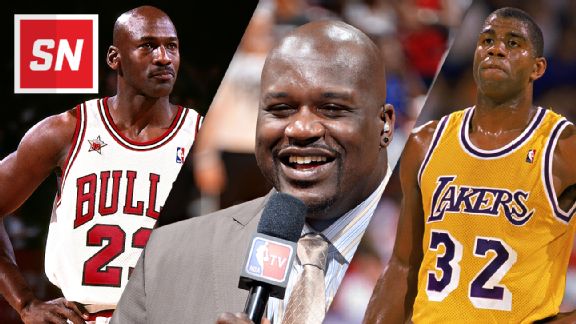 Getty Images
NBA top fives are in the air. Kevin Durant gave his list two weeks ago, and now, one of Durant's picks has made his own choices.
In an interview with The Times-Picayune of New Orleans, former Los Angeles Lakers (and Orlando Magic ... and Miami Heat ... and a few other teams) big man Shaquille O'Neal was asked his all-time starting five. His answer:
"Bill Russell won 11 championships. Charles Barkley is my guy, but I like Karl Malone. Then there's the guy who made me who I am -- Dr. J [Julius Erving]. I've got Michael [Jordan] at the two. Then, I'm going to go with the big guard with Magic Johnson at the one."
Now, O'Neal made sure NOT to put an exclamation point on his list, saying:
"I see a problem with answering these questions. A lot of people get their feelings hurt. Then some of you guys [reporters] be trying to start trouble, like Shaq leaving Kobe [Bryant] off. Then it's Shaq and Kobe.
"But that's my top five for playing reasons and what they did. Russell doesn't have high [statistical] numbers, but with 11 championships, nobody is beating that."
We're not doing that, Shaq! We know you're mending fences with former teammate Kobe Bryant and certainly wouldn't leave him off as a dig. Heck, he wouldn't be on this writer's top five, either -- not because Kobe hasn't been great (he has), but when you get to the upper reaches of the NBA's all-timers list, it's really, really, really competitive.
Having said that, O'Neal did make some interesting choices; Malone and Erving, in particular, don't appear on a great deal of these lists. So we ask you:
September 14, 2015
Sep
14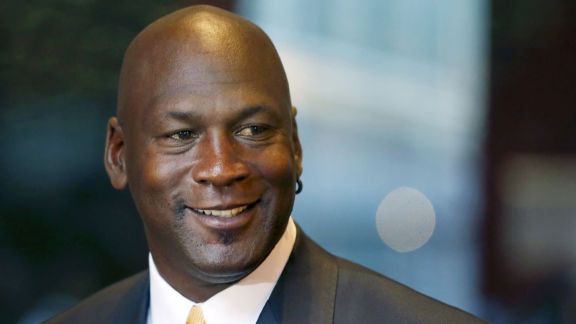 AP Photo/Charles Rex Arbogast
That Michael Jordan is cleaning up even though his playing career is over shouldn't surprise you.
That he made more money in 2014 than he did in his whole playing career? That could be an eye-opener.
As reported previously on ESPN and as circulated by PBS ahead of a weekend NewsHour segment, it's believed Jordan makes more than $100 million per year off royalties from his Nike Air Jordan brand.
Jordan's total earnings as a player? According to Forbes, it was $94 million; per Basketball-Reference.com, it was $90.2 million. Either way, that's less than $100 million.
Now, it must be noted these figures are not adjusted for inflation; based on his numbers from Basketball-Reference and the Bureau of Labor Statistics inflation calculator, Jordan made nearly $100 million in 2014 dollars during his three-year stint after his first retirement (1995-96 through 1997-98).
Still, $100 million-plus in a year because you created a shoe ... M.J.'s legend just keeps growing.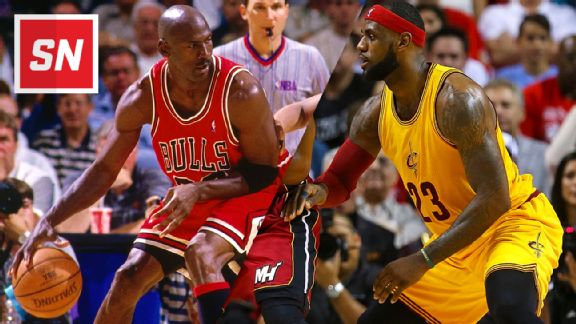 Getty Images
The careers of Michael Jordan and LeBron James never overlapped. Jordan retired for the third and final time two months before James was drafted in 2003. That separation hasn't stopped NBA fans from constantly speculating what would happen if the two took the court to face off.
Last week Jordan said he'd beat James in a 1-on-1 game with the two players in their primes, sparking the latest debate to fill the dog days of summer without NBA action.
Friday on NBC's "Today" show, James was asked the same question and responded.
"Oh, I take myself. For sure. I mean, I'm gonna take myself versus anybody."
That's not surprising coming from the player who called himself "the best player in the world" during the NBA Finals, despite his team trailing 3-2 at the time to the reigning MVP (who, you might remember, went on to win that series and hand James his fourth NBA Finals loss).
James, though, did at least acknowledge that beating Jordan wouldn't be easy, telling Today: "I'll tell you one thing -- they're gonna have to have a few wheelchairs and a couple ambulances there to get us off the floor."
For those who care to try and solve this unsolvable dilemma themselves, here are the key numbers to know: James has the height and weight advantages (6-8 to 6-6 and 250 to 216). Jordan has higher career averages in points (30.2 to 27.3) while James has the edge in assists (7.1 to 5.3). Jordan also bests James in All-Star selections (14 to 11), MVPs (5 to 4) and, of course, rings (6 to 2).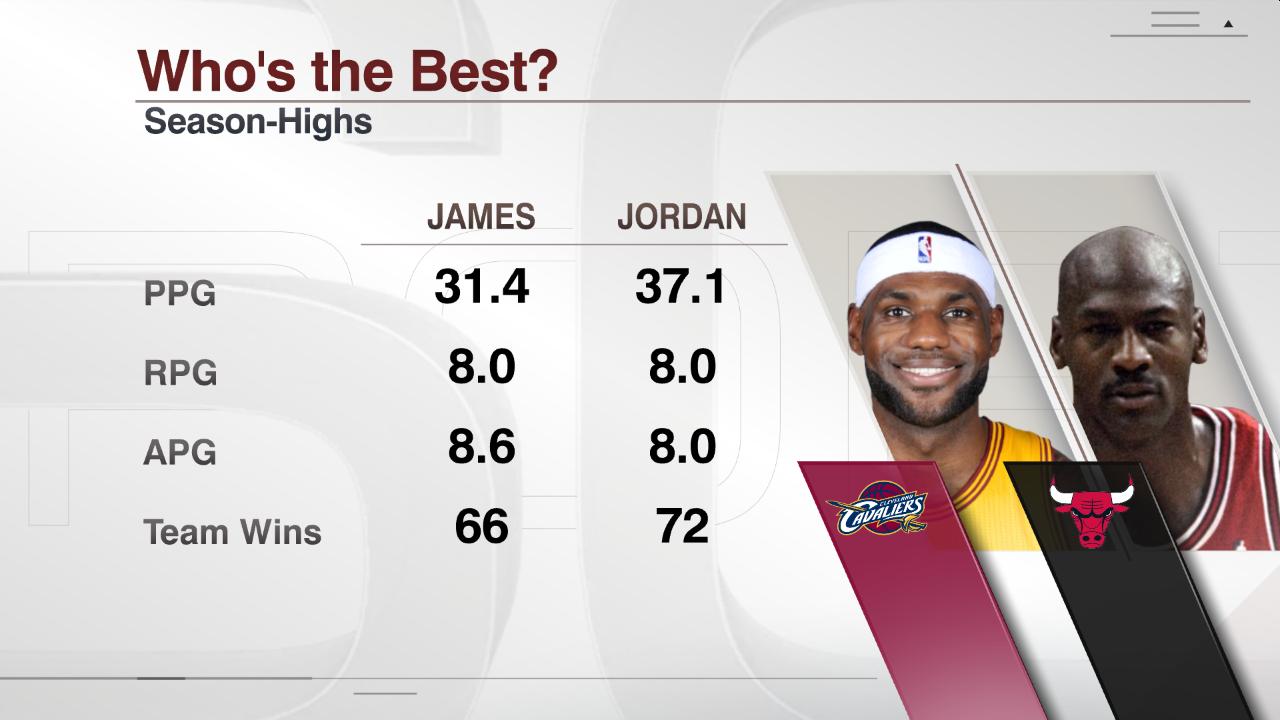 On Saturday at his Michael Jordan Flight School camp in Santa Barbara, California, the eponymous NBA legend took a number of questions -- and some of them were tough, ranging from Phil Jackson or Dean Smith, all-time Chicago Bulls vs. all-time Los Angeles Lakers, one-on-one with LeBron James and much more.
As he tends to do with basketball-related queries, MJ answered them with candor. Here's a selection of the questions and answers, as seen in the video above from Bay Area HQ:
(Questions as said by Jordan himself.)
If I had to play one game, who would I want to coach: Phil Jackson or Dean Smith?
"Dean Smith. [Some audible gasps/murmurs.] Fortunately Dean Smith helped me become the basketball player I am today. Phil was lucky because I was taught the game by Dean Smith."
How did I feel when the Detroit Pistons walked off after we beat them in 1991 [in a 4-0 sweep in the Eastern Conference finals]?
"I felt fine. I felt accomplished. We beat them and they felt ashamed about us beating them. I felt like it was bad sportsmanship. I would not advise you guys to do that. You've got to be able to lose in grace and win in grace -- so don't walk off the court. Even though you hate losing, that's just bad sportsmanship if you do that."
Biggest trash-talker I ever played against?
"Probably Larry Bird. He talks a lot of trash. Good trash, though, not dirty trash. Good trash."
What did I think about when Shaq said that the all-time five of the greatest Lakers could beat the Bulls' five greatest players?
"I just felt like he was just talking. It's a debate. The thing is that we would never know. I think we would have killed them. He thinks they would have killed us. You guys decide. It's just a debate."
"Favorite player to play pick-up games with?"
"My best pick-up game I've ever played was the games and the practices with the [1992] Dream Team. ... My team was myself, Scottie Pippen, Patrick Ewing, Larry Bird and Chris Mullin. We played against Magic Johnson, Clyde Drexler, Charles Barkley, David Robinson -- that's five, right? -- and we killed 'em.
Note: That's not five; the other player team's fifth had to be either Karl Malone, John Stockton or Christian Laettner. There's also a chance Jordan is misremembering a bit, and he's talking about this scrimmage covered in-depth by Sports Illustrated, which featured a Jordan-Malone-Ewing-Pippen-Bird five against Magic, Barkley, Robinson, Mullin and Laettner (although a 40-36 final score in favor of Jordan's team hardly constitutes a "killing.")
If I had the chance to go one-on-one with Steph Curry or LeBron, which one would I choose to go one-on-one with?
"Right now, or when I was in my prime? Right now? Buddy, I couldn't beat -- well, I'd go against [Stephen] Curry because I'm a little bit bigger than him. So I could kind of back him in. But LeBron is a little bit too big."
[Note: Take that, 34 percent of America.]
If I had a chance to add another member to team Jordan, who would I hire?
"I'm a big fan of [Mike] Trout, the baseball player. I absolutely love him. I wish I could hire him. But he's Nike, so I can't steal Nike's guys."
This is the ESPN question. I know it's going to be all over ESPN. [Note: He was right.] If I was in my prime, could I beat LeBron in a one-on-one game?
[Long pause in which the campers mutter/shout their opinions.]
No question!
[Huge applause.]
What did I see in Kwame Brown when I drafted him [No. 1 overall for the Washington Wizards in 2001]?
"I, along with everybody that was in that draft room, wanted Kwame Brown because of his athleticism, his size, his speed. He was still a young talent, 18-year-old, 19-year-old kid."
If you went back and you couldn't play basketball or baseball, what sport would you play?
"Great question. I went to college, I got my degree in cultural geography, and everybody wanted to know what is cultural geography? Well it's an introduction to meteorology. I always wanted to be the weather man. Don't laugh. But that's what I really wanted to do. So if I wasn't playing basketball or baseball, I was going to tell you what the weather was going to be like tomorrow."
[Note: Don't think meteorology is a sport? Tell that to Jim Cantore!]
What kind of advice would I give Kobe Bryant?
[Uncomfortable laughter in the crowd.]
"Actually, Kobe and I are good friends. I like Kobe, we talk a lot, I hope he comes back healthy. I think he's one of the great players of the game, I think he's done a lot for the game, and he has a true love for the game of basketball. I absolutely have high regard for Kobe Bryant.
"Even though he stole all my moves, but that's OK. I still love him like a brother."
H/T Bay Area HQ and For The Win
Michael Jordan, of course, is a Chicago Bulls legend.
Jimmy Butler isn't one -- yet -- but he's an All-Star and, arguably, the new face of the franchise.
So what better idea than to have the two of them face off in a shootout at Michael Jordan's Flight School basketball camp in Santa Barbara, California, with a little help from a pair of young ballers?
Spoiler: MJ hits a J at the buzzer: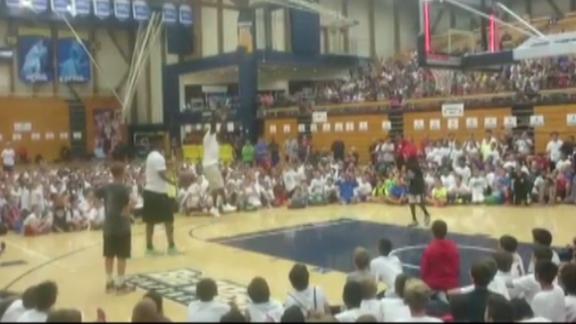 Now, we're not sure who won. It appears His Airness & Co. came out victorious, and with the stroke Jordan still has at age 52, this isn't a shocker.
Butler, to the surprise of no one, showed respect to the greatest ever to play his sport.
Don't think Jordan is the greatest? Take it up with Butler; "la cabra" is Spanish for "the goat."
H/T The Big Lead.