SportsNation Blog Archives

Minnesota Timberwolves
Karl-Anthony Towns is a burgeoning double-double machine for the Minnesota Timberwolves and an early front-runner for rookie of the year honors, but before he cruised through a heralded one-year stint at Kentucky into the NBA, he was a Kevin Durant fan, just like everyone else.
In a clip that recently resurfaced on MSGVarsity.com, "Karl Towns" -- then just a talented high schooler from New Jersey -- got a chance to interview Durant, whom he called one of his "basketball idols."
TNT dug up the footage to air during the Warriors-Timberwolves game Thursday night in Minneapolis.
Towns, who turns 20 on Sunday, hides any nervousness pretty well, especially for a kid right in the middle of his awkward teen years. According to HoopsHype, the exchange left an impression on Durant as well.
"He was really sharp," Durant said. "He was wise beyond his years and that's something I picked up on really as soon as I started talking to him."
Towns, who is averaging 16.1 points and 10.5 rebounds a game this season, will get his first chance to share an NBA court with Durant, now 27, on Jan. 12, when Minnesota travels to Oklahoma City.
h/t r/NBA
The Minnesota Timberwolves host the Portland Trail Blazers on Monday night for their home opener, and ahead of the game, the organization has unveiled a variety of tributes to Flip Saunders.
Saunders, the team's former head coach and president of basketball operations, died late last month from Hodgkin lymphoma. Since then, there has been an outpouring of support for the Wolves and for Saunders, who was beloved throughout the league.
Before the Lakers-Timberwolves season opener, each team wore warm-up shirts honoring Saunders.
Monday afternoon, the Timberwolves tweeted a photo of the patch they will wear on their jerseys for the rest of their season:
Tonight we will debut the commemorative patch that will be worn by the players this season in honor of Flip #ForFlip pic.twitter.com/XZQteOBuRV

— Timberwolves (@Timberwolves) November 2, 2015
First look at the pin given to #Twolves staff today. Mirrors the look of the commemorative Flip Saunders patch. pic.twitter.com/vHe0kApHUV

— Timberwolves PR (@Twolves_PR) November 2, 2015
The team will also air a video tribute to Saunders before tipoff, and the hashtag #ForFlip has caught on with fans. Minnesota is 2-0 this season and has received an immediate impact from 2015 No. 1 overall pick
Karl-Anthony Towns
, who has put up double-doubles in each of the first two games of his career.
In back-to-back years, the Philadelphia 76ers ended up with lottery-pick big men: Nerlens Noel in 2013 and Joel Embiid in 2014.
So, when the Los Angeles Lakers selected D'Angelo Russell with the No. 2 pick, thus leaving Duke center Jahlil Okafor available, the Twitter-savvy Embiid had a reaction:
OK........... Lol

— Joel Embiid (@JoelEmbiid) June 25, 2015
Now before we start any scandal rumors, we must remember two things: (1) Embiid, who missed the entire 2014-15 season, might still be injured, and (2) the Cameroonian quickly followed that tweet with a bit of love for Okafor, whose father is of Nigerian descent.
Aye my boy is in philly with me #AfricanConnection

— Joel Embiid (@JoelEmbiid) June 25, 2015
Embiid's wasn't the only amusing NBA player Twitter reaction from Thursday night's draft.
After the Minnesota Timberwolves took Karl-Anthony Towns No. 1 overall, point guard Ricky Rubio couldn't help but start the hazing process.
Hello @KarlTowns !! You ready to pick up my dry cleaning tomorrow ?? #WelcomeRook

— Ricky Rubio (@rickyrubio9) June 25, 2015
Towns, whose mother is Dominican, became the first Hispanic player ever to go No. 1 overall in the NBA draft. Atlanta Hawks big man Al Horford, who is from the Dominican Republic, tweeted congratulations to Towns in English and Spanish.
Congrats @KarlTowns so proud. All your hard work is paying off, but you are just getting started! Welcome to the NBA!

— Al Horford (@Al_Horford) June 25, 2015
Felicidades a @KarlTowns me siento muy orgulloso de ti en verte crecer y desarrollarte como jugador. Ahora empieza lo bueno! #NBA #NBADraft

— Al Horford (@Al_Horford) June 25, 2015
When Kristaps Porzingis went No. 4 overall to the New York Knicks, the fans didn't like it. And oh, the players noticed.
The Knicks fans HOT!!!!!!!!!!!! Omg

— BRANDON JENNINGS (@BrandonJennings) June 26, 2015
Yall gotta give him a chance Knicks fans

— BRANDON JENNINGS (@BrandonJennings) June 26, 2015
June 26, 2015
Funny the reactions of NY fans about a player they don't know.

— rudy gobert (@rudygobert27) June 26, 2015
But its ok they might buy his jersey pretty soon anyway =

— rudy gobert (@rudygobert27) June 26, 2015
Lol that lil Knicks fan is going to be on ALL the memes

— Spencer Dinwiddie (@SDinwiddie_25) June 26, 2015
This lil kid is priceless...... Give Porzingis a chance

— Ekpe Udoh (@EkpeUdoh) June 26, 2015
He's very good man... Super talented

— Kyle Lowry (@Klow7) June 26, 2015
Knicks fans are my TL are straight comedy lol

— SLOWMO (@KyleAnderson5) June 26, 2015
A pair of big names welcomed late-lottery picks to their respective new homes:
Congrats to @IAmJustise on getting drafted! Very excited to have you! #wegotagoodone #NBADraft #luckylefty

— Chris Bosh (@chrisbosh) June 26, 2015
Welcome to the family youngin @Original_Turner! #PacerNation

— Paul George (@Yg_Trece) June 26, 2015
Kendall Marshall, meanwhile, thought Myles Turner bore a striking resemblance to Dave Chappelle's character from "The Nutty Professor."
with the 11th pick, Indy selects Reggie Warrington.

— Kendall Marshall (@KButter5) June 26, 2015
(And wouldn't you know, he wasn't alone in making that comparison.)
"He looks like Reggie from the Nutty Professor." -@AminESPN on Myles Turner #NBADraft #analysis pic.twitter.com/Mg4R1m52Av

— ESPN (@espn) June 26, 2015
It appears Rubio wasn't the only veteran point guard ready to haze his new teammate -- this time a player who went to the same school (Kentucky).
Welcome to the valley @DevinBook ... Got your backpack ready!

— Eric Bledsoe (@EBled2) June 26, 2015
Meanwhile, Nick Young seems to think all the young players owe him a nod for their hairstyle.
The haircut is real

— Nick Young (@NickSwagyPYoung) June 25, 2015
I shoulda trademark this haircut

— Nick Young (@NickSwagyPYoung) June 26, 2015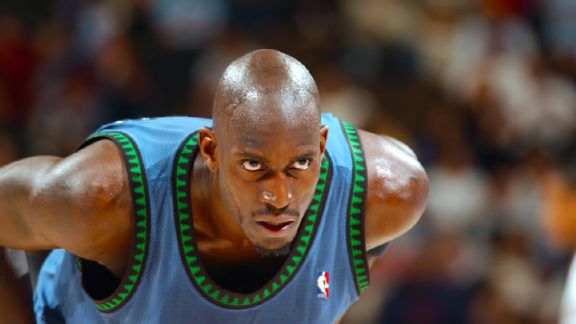 Nathaniel S. Butler/Getty Images
On Monday, Bleacher Report released an oral history of Kevin Garnett. Now, an oral history of one particular player might seem a little much, unless that player is a human anecdote machine -- which the former/current Minnesota Timberwolves and former Boston Celtics and Brooklyn Nets big man most certainly is.
We pulled some of the best quotes from the piece related to Garnett's infamous intensity and trash talk, but it really is worth the whole read:
Joe Abunassar, Garnett's personal trainer: "We had been working out and we went to Memorial Park [in L.A.], and he had forgotten his socks. It was him, [Chauncey] Billups, [Al] Harrington, Ty Lue, Michael Ruffin and a few others. He played every game. He was dunking on guys and blocking shots -- all with no socks on. Hours he was playing. When it was over, there was blood seeping through the front of his shoes. Part of his feet and toes were just bleeding. It was unbelievable."
Chris Bosh, Miami Heat/former Toronto Raptors forward: "Usually I don't talk back, but if he said something to me, I said something back. I had just a terrible game for me [against the Celtics in the 2011 playoffs]. He got me all off my game. He scored, like, four times in a row on me in the crunch. And I was so embarrassed and so upset, and he got in my head. Ever since that day, I never said anything else."
Paul Pierce, former Celtics and Nets teammate: "One time, he asked [Joakim] Noah if he could rub through his hair, like a female or something. ... And I know that kind of made [Noah] hot. And this was when Noah was a rookie, too. I remember Noah looked up to KG. He was like, 'Man, KG, I had your poster on my wall, I looked up to you, man.' And then [Garnett] just said something like that, and was like 'F--- you, Noah.' I was like, 'Whoa.' This kid fresh out of college, looks up to KG, just said he had his poster on the wall, and he tells him that! It crushed him. It crushed Noah."
Pierce again, recalling a light moment between himself (then with Boston) and Garnett (then with Minnesota): "We were both on losing teams at this point. This is probably around the last week of the season. We're talking [trash] at the free throw line. I'm like, 'Man, everybody needs to shut up, because we all going to the Bahamas next week.' And as intense as he was, he had to look up and just start laughing. ... I said, 'I'm going to Cancun. Where are you going, Ticket?' He said, 'I'm going to St. Lucia.'"
Tyronn Lue, former NBA guard: "A lot of people do all their howling on the court and they're faking just for attention, but what he does is genuine. So one day we were at his house and we were watching Puff Daddy's show 'Making the Band,' and in one of the scenes, some new guys came in and were trying to sing and were trying to compete against the guys who had been there. And KG just got so hyped: "M-----f-----, you've got to stand up for yours! You've got to fight! M-----f----, you've got to come together!" He's going crazy, he's sweaty. And he just head-butts the wall and put a hole in the wall of his house."
Check out the story here.