SportsNation Blog Archives

Utah Jazz
September 21, 2015
Sep
21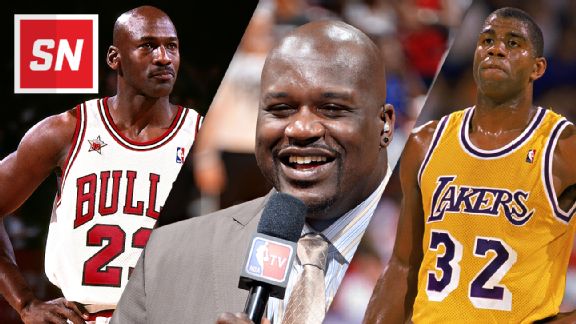 Getty Images
NBA top fives are in the air. Kevin Durant gave his list two weeks ago, and now, one of Durant's picks has made his own choices.
In an interview with The Times-Picayune of New Orleans, former Los Angeles Lakers (and Orlando Magic ... and Miami Heat ... and a few other teams) big man Shaquille O'Neal was asked his all-time starting five. His answer:
"Bill Russell won 11 championships. Charles Barkley is my guy, but I like Karl Malone. Then there's the guy who made me who I am -- Dr. J [Julius Erving]. I've got Michael [Jordan] at the two. Then, I'm going to go with the big guard with Magic Johnson at the one."
Now, O'Neal made sure NOT to put an exclamation point on his list, saying:
"I see a problem with answering these questions. A lot of people get their feelings hurt. Then some of you guys [reporters] be trying to start trouble, like Shaq leaving Kobe [Bryant] off. Then it's Shaq and Kobe.
"But that's my top five for playing reasons and what they did. Russell doesn't have high [statistical] numbers, but with 11 championships, nobody is beating that."
We're not doing that, Shaq! We know you're mending fences with former teammate Kobe Bryant and certainly wouldn't leave him off as a dig. Heck, he wouldn't be on this writer's top five, either -- not because Kobe hasn't been great (he has), but when you get to the upper reaches of the NBA's all-timers list, it's really, really, really competitive.
Having said that, O'Neal did make some interesting choices; Malone and Erving, in particular, don't appear on a great deal of these lists. So we ask you:
Getty Images
NBA free agency predictions?
July 1 marks the beginning of NBA free agency, and what a time it should be. LeBron James is available. So are Carmelo Anthony, Chris Bosh, James' and Bosh's fellow Big Three member Dwyane Wade and -- perhaps briefly, if he re-signs as expected -- Dirk Nowitzki. That's not to mention restricted free agents such as Eric Bledsoe and Gordon Hayward, plus trade targets like Kevin Love. What will happen when the players start moving?
Melissa Majchrzak/NBAE/Getty Images

NBA 5-on-5: Utah Jazz

Three of Utah's four top usage leaders from a year ago are gone, setting the stage for many of the team's young, up-and-comers to determine the Jazz's fate. Can guys like Gordon Hayward and Derrick Favors develop a core around which Utah can build? Are there budding stars on this team that are ready to step forward, or is the team still missing several pieces? The NBA 5-on-5 guys had their say and now it's time for SportsNation to weigh in.