SportsNation Blog Archives

Memphis Grizzlies
Mario Chalmers might not be on the Miami Heat anymore, but that doesn't mean the guard -- traded last week to the Memphis Grizzlies after seven seasons and two titles in South Florida -- is forgotten.
Look at Monday night. Chalmers broke out (29 points on 13 shots in 23 minutes of a 122-114 win over the Oklahoma City Thunder), and after a big 3-pointer, Dwyane Wade chimed in, unprompted, on Twitter.
Rioooooooooo!!!!!!

— DWade (@DwyaneWade) November 17, 2015
Then, proving he wasn't just having a good time watching an animated movie about macaws with his kids, Wade sent this one out after the game:
Proud big bro iam. @mchalmers15 way to take that champion swagger to Memphis lil bro..

— DWade (@DwyaneWade) November 17, 2015
Teammates for life.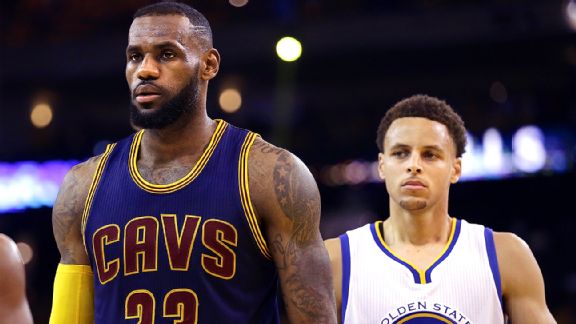 AP Photo/Ben Margot
Recently we brought you the top 10 players, as rated by the latest "NBA 2K" game.
The ratings for "NBA Live 16" also are here -- and they're quite a bit different.
Here's the top 10 (and ties):
1. LeBron James (97)
2. Kevin Durant (96)
T-3. Anthony Davis (95)
T-3. Marc Gasol (95)
T-3. Blake Griffin (95)
T-3. James Harden (95)
T-3. Chris Paul (95)
T-8. LaMarcus Aldridge (94)
T-8. DeMarcus Cousins (94)
T-8. Stephen Curry (94)
T-8. Russell Westbrook (94)
That's right: LeBron James (no surprise) is No. 1, 2014 NBA MVP Kevin Durant is No. 2, and a handful of talented stars across positions come in tied for third.
Meanwhile, the reigning NBA MVP is tied for eighth -- definitely an eye-opening number for a player many consider the best in the league. Then again, perhaps "NBA Live" is drawing upon more than just last season for its ratings; few before 2014-15 had Curry in that top-player-overall conversation.
Memphis Grizzlies wing Matt Barnes joined SportsNation on Tuesday, and didn't hold back when asked about Oklahoma City Thunder big man Serge Ibaka, with whom Barnes feuded while with the Los Angeles Clippers.
Matt Barnes says he would fight Serge Ibaka RIGHT NOW! "He [thinks] he's the toughest guy on the planet, he's not." http://t.co/wIdC6XG5i1

— SportsNation (@SportsNation) July 21, 2015
Them's, quite literally, fighting words! Ibaka noticed this, and fired back -- although he didn't seem to be overly concerned with Barnes' semi-challenge to a fight.
@danawhite @ufc are you interested? LOL https://t.co/tgXNbDxBPq

— Serge Ibaka (@sergeibaka9) July 21, 2015