SportsNation Blog Archives

Phoenix Suns
In the first quarter of the Phoenix Suns' game against the Houston Rockets on Tuesday, P.J. Tucker and Eric Bledsoe combined for an inbound fail that basically sums up the team's season:
But this isn't the first such instance in the NBA this year. In fact, the Miami Heat did the same thing less than a week earlier in a much more critical situation -- with 41 seconds left and down 102-101 to the Minnesota Timberwolves. (The Heat went on to lose by the same score.)
So, which was worse: The one from the over-.500 team scraping to stay in the playoff race in the heated West? Or the one from the sub-.500 team -- albeit playoff caliber, at the moment -- that involved players with just 32 starts for the Heat between them this season?
(Whichever you pick, it still likely won't challenge Lamar Odom's mishap for the 21st century inbound fail crown.)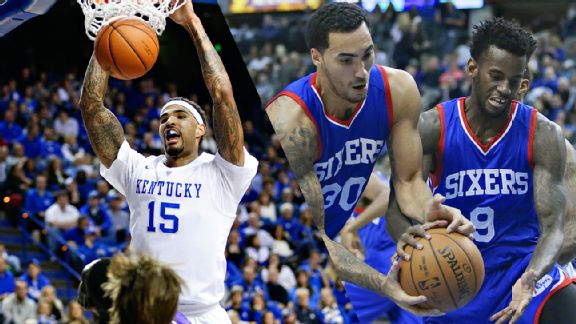 Getty Images
On a Wednesday SiriusXM NBA Radio appearance, Phoenix Suns guard and former Kentucky Wildcat Eric Bledsoe said his school -- fresh off a 72-40 dismantling of the fifth-ranked Kansas Jayhawks -- would beat the 0-11 Philadelphia 76ers in a seven-game series.
"I'm definitely taking Kentucky," Bledsoe said when presented with the scenario. "I think Philly would probably get maybe one game."
Bold statement. Philadelphia indeed is terrible and Kentucky appears to be great. But would a cast of current NBA players really lose to future ones?
(Side note worth mentioning: The Suns play at Philadelphia on Friday.)
Steve Mitchell/USA TODAY Sports
Where will LeBron James play?
Although LeBron James opted out of his contract, conventional wisdom suggested he would re-sign with the Miami Heat and give things another go with the rest of the Big Three. But now that's not so clear, as reportedly James, Chris Bosh and Dwyane Wade aren't quite on the same page. Meanwhile, with James himself on vacation, sources say his agent, Rich Paul, might have met with representatives for the Dallas Mavericks, Houston Rockets and Phoenix Suns and possibly the Cleveland Cavaliers. Will James really leave South Florida?
Getty Images

NBA free agency predictions?

July 1 marks the beginning of NBA free agency, and what a time it should be. LeBron James is available. So are Carmelo Anthony, Chris Bosh, James' and Bosh's fellow Big Three member Dwyane Wade and -- perhaps briefly, if he re-signs as expected -- Dirk Nowitzki. That's not to mention restricted free agents such as Eric Bledsoe and Gordon Hayward, plus trade targets like Kevin Love. What will happen when the players start moving?