SportsNation Blog Archives

Philadelphia Phillies
Thirty-five years ago, Philly's four major sports teams nearly achieved unprecedented success when each squad advanced to the championship round of its respective sport -- with the Phillies walking away with a trophy.
The 2014-15 season was a far cry from that feat, as none of the Philadelphia teams even qualified for the postseason. A playoff-free year, combined with the departure of fan favorites such as Jimmy Rollins and LeSean McCoy, has cast a pall over the usually bright lights of Broad Street.
On a day when the struggles of the city's basketball team will be on full display in the NBA Draft lottery show (8 ET, ESPN), it seems an appropriate time to take a look at just how miserable Philly pro sports have been lately.
• • •
Sixers (18-64, missed playoffs)
Hair-pulling causes: Tanking talk has tormented fans recently, and it's hard to dispute those claims, as Philly is only the second team in the past 15 years to win fewer than 20 games in consecutive seasons. It's increasingly difficult to buy into general manager Sam Hinkie's rebuilding project, as the failed Michael Carter-Williams experiment and injuries to No. 1 overall picks Nerlens Noel and Joel Embiid relegated the lineup to mostly NBA castaways and D-Leaguers.
But on the bright side: Noel's strong finish to 2015, combined with Embiid's expected debut, gives the Sixers a formidable one-two inside punch. If the ping pong balls bounce their way tonight, the cornerstone perimeter star that has eluded the Sixers since Allen Iverson will be available to fortify the starting 5. And if Dario Saric is let out of his contract in Turkey, the playoffs are well within reach.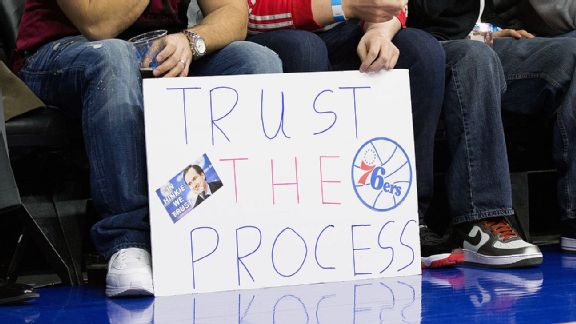 Bill Streicher/USA TODAY Sports
Eagles (10-6, missed playoffs) Hair-pulling causes: Turnovers played a major role in the Eagles' failed 2014 playoff bid. Turnover again was a hot topic once the offseason began, as Chip Kelly jettisoned fan favorites LeSean McCoy and Trent Cole, Jeremy Maclin left for the Chiefs, while DeMarco Murray and oft-injured Sam Bradford came aboard. McCoy's and Maclin's departures mark the first time in NFL history that a team lost its leading rusher and receiver following 1,000-yard campaigns.
But on the bright side: The Birds are the best bet on this list to end their playoff hiatus. Kelly has strung together consecutive 10-6 campaigns with the likes of Nick Foles and Mark Sanchez under center, so why wouldn't he be able to at least replicate that success with Bradford, a versatile ground attack and a revamped secondary?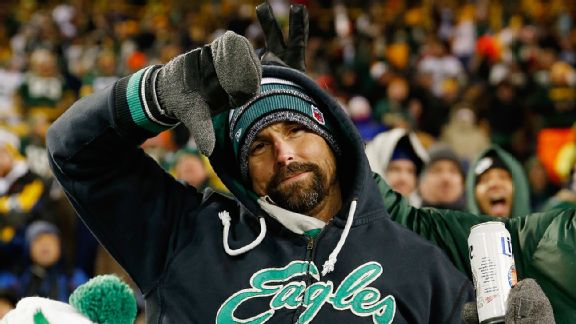 Mike Zarrilli/Getty Images
Flyers (33-31-18, missed playoffs)
Hair-pulling causes: After qualifying for the postseason in 16 out of 17 seasons from 1994 to 2012, the Flyers were shut out of postseason play for the second time in three years and only the 10th time in the franchise's 47-year history. Slow starts and struggles on the road doomed the underachieving Flyers and led to head coach Craig Berube's dismissal and Dave Hakstol's surprising hire.
But on the bright side: The first year under GM and former hero Ron Hextall was rocky, but two first-rounders -- the No. 7 pick, the team's highest since taking James van Riemsdyk second in 2007, and Tampa Bay's yet-to-be-determined pick -- afford him the opportunity to add firepower to a team that finished 21st in goals scored.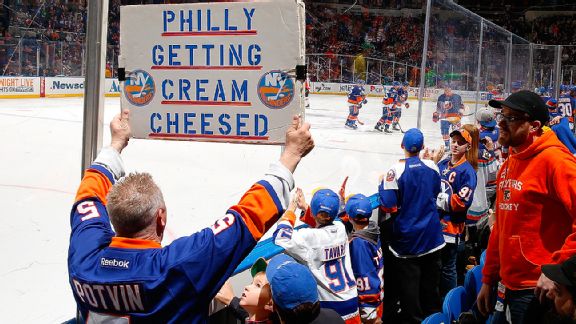 Mike Stobe/NHLI/Getty Images
Phillies (73-89 in '14 missed playoffs; 17-23 in '15, fourth in NL East

Hair-pulling causes: Some fans abandoned ship in the spring, and it looks like the team's horrendous start (they narrowly avoided an 11-24 record which would've been its worst since 1971) has alienated other loyalists and led to many half-empty nights at Citizen Bank Park. A punchless lineup around aging stars Ryan Howard and Chase Utley, as well as the Cole Hamels trade rumors, make it hard to gather much positive from a team that appears destined for its fourth consecutive non-winning season.
But on the bright side: The Phillies are tied with Chicago for the longest active win streak in the Majors at six games. Hamels is rounding back into All-Star form, Utley's bat has awoken, and shortstop Freddy Galvis and his team leading .341 average offers hope for the future.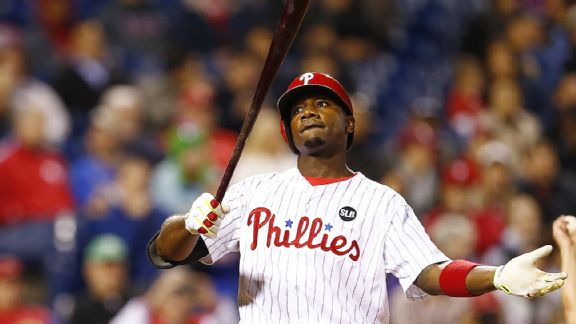 Rich Schultz/Getty Images
Tags:

Philadelphia Phillies, Philadelphia 76ers, Philadelphia Eagles, Philadelphia Flyers
Red Sox fans mock Alex Rodriguez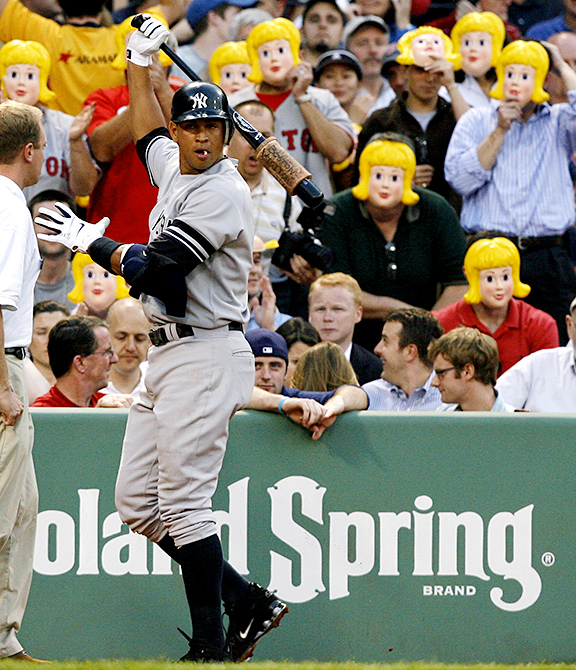 Linda Cataffo/Getty Images
Boston Red Sox fans taunt New York Yankees' Alex Rodriguez by wearing masks of a blonde woman as he stands on deck in the second inning of a game at Fenway Park. Earlier that week, Rodriguez had been spotted at a club with a blonde, not his wife, setting off allegations about his extramarital activities. The Yankees, however, beat their long-time rival 9-5.
Gum cup on the helmet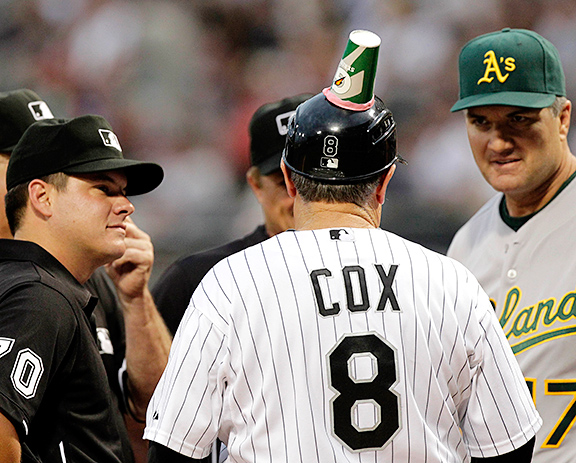 AP Photo/Charles Rex Arbogast
Chicago White Sox third base coach Jeff Cox has no clue this prank has been pulled on him with a cup stuck to his helmet with gum as he delivers the starting line up before a baseball game in Chicago. Watching, and slightly amused, at his left is third base umpire D.J. Reyburn.
Tom Brady and his GQ photo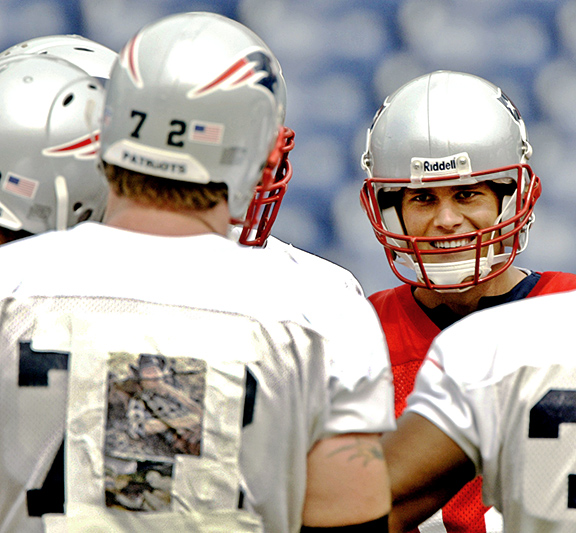 AP Photo/Stephan Savoia
New England Patriots quarterback Tom Brady calls a play in the huddle during normal Tuesday practice at Patriots summer camp in Foxboro. And to poke fun of the QB, offensive lineman Matt Light tapes a page of Brady's GQ photo shoot to the back of his jersey, left. Let's be honest though, Brady is married to a super model and has four rings, so were pretty confident he was able to brush this one off, even if the magazine spread was a little bizarre.
Green Guys and the penalty box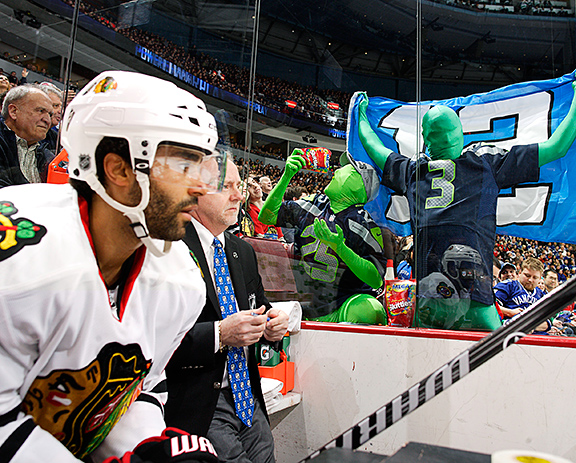 Jeff Vinnick/NHLI/Getty Images
The Green Men, two Vancouver fans, taunt Johnny Oduya #27 of the Chicago Blackhawks who took a penalty against the Vancouver Canucks during their NHL game in Vancouver. Oduya doesn't seem to be phased, probably because Chicago got the win, 5-2.
Eric Thames and some bubble gum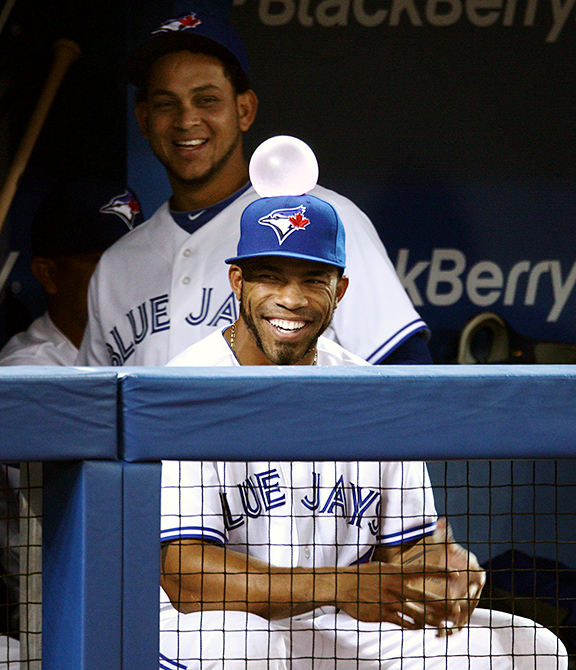 Tom Szczerbowski/USA TODAY Sports
Toronto Blue Jays outfielder Eric Thames reacts to the impressive bubble of chewing gum placed perfectly on his ball cap by teammate Henderson Alvarez during a ball game against the Baltimore Orioles. Thames was able to laugh it off and the Blue Jays were able to get the win, 9-2.
Matt Harvey and the old 'ball tied to a string'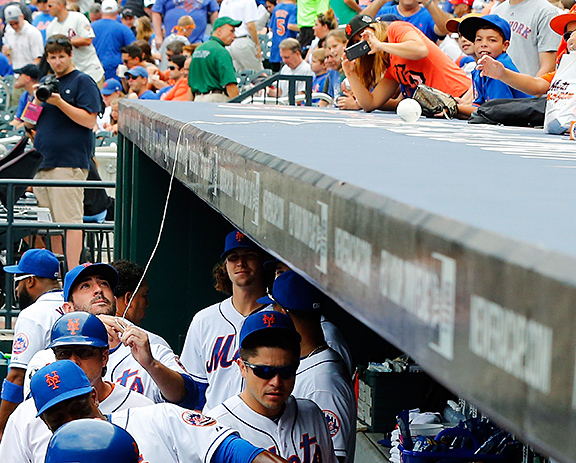 Jim McIsaac/Getty Images
Matt Harvey of the New York Mets teases fans with a ball tied to a string before a game against the San Francisco Giants at Citi Field. Yes, it's a little mean but also brilliant.
Kings Mascot trolls ref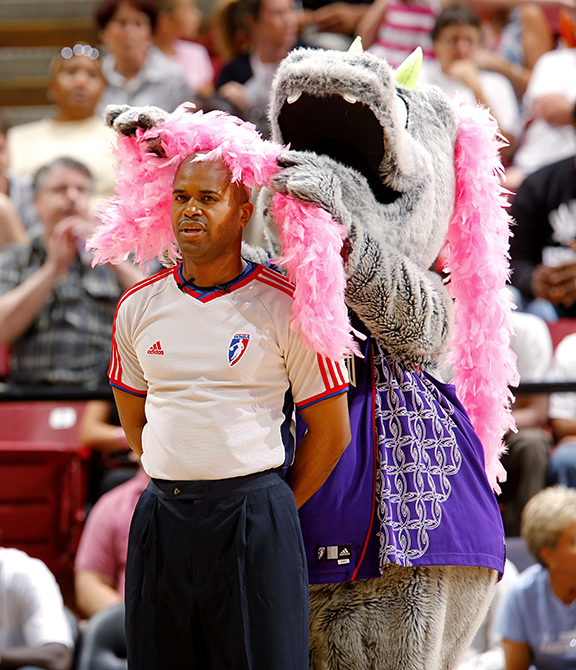 Rocky Widner/NBAE/Getty Images
The Sacramento Kings mascot Monty goofs around during a game between the Seattle Storm and the Sacramento Monarchs. What are sports if you can't have a little fun? It looks like this ref didn't find it as cute.
Phanatic Popcorn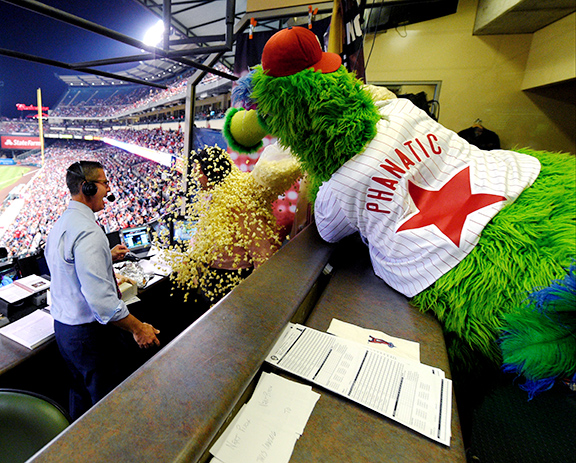 Matt Brown/Getty Images
Phillie Phanatic loves his humor and everyone loves attention on their birthday, right? The Phanatic wished Mark Gubicza a happy birthday with a lot of popcorn as booth-buddy Victor Rojas watched during a broadcast of the Philadelphia Phillies and Los Angeles Angels game.
Lowrie Pie Face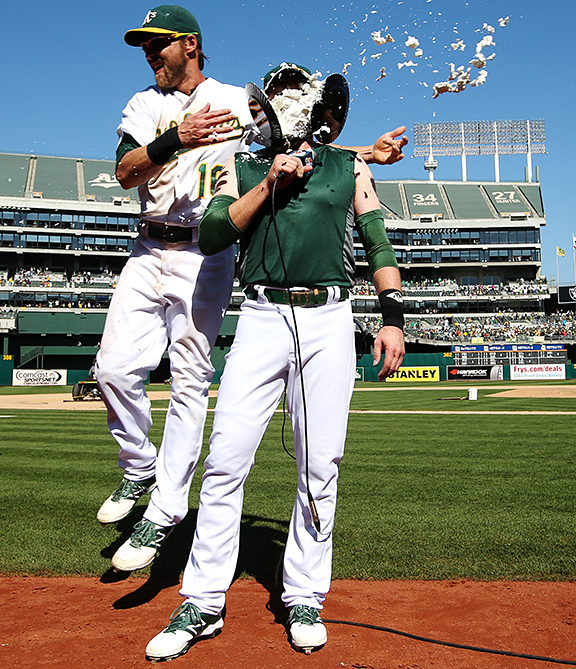 Brad Mangin/Getty Images
Not one pie, but TWO pies to the face for A's Jed Lowrie from teammate Josh Reddick while doing an interview on the field after Lowrie drove in the winning run with a single in the bottom of the 9th inning against the Houston Astros.
Popcorn Car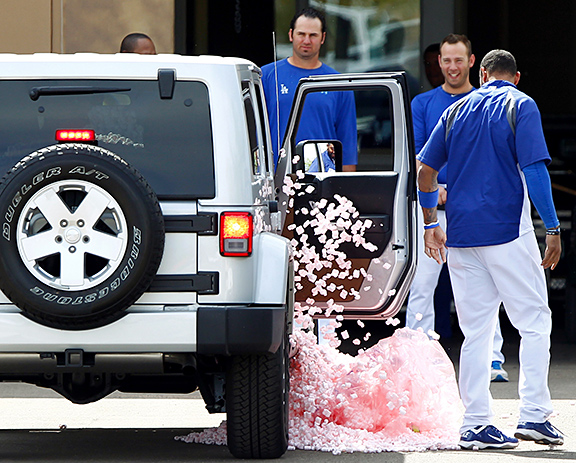 Debby Wong/USA TODAY Sports
We wouldn't want to be the teammate who got a front seat full of popcorn from Matt Kemp before the game against the Chicago Cubs. Wonder if he's still finding those little packing peanuts in his car.
Tags:

Tom Brady, Alex Rodriguez, Toronto Blue Jays, Baltimore Orioles, Chicago White Sox, Vancouver Canucks, Matt Harvey, Sacramento Kings, Philadelphia Phillies, Oakland Athletics
Manuel out as Phillies manager
Charlie Manuel is the winningest manager in Phillies history, but the 2013 version of the team is a ways removed from the one that broke Philadelphia's 28-year championship drought in 2008. The Phillies fired Manuel on Friday, replacing him with Hall of Famer Ryne Sandberg. It's tough to justify keeping a manager whose team is more than 20 games out of first place in the NL East, but is Manuel really to blame for the Phillies' woes?