SportsNation Blog Archives

Andre Woodson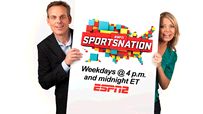 Michelle Beadle and Colin Cowherd avoided weekend upsets and maintained their places in the rankings, so they'll be back for more "SportsNation" TV.
Argue the hot topics of the day and vote on the biggest stories from the world of sports. The show airs on ESPNEWS at 4 p.m. and ESPN2 at midnight ET.
Note: Broadcast voting results as of this afternoon (ET).

If drinking your own urine was beneficial, would you do it?
Boxer Juan Manuel Marquez drinks his own urine ahead of matches. The WBO's 122-pound champ says it's a good source of vitamins.

Do on-field brawls help or hurt lesser-know leagues?
A fight between the Brampton Excelsiors and the New Westminster Salmonbellies resulted in 173 penalty minutes and five ejections.
Are MLBers too concerned with respect?
Torii Hunter said the Angels would have thrown at Prince Fielder, who untucked his shirt as he as he trotted the bases after a game-winning HR on Sunday.

Did the Redskins gain an advantage over the Giants?
Washington signed former New York backup QB Andre Woodson to its practice squad on Sunday, just a week before the two teams meet.
Will the Bengals win at least 12 games this season?
The experts on ESPN.com tab Cincinnati at third in the division and say anything better completely depends on a healthy Carson Palmer.
What is "SportsNation" TV, and how do you make your voice heard? Read about the new ESPN show that features fan opinions with calls, tweets, polls, rankers and more.