SportsNation Blog Archives

George Hill
Steve Spurrier might just be messing with Nick Saban, but his belief that Alabama potentially could beat some NFL teams is being taken somewhat seriously. After all, watching the Crimson Tide dismantle opponents week after week could lead one to believe that against say, the Jaguars or Chiefs, they'd have at least a fighting chance. If Alabama's stifling defense could do it (and we're not saying it could), what about Oregon's up-tempo offense? Would it be more of a realistic prospect in a battle between a college basketball team and the worst NBA team?
---
Alabama's chances?
Alabama is allowing 8.1 points per game this season, the best mark in all of college football ...

---
Oregon's chances?
... but Oregon is putting up 53.4 points per game, also the best in college football.

---
Indiana's chances?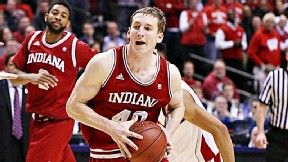 The Hoosiers are on top of the preseason rankings, but could they hang with a team even as bad as last year's Hornets?

---
Which matchup would you watch?
Pete Carroll has seen both the college and pro games up close, and he thinks it wouldn't even be a contest. Still, it might be fun to watch.

Nothing seems to go according to script for the Heat in the playoffs. If you believe LeBron James' prediction in their infamous introductory press conference, they should be well on their way to their second title by now. Instead, they're teetering on the brink of falling in a deep hole in their series against the Pacers. It's gotten so bad that the normally unflappable Dwyane Wade is scoring in the single digits and arguing with his coach. Whatever's wrong with Wade and the Heat, they'll have to turn it around quickly.
---
Will Wade turn it around?
Dwyane Wade's performance in Game 3 was eminently forgettable -- a mere five points and five turnovers in 37 minutes.

---
Wade vs. Spoelstra?
Dwyane Wade and coach Erik Spoelstra had to be separated after a heated argument.

---
Pacers' standout?
The Pacers have been splitting scoring duties almost evenly among their five starters, and it's been working out well so far.

---
A trade in the future?
There's been talk of splitting up the Big Three if the Heat don't win this season, possibly with the intention of acquiring Dwight Howard.