SportsNation Blog Archives

Georges Laraque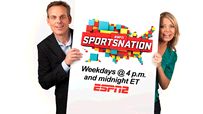 Neither Michelle Beadle nor Colin Cowherd will be traded by the "SportsNation" TV producers before next week's deadline.
Argue the hot topics of the day and vote on the biggest stories from the world of sports. The show airs on ESPN2 at 4 p.m. and midnight ET.
Note: Broadcast voting results as of this afternoon (ET).

Is there any downside to Adrian Peterson saying he wants "all the records"?
It's not like defenses don't have his number circled. The Vikings RB already has 481 yards and seven TDs this season (3,582 and 29 for his career).
Is Jimmy Clausen a legitimate Heisman candidate?
The Notre Dame quarterback has thrown for more than 300 yards in all but one game this season and 12 TDs to only two interceptions.
If all were interested, which coach would you most want to hire?
Bill Cowher, Tony Dungy, Jon Gruden and Mike Shanahan all have rings. Would one of them turn around your woeful franchise or take your team to a title?

Are you offended by ads featuring scantily clad women?
Montreal Canadiens enforcer Georges Laraque has apologized for an alcohol ad in which he appears playing street hockey.
Should the Bears have gotten more out of Kyle Orton and Cedric Benson?
The ex-Bears quarterback is 5-0 in Denver. The ex-Bears RB leads the league in rushing. Does their success reflect poorly on their former team?
What is "SportsNation" TV, and how do you make your voice heard? Read about the new ESPN show that features fan opinions with calls, tweets, polls, rankers and more.