SportsNation Blog Archives

Manny Ramirez
Chicago has seen its fair share of memorable duos. Mike Ditka and Jim McMahon. Michael Jordan and Scottie Pippen. Mrs. O'Leary and her cow. Al Capone and Elliott Ness. Oprah and Stedman. But for pure entertainment potential, would anything really top pairing Manny Ramirez and Ozzie Guillen under the pressure of salvaging a playoff bid?
The details of how Ramirez will move, be it by trade or straight waiver claim, were still unclear Tuesday afternoon, but it appears a lock that the aging slugger will next suit up for the White Sox. Questions of AL Central supremacy aside, that would also place Guillen and Ramirez within approximately 300 miles of Terrell Owens and Chad Ochocinco in Cincinnati. Caught in the middle, can Indiana survive?
"

Of course it was a desperate move on the White Sox, that isn't some super secret realization. They are falling out of the race fast and need a shot in the arm. Manny can do that as long as he is interested. They are taking a chance, but I would do the same since it is only a month or two the White Sox have to put up with him.

"

-- AlMightyIronfist
"

manny will rake in chicago. he can hit when he wants to. and he will want to. and i dont really blame him for getting tossed from that game. the dodgers spit on him and them wanted one last bit of production from him before they threw him out with the trash.

"

-- pbigby
At this rate, Doug Mientkiewicz, Dave Roberts and Bill Mueller must be anxiously waiting by the phone. Last week, it was questions about whether the Red Sox might do the unimaginable and bring Manny Ramirez back to Fenway Park. Now the Red Sox really are trying to do the only slightly more imaginable by bringing Johnny Damon back to Boston.
Even if Damon opts to waive his no-trade clause and forget the ill will that accompanied his move to the Yankees after the 2005 season, he may not be enough to resurrect the Red Sox. But what about the other former "Idiot" who may soon hit the waiver market? Ramirez hasnt played much this season, but SportsNation seems to think he could be the difference between first and second place for the Rays.
Tito (Brooklyn)
Do you think the Boston Red Sox will make the playoffs if Johnny Damon returns to that team?
Joe Morgan
He can help them because they have too many injuries in their outfield. ... I think it's a very difficult decision for Johnny Damon to go back to Boston. He wasn't happy when he left there. He didn't want to leave and he couldn't get the contract he wanted. It would be very difficult for him to go back there and help them win the pennant when they felt like they didn't need him the last time. But I think it could be a good move for him. Detroit is not going to make the playoffs. He has a chance for one last hurrah in Boston. But we are human beings and sometimes when our pride is hurt, it's tough for us to put that aside and go back. Full transcript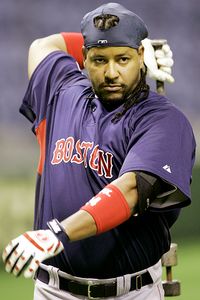 With Manny Ramirez nearing a return and the Dodgers nearing oblivion in the playoff race, the team may elect to put the veteran slugger on waivers and see if someone else wants to pay him for the rest of the season ("Mannywood" signs presumably not included).
Two teams that might reasonably have interest are the Yankees and Rays, currently fighting for first in the AL East and the best record in baseball. And since the Red Sox would get a shot at claiming him before teams with better records and can't afford to take any more hits in the pennant race, well, might we actually see Manny being Manny back in Boston?
SportsNation blogger JSchnootz, a Rays fan, offers up a Manny-Boston reunion as an even crazier scenario than Pat Burrell carrying an offense on his back.
Guy (Landon, BC)
Gordon, if the Sox get out of this current homestand within 3.5 games of the wild card, then they are in it. To that end, if at that point one Manny Ramirez surfaces on the waiver wire does Theo put in a claim knowing 1) Manny on a contract run could be a difference maker for the Sox and 2) Manny on a contract run could be a difference maker for the Rays.
ESPN Boston's Gordon Edes
There has been speculation about that. I can't conceive of the Red Sox open to taking Manny back? The Rays'part of the scenario gives one pause, but that's where you count on Kenny Williams making that claim before the Sox ever have to worry about it. Full transcript
"

Anybody who thinks Manny Ramirez won't make that $5 million back in ticket sales and TV ratings during a pennant race is crazy. Ask the Red Sox how ticket sales and ratings have been since Manny left. I'll tell you, if the Red Sox traded for him tomorrow, I'd watch every game the rest of the way. Every game.

"

-- swansoncide
"

Lifelong Dodger fan here. I can't wait to get him back in our lineup. The guy has been nothing but clutch since he got here. Even last year when he got suspended. And no, I'm not happy about that, nor do I take it lightly. But he is as presumably clean as anyone else in the game now, so what can I do. He hasn't been remotely a clubhouse cancer.

"

-- princethomas
A few years ago, the big story with the Phillies was the fact that they were the first-ever professional franchise to lose 10,000 games. Now, they may become the first back-to-back World Series winners in the new century.
Last night's NLCS Game 5 provided still more evidence that Philadelphia may be the most balanced team in baseball. With a lineup that features contributions out of nearly every player (even though Ryan Howard went hitless, Jayson Werth, Shane Victorino, and Pedro Feliz all homered), some shutdown starting pitchers, and a suddenly resurgent bullpen, the Phillies are sitting pretty. Surprised, SportsNation? Going by your judgments back in early July, late July, and even just prior to the series, you probably should be. Now, the only thing left for the Phillies to do is wait for the winner of the Angels-Yankees series, which SportsNation thinks won't take too long -- much like seemingly every other series this postseason.
Sid Bream, Aaron Boone and Dave Roberts will attest that it's not always the biggest names who make the plays that get teams to the World Series. But it doesn't hurt to have the big guns on your side. The bad news is SportsNation's picks for the NL MVP (Albert Pujols), AL MVP (Joe Mauer), NL Cy Young (Tim Lincecum) and AL CY Young (Zack Greinke) are all home watching on television. At least we've still got one of the Molina brothers.
Colin Cowherd and Michelle Beadle are looking for your rankings on the best remaining players for Thursday's "SportsNation" (ESPN2. 4 p.m. and midnight ET), but voters have already made it known who they would least want to face with the game on the line.