SportsNation Blog Archives

North Dakota Fighting Sioux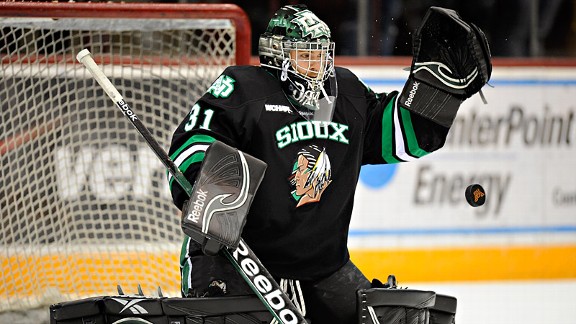 North Dakota will retire its Fighting Sioux nickname and Indian head logo after residents of the state voted in favor of dropping them. The issue of UND's moniker came about seven years ago when the NCAA produced a list of schools with American Indian nicknames it deemed hostile and abusive. If said schools were to continue use of the names in question, they would run the risk of sanctions being levied against their athletic programs. What's your take on the Fight Sioux nickname?
jimbo3507: "This is just political correctness run rampant. I think the NCAA should be sued and UND still be allowed to be Fighting Sioux until the Washington Redskins change their name."
apexctm: "Now Notre Dame needs to get rid of their name so we Irish won't be offended "
Claycates14: "Soon PETA will go after the schools with animal names......the mascot drama has no end......"
The Land Before Bosh 2: "Wait, So who the heck does the schools nickname actually offend if the Indian tribes support the nickname and mascot for the school? What is the purpose of this to please a bunch of bureaucrats at the NCAA?"
dakotabludev: "Irony lost on every football fan last year as the Fighting Irish played the Seminoles in a bowl game where students from FSU were wearing face paint and headdresses....while doing the tomahawk chop. NCAA: nothing offensive here folks, just buy your tickets please."
LeeHoFook20: "North Dakota can call itself whatever it wants. They can even change their name to the University of Southern Canada if they want. Its none of my business."



Join the conversation or respond by signing in or creating a profile and blogging.