SportsNation Blog Archives

Milwaukee Brewers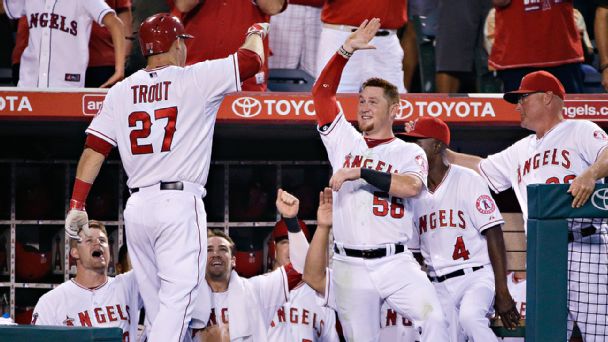 AP Photo/Jae C. Hong
Early MLB playoff predictions
MLB playoff-clinching season is here. The Los Angeles Angels snagged a playoff spot Monday and later locked up the AL West. The Baltimore Orioles and Washington Nationals cemented their respective division titles Tuesday. Meanwhile, it appears the wild-card races are the most competitive, with each league seemingly embroiled in a three-way scrape for two spots. How will it all play out?
Getty Images

MLB second half predictions?

The MLB's second half is upon us, and only two teams have leads of more than 1.5 games in their respective divisions. In other words, this should get intense. Who will win all the divisions? The leagues? The World Series? Cast your votes below!

AP Photo/Gene J. Puskar

Blame for Brewers-Pirates brawl?

The Milwaukee Brewers beat the Pittsburgh Pirates in 14 innings Sunday, moving to an MLB-best 14-5 on the season. But that didn't take the headlines; instead, it was a big brawl that drew the most attention. It started when center fielder Carlos Gomez flipped his bat and looked on after hitting a ball deep to center field. Gomez ended up with a triple, and pitcher Gerrit Cole took exception to Gomez's behavior (Gomez says he thought the ball would be caught). Words led to punches, and ultimately Gomez, Pirates outfielder Travis Snider and Milwaukee bench coach Jerry Narron were ejected. On Tuesday, Gomez (three games), Snyder (two games), the Pirates' Russell Martin (one game) and the Brewers' Martin Maldonado (five games for punching Sinder) were suspended.

Benny Sieu/USA TODAY Sports

Booing Ryan Braun?

After an early mini-slump brought on by a thumb injury, Ryan Braun had a day Tuesday. Three home runs. A franchise-record-tying seven RBIs. But this wasn't celebrated -- oh no. It happened in the Philadelphia Phillies' home opener and -- shockingly -- the locals booed Braun. This is hardly the first time; Braun, who served a 65-game suspension last season for violations of Major League Baseball's drug agreement and labor contract, also heard it from Boston Red Sox fans days ago. Will/would you boo Ryan Braun when he comes to your town? Would you do the same if he were on your team?

Opening day sees first replays

Monday was a historic Major League Baseball opening day, and not because the defending champion Boston Red Sox lost. It featured the first uses of MLB's new extended replay system, in which a large number of calls can be challenged. The first attempt came in the Pittsburgh Pirates' 1-0 win over the Chicago Cubs; there, Chicago manager Rick Renteria disputed a double-play call, but it was upheld. The first successful challenge came from Atlanta Braves manager Fredi Gonzalez, who prompted a Ryan Braun infield single to be overturned in the Milwaukee Brewers' 2-0 victory. How do you feel about the new system?