SportsNation Blog Archives

Dale Earnhardt Jr.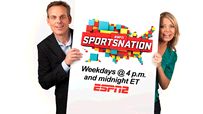 Michelle Beadle will be Michelle Beadle and Colin Cowherd will be Colin Cowherd today on "SportsNation" TV.
Argue the hot topics and vote on the biggest stories from the world of sports. The show airs on ESPN2 at 4 p.m. and midnight ET.
Note: Broadcast voting results as of this afternoon (ET).

Where would you prefer to watch a boxing match?
You'll be able to watch Floyd Mayweather Jr. versus Juan Manuel Marquez on Sept. 19 at theaters nationwide or from your own couch on pay-per-view.
When is it OK for Manny to be Manny?
Dodgers fans welcomed Manny back from his suspension with open arms and cheers. Now that L.A.'s lead has dwindled, he's hearing some boos.
What would be best for the development of Mark Sanchez?
The Jets plan to start their rookie quarterback immediately. The upside: He'll gain experience. The downside? He's not facing USC's opponents.

Who is the better Wrangler jeans spokesperson?
Neither Brett Favre nor Dale Earnhardt Jr. has won the big one in recent memory, but both draw tremendous positive and negative attention.
Which WR would you pick after Larry Fitzgerald?
Will Randy Moss, Andre Johnson or Calvin Johnson provide the best bang for your buck in fantasy drafts this season?
What is "SportsNation" TV, and how do you make your voice heard? Read about the new ESPN show that features fan opinions with calls, tweets, polls, rankers and more.