SportsNation Blog Archives

Cedric Benson
Should we offer a moment of silence for fantasy football owners coming to the realization that Saints safety Darren Sharper has scored more touchdowns this season than Steven Jackson, Brandon Jacobs or Anquan Boldin?
The Saints are just outside the top 10 in total defense at the moment, which is kind of remarkable when you think about how often their opponents have the whole field to work with after yet another Saints touchdown and yet another Saints kickoff. Sharper may not be the sole reason for the success, given that he shares the field with guys like Charles Grant and Jonathan Vilma, but as a newcomer with a league-best six interceptions and three touchdowns, he's becoming the face of it.
When push comes to shove, 67 percent of SportsNation prefers a great defense to a great offense. But are you ready to give a guy like Sharper MVP consideration?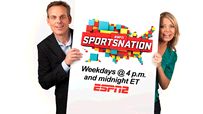 Neither Michelle Beadle nor Colin Cowherd will be traded by the "SportsNation" TV producers before next week's deadline.
Argue the hot topics of the day and vote on the biggest stories from the world of sports. The show airs on ESPN2 at 4 p.m. and midnight ET.
Note: Broadcast voting results as of this afternoon (ET).

Is there any downside to Adrian Peterson saying he wants "all the records"?
It's not like defenses don't have his number circled. The Vikings RB already has 481 yards and seven TDs this season (3,582 and 29 for his career).
Is Jimmy Clausen a legitimate Heisman candidate?
The Notre Dame quarterback has thrown for more than 300 yards in all but one game this season and 12 TDs to only two interceptions.
If all were interested, which coach would you most want to hire?
Bill Cowher, Tony Dungy, Jon Gruden and Mike Shanahan all have rings. Would one of them turn around your woeful franchise or take your team to a title?

Are you offended by ads featuring scantily clad women?
Montreal Canadiens enforcer Georges Laraque has apologized for an alcohol ad in which he appears playing street hockey.
Should the Bears have gotten more out of Kyle Orton and Cedric Benson?
The ex-Bears quarterback is 5-0 in Denver. The ex-Bears RB leads the league in rushing. Does their success reflect poorly on their former team?
What is "SportsNation" TV, and how do you make your voice heard? Read about the new ESPN show that features fan opinions with calls, tweets, polls, rankers and more.
Why didn't AIG have this kind of foresight? As recounted in the Wall Street Journal, Fantasy Sports Insurance launched this year to offer fantasy football owners some peace of mind on their high-dollar investments. Drafted Adrian Peterson but worried about an injury ruining your season? Buy insurance on him and recoup your league fees if he gets hurt (although in Peterson's case, based on his chat with SportsNation, Frank Gore insurance would have been a better investment).
One of the only 50 stars the company offered to insure? Cedric Benson. The same guy who averaged 3.5 yards per carry last season while rushing for a career "best" 747 yards. Forget insurance; we're going to these guys for our draft cheat sheet next year.
Thanks in no small part to Benson, who has 487 rushing yards in five games, the Bengals are 4-1. But does that make him a better MVP pick than Carson Palmer, let alone Peterson, Drew Brees, Peyton Manning or other standouts?
Where do Benson and Palmer rank on your MVP ballot?
Scott (Bakersfield, CA)
Which offseason add has helped their team more Dawkins or Sharper?
Gary Horton

That's almost a push. They are both great veteran players with tremendous leadership skills. Your first inclination might be to say Sharper because of his big plays and his instincts. He can turn around a game with those interceptions. My sources in Denver tell me Dawkins is like another coach on the field and is a huge part of the speed in which Denver has made the transition from a 43 to a 34. That may not show up in the box score, but it is a big factor in their success. Full transcript.
Random (Dude)
DO u have yourself on your fantasy team?
Adrian Peterson

Nope. Frank Gore. And Matt Forte. Full transcript.