SportsNation Blog Archives

Daunte Culpepper
It's one thing to look good throwing passes in seven-on-seven drills or posing in the pocket while wearing a red jersey (we see you, Matt Stafford). Any quarterback can look good in a red jersey -- well, maybe not Jared Lorenzen.
The real test for a quarterback trying to earn a starting job comes when the whistle blows for real and defensive linemen are trying to do things to him that would make Brock Lesnar wince. And you thought preseason games were a waste of money. Well, actually, you're right about that, but they do play a role in settling quarterback duels.
While the opening exhibition game between the Titans and Bills didn't offer much in the way of quarterback drama (no matter what Vince Young thinks), the first full weekend of games will be a different story. One of the biggest auditions comes with Brady Quinn, Derek Anderson and the Browns visiting Lambeau Field. SportsNation ranked Quinn No. 2 when it came to quarterbacks battling for jobs, behind only Oakland's Jeff Garcia. The bad news for the former Golden Domer is voters also ranked Anderson No. 3.
Hey, look at that. A post about quarterbacks that didn't mention Brett Favre or Michael Vick ... until now. Our bad.
"

I was never a huge Sanchez fan until he started coming into the restauraunt that I worked at as a night job. He is the most respectful and mature kid out of any football player I have seen come out of college in years. Im not just saying that because I have met him a few times. Im saying that because anyone who is in his shoes now a days seems to get soooooo big headed and lose focus of why they are where they are. I did not get this vibe from Sanchez at all.

"

-- jryanfrink
"

Rosenfels is HANDS DOWN better than T Jackson. If Childress will swallow his ego and let him start the Viks will win the division, if not then I feel Green Bay will win the division. Cutler is a spoiled baby and it will take him two years (at least) to become a man in the NFC North.

"

-- 3hypocycloids4cusps
Some quarterback battles are worthy of Bruce Lee. Others more closely resemble Larry, Moe and Curly. But through it all, we're talking about summer entertainment. And when the other option is figuring out which punter a team will go with, we'll go with the contrived quarterback drama, thank you very much.
Browns coach Eric Mangini says he doesn't have a timetable for naming a starting quarterback. And the truth of the matter is that it probably doesn't really matter whether Mangini decides to start Derek Anderson or follows SportsNation's advice and goes with Brady Quinn when the Browns open the regular season at home against the Vikings (and their own quarterback to be named later).
Pick the right guy and maybe the Browns go 8-8. Pick the wrong guy and maybe they go 4-12 again. By December, people on the shores of Lake Erie may all be talking about Colt McCoy or Sam Bradford anyway.
But at least the Browns are choosing from two seemingly viable options, if only compared to how voters feel about the battles in Minnesota (Tarvaris Jackson and Sage Rosenfels) and San Francisco (Alex Smith and Shaun Hill).
"

Mangini will be under alot of presser. I think he goes w/ Quinn, because Mangini will get less grief is he doesn't work out compared to going with Anderson.

"

-- justsandmann
"

has this ever worked? waiting until the last minute to decide on a starting qb? they must have their reasons, but if i was a browns fan. i would want this figured out and soon..

"

-- jaredlawson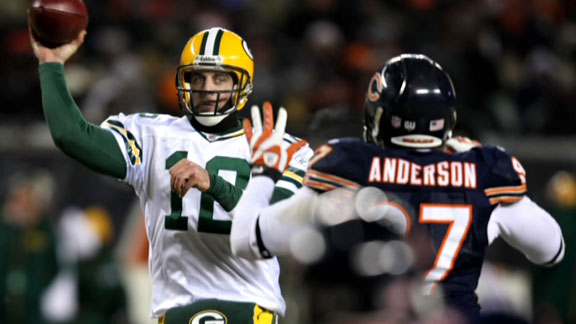 Who needs Brett Favre? If the Vikings would just take SportsNation's advice and sign Michael Vick, the NFC North would have the most compelling collection of quarterbacks this side of the Big 12. Even without Vick or Favre in Minneapolis, a division that threatened at times in recent seasons to set the forward pass back a decade looks armed and ready.
Aaron Rodgers quietly got the revolution going last year with 28 touchdown passes in his first full season as a starter, and now Jay Cutler and Matthew Stafford (or a potentially revitalized Daunte Culpepper) are set to join the fray. Sure, maybe that's putting a rosy spin on a division that produced an 0-16 team last season. For that matter, the three other teams managed just a 13-17 record outside the division. But it could be worse; it could be the NFC West.
As for the team with the dueling weak links under center, SportsNation is showing some lukewarm support for Tarvaris Jackson. Back in April, a healthy majority said he wasn't part of the team's present or future. Fast forward a few months and voters give him the nod over Sage Rosenfels, even if that's not exactly a ringing endorsement of his potential.
"

Rosenfels is actually a pretty decent QB, if they can just get him to stop throwing the ball to the other team. His career QB rating is actually higher than Mike Vick's (81 vs. 75).

"

-- daphins23
"

I think Sage will be the guy...as long as he doesn't try any flying acrobatics I think he will be a serviceable QB for the Vikings.

"

-- debakes10
"

I still think it is a 3-way for the NFCN title. I don't think the Lions are going to lie down for anyone either. Sweeping Detroit isn't going to be like it has been. The team(s) that splits with them may be the odd-man-out for the title.

"

-- PckrBckr73