SportsNation Blog Archives

Chauncey Billups
Carmelo Anthony's name has been attached to more teams this season than we can count -- we even heard a brief rumor that he'd be the next striker for Manchester United (note: rumor may or may not be total lie). Now, it seems like there's a final destination for the iconic Denver forward -- the New Jersey Nets. Everything is in place for the massive 15-player trade, which also involves the Detroit Pistons. Everything, that is, except Anthony's approval.
The Nets don't want to trade for Anthony if he bolts at the end of the season -- their plan may be to build around Anthony, potentially adding Chris Paul once he becomes a free agent as well. Anthony's preference is supposedly to be traded to the New York Knicks, but will visions of Paul feeding him assist after assist sway his opinion at all?
Cameron (Galesburg, IL)
If the Nets can pull off the Melo deal and get Anthony, Billups, and Hamilton do you see any chance of them getting the 8th seed?
Chad Ford
Yes, because of the weakness of the rest of the East. Top 5 in the East are pretty strong, and the Knicks look like a lock for the 6th seed. After that it's wide open and the Nets would be in that mix. But do you go through all of this trouble for a quick first round exit? Will it get much better in 2011-12? Heat, Magic, Bulls, Celtics and possibly Hawks and Knicks look like better teams. In summer of 2012 ... Nets won't have a ton of space because of Brook Lopez's cap hold ... so how, exactly do they land Chris Paul. In other words, Melo will add excitement, but I don't see him delivering a title to the Nets. Full transcript
3. Would the Nets be a respectable team with Carmelo Anthony?
You know a blockbuster trade is in the works when we're discussing a team that's 10-27 and the words "future draft pick" aren't involved. The New Jersey Nets could be the architects of such a trade, as the team is seeking to add Carmelo Anthony, Rip Hamilton, and Chauncey Billups in a move that could see 15 players changing their uniforms. Is this a good potential trade for New Jersey?
"wow...talk about another major swing of power to the eastern conference if this deal goes down. denver would certainly go down in western conference power rankings if it does." -- SN commenter geehhdogg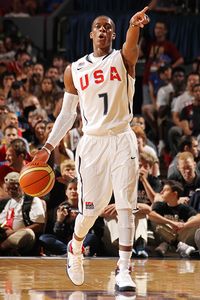 It wasn't so long ago that Rajon Rondo was on top of the world. Now he's missing the worlds. His Celtics came up just short against the Lakers in the NBA Finals, but Rondo's overall playoff excellence helped land him at No. 4 when more than 10,000 SportsNation judges ranked the NBA's best point guards in July. And considering the three guys ahead of him -- Chris Paul, Deron Williams and Steve Nash -- either elected not to play for Team USA this summer or weren't eligible by virtue of their general "Canadian-ness", he seemed like a lock to be one of the stars of the show.
The catch, of course, is that as the United States beat Greece on Wednesday in its final exhibition, Rondo wasn't even there. Rondo withdrew from the team Tuesday, shortly after he himself admitted he was on the bubble to make the final cut. So did Rondo realize his game wasn't the best fit for the international game and graciously save Team USA the trouble of cutting a player? Or did he quit to save himself the embarrassment of being cut?
"

There was no need for him, everything he can do Rose can do as well, plus Rose even hit the clutch free throws (last weekend against Spain). Sure Rondo is a better defender, but he is a gambler defensively and we don't have the bigs like KG and Perkins to cover for his mistakes when his steal attempts fail. Rondo is always timid at crunch time b/c he is afraid of shooting clutch free throws.

"

-- doomgunner
"

I think Rondo just didn't like being benched. I mean, he has been a starter for years now. Some guys cannot handle going from playing all the time to not even logging in 1 minute, I think it's a shame. I still don't think he should have quit though.

"

-- Vampire_Face
"

Rondo knew he wasn't the best fit for international play and has a few other things to do, so he bowed out and spared the coach the heat of making the cut. This is a team of hungry players, and he's not one of the hungriest. Billups is already there to provide the wily veteran presence. It was just a rational decision. I guess being rational is too weird to understand anymore.

"

-- The Pragmaticist
"

Coach K is overrated. and Colangelo can't be trusted. Both are snakes, Rajon gave them a way out. I hope they appreciated it. A DNP? You've got to be kidding me.

"

-- zeppyled