SportsNation Blog Archives

Nick Swisher
The Yankees have no problem with Robinson Cano playing in the All-Star Game Tuesday night, but they wouldn't let him compete in Monday's Home Run Derby (ESPN, 8 p.m. ET). Kind of says something about which one is more intense, no?
The days of Pete Rose running over Ray Fosse in the All-Star Game are long gone, even with home-field advantage in the World Series on the line, but it's tough for players to dial down the effort in the hitting contest without incurring some nationally-televised embarrassment. From Mark McGwire bypassing the Green Monster to Bobby Abreu launching 41 home runs in the 2005 event and Josh Hamilton blasting 28 in a single round two years ago, Monday has arguably been the more memorable part of the All-Star festivities in recent years.
"

Sounds like a boring lineup. It will resemble the derby a few years ago in SF when Vladdie won it by only hitting like 8 home runs.

"

-- StanfordCardinal22007
"

Votto should be in it. He's leading the NL in HR's for crying out loud!

"

-- CBFOO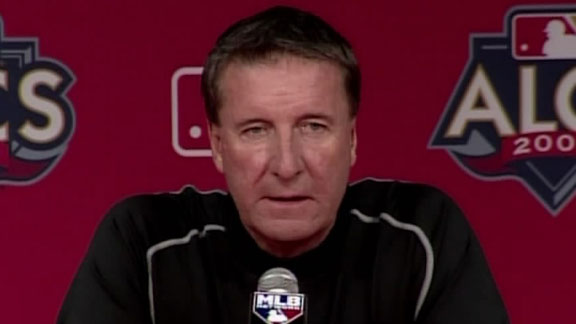 Umpires of all stripes have difficult and demanding jobs, requiring a keen eye, nerves of steel, and the ability to withstand the focused and petty hate of thousands upon thousands of strangers. That last quality has come in handy for many MLB umpires in this increasingly strange postseason.
Last night's ALCS Game 4 provided still more lowlights that baseball's umpires would just as soon forget. First, Nick Swisher was called safe on a pick-off play in which the tag was applied before he got back safely. Next, Swisher was called out for leaving third base early on a tag-up play, a call which the replays did not support. Finally, an odd situation at third base in which two Yankee runners were tagged while off the base resulted in only one out.
As early as a week ago, fans were already claiming that umpires were having a worse postseason than closers; a bold statement considering the sheer number of blown saves thus far. This recent spate of errors likely won't do much to change that perception, although it's interesting to note that before the playoffs started, MLB umpires were ranked second in officiating quality behind NFL referees, who won by a large margin. Does the use of replay in the NFL have anything to do with it? All we know is that SportsNation was in favor of expanding instant replay in baseball as early as last October.