SportsNation Blog Archives

Javier Vazquez
Tim Lincecum won the National League Cy Young for the second consecutive season, just as SportsNation voters suggested he should at the All-Star break and after the season.
So why are Chris Carpenter and Javier Vazquez at the center of a Cy Young controversy?
Lincecum won a close vote, edging the Cardinals duo of Carpenter and Adam Wainwright. That's noteworthy because two voters, including ESPN.com's Keith Law, didn't include Carpenter on their three-person ballots. Instead, Law put Vazquez second. Never one to bow to conventional wisdom or duck a question, Law explained on "AllNight" on ESPN Radio. But for SportsNation chatters, the news was hardly a surprise.
Jeremy (California)
I know you're not going to reveal your Cy Young ballot before the results are announced, but will you reveal it after the fact? I'm really curious. I know how I'd vote, but honestly I would be neither surprised nor angry at any three of Lincecum, Vazquez, Haren, Jimenez, Wainwright, and Carpenter, in any order.
Keith Law
That's pretty much my view. It's not a 3-man race; it's at least a 4-man race (Vazquez) and you could make a serious case for Haren. Full Oct. 1 transcript
John (AZ)
When you are voting for the Cy Young what is one stat that you highly value?
Keith Law
I'm looking at a mix -- VORP, FIP, xFIP, etc. At the end of the day, I'm not comfortable rewarding a pitcher for playing in front of a great defense, which ERA and even VORP do to some degree. Full Oct. 1 transcript
"

A starting pitchers job is to win games. That's it. Great pitchers win alot of games because they are great. I'm still shocked ANYONE would ever say wins aren't important. Look, Greinke and Lincecum are really good young pitchers. If they were on teams that could hit and score runs, they both would've probably won 20 games anyway. But I still believe if one of the contenders won 21,22 games this year, they would've won the CY in either league.

"

-- bigbluepete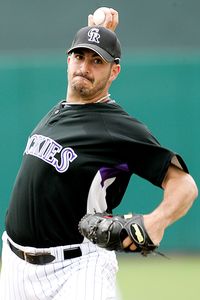 We salute NFL commissioner Roger Goodell for summiting Mount Rainier, although running a league that includes the Bengals does give him at least a little experience with things that tend to erupt and leave a swath of destruction in their wake. But as the MLB All-Star Game approaches, Goodell's trip takes second place to the high-altitude exploits of Rockies pitcher Jason Marquis.
Passing the still-frozen bodies of Mike Hampton and Denny Neagle (proverbially speaking, of course) on his way to the summit, Marquis is a legitimate Cy Young contender with 11 wins. We get that the humidor makes Coors Field slightly less ominous than the setting for the next "Saw" for pitchers these days, but there's still not exactly a line forming to go face batters a mile above sea level.
"

Vazquez is, and has been, an over-rated bum his whole career. Can't win with run support, can't win without it. There's a reason why his career numbers hover around .500, and its nothing to do with the rest of any team he's been on.

"

-- JeffSigmaChi
"

Start Tim Lincecum for the NL. The man is a serious freak of nature and an amazing picture. Just ask the last 3 teams he has pitched against.

"

-- jaws2355