SportsNation Blog Archives

Devin Aromashodu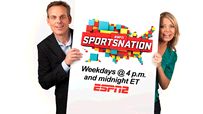 Michelle Beadle and Colin Cowherd think "SportsNation" TV fans and detractors should voice their opinions on billboards in Bristol.
Argue the hot topics of the day and vote on the biggest stories from the world of sports. The show airs on ESPNEWS at 4 p.m. and ESPN2 at midnight ET.
Note: Broadcast voting results as of this afternoon (ET).

What do you think of Devin Aromashodu sending flowers to Bears coaches?
The wide receiver may be buttering up coaches in advance of final cuts, but last time we checked, cupcakes might be a better bribe for many headset wearers.
Do you approve or disapprove of Roger Goodell's handling of Michael Vick?
The commissioner is expected to let the Eagles know by Saturday when their backup quarterback will be eligible to play this season.
Whose side are you on?
Are you siding with Notre Dame coach Charlie Weis or the critical fans who bought a billboard near campus to express their displeasure?
Who should start for the Browns at quarterback?
Coach Eric Mangini hasn't named a starter. Brady Quinn, Derek Anderson and the entire fan base wait expectantly for the intrigue to be resolved.
Would you let Shaq spank you on your birthday?
In a hands-on interview, Shaq administered the birthday spanking for radio host "Money" from the "Petros & Money Show."
What is "SportsNation" TV, and how do you make your voice heard? Read about the new ESPN show that features fan opinions with calls, tweets, polls, rankers and more.