SportsNation Blog Archives

Franklin Gutierrez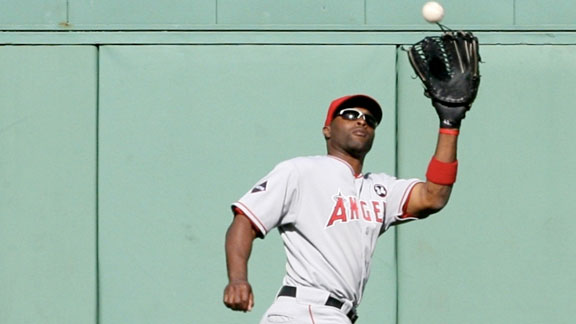 If you believe in the value of UZR ratings, as U.S.S. Mariner blogger Dave Cameron explains, Franklin Gutierrez had one of the best defensive seasons by an outfielder in recent memory -- and perhaps ever. If you're a Gold Glove voter, Derek Jeter is the best defensive shortstop in the American League.
You've got a better chance of building an elevator to outer space than bridging that gap.
In the most questionable use of gold outside of late-night infomercials, baseball's signature defensive awards were handed out for the American League Tuesday, based on the votes of the league's managers and coaches. Rob Neyer can't believe Orioles outfielder Adam Jones got the nod over Gutierrez, among other baffling decisions. And Jeter, who SportsNation thought didn't deserve the Hank Aaron Award as the AL's best offensive player, now has a second award voters don't think he earned.
"

Jeter winning is a joke.. He's not even the best Shortstop on his team. I guess you can't get errors on all the balls you can't reach.

"

-- hendu29
"

STOP LOOKING AT FIELDING PERCENTAGE AND EVEN ERRORS TO DETERMINE HOW GOOD A FIELDER IS. Try looking at actual range. A person who gets to more balls is of course more likely to have more errors and a slightly lower fielding percentage. Does that mean he's a worse fielder? NO. So stop saying "so-and-so had a good fielding percentage so he deserved it." You just make yourself look like an ignorant moron.

"

-- complexity.