SportsNation Blog Archives

Los Angeles Sparks
The 2014 WNBA playoffs open Thursday, and if the past is any indication, we're about to see some special moments. But before we forge ahead, we ask: Which are the best moments in league history? Here's espnW's top 10; now it's your turn:


Rank: WNBA Playoff Moments

Spoon's 'prayer' answered
New York's Teresa Weatherspoon banks in a half-court heave at the buzzer to keep the series alive against Houston in the 1999 WNBA Finals.

3 for 10
The Houston Comets defeat the New York Liberty for the franchise's third consecutive league championship and dedicate the win teammate Kim Perrot, who died from cancer a few weeks before the Finals in 1999.

L.A. rookie seals the deal
With the score tied against the Liberty, Sparks rookie Nikki Teasley sinks a 3-pointer with 2 seconds left to help Los Angeles repeat at WNBA champion in 2002.

Shock's worst to first
After having the worst record in the league in 2002, the Shock bounce back after the hiring of coach Bill Laimbeer and beat the two-time defending champion L.A. Sparks in the 2003 WNBA Finals.

B-Money comes up big
Betty Lennox lives up to her "B-Money" nickname, dropping 27 points to help lead the Storm to a 67-65 victory over the Sun in Game 2 of the 2004 WNBA Finals.

Young's series-saver
San Antonio's Sophia Young knocks down a 14-foot turnaround jumper at the buzzer to help keep the Stars' playoff hopes alive against the Sparks in Game 2 of the 2008 WNBA Western Conference finals.

High-octane opener
Phoenix and Indiana launched the 2009 WNBA Finals with the highest-scoring game in league history, with the Mercury prevailing 120-116 in overtime.

Angel outduels Cappie
Atlanta's Angel McCoughtry and New York's Cappie Pondexter both put on superstar shows, combining for a total of 78 points in Game 2 of the 2010 Eastern Conference finals. McCoughtry's Dream prevailed 105-93 to make the franchise's first trip to the WNBA Finals.

Feverish ending
Indiana's Briann January misses a transition layup in the closing seconds of Game 2 of the 2012 Eastern Conference finals, but saves the ball to Shavonte Zellous, who drills a game-winning shot to tie the series.

Maya's house
Minnesota's Maya Moore scored 23 points in the Game 3 of the 2013 WNBA Finals, beating Atlanta and securing the Lynx's second title in the same arena where Moore had won three state high school championships.
Your Rankings
1.

2.

3.

4.

5.

6.

7.

8.

9.

10.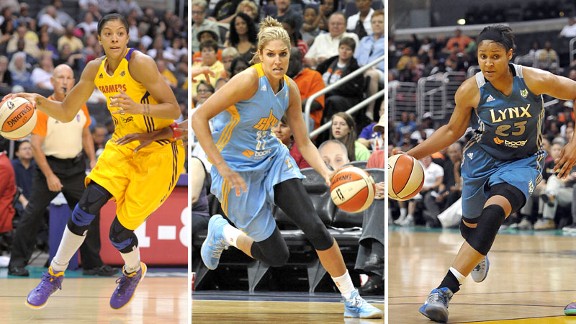 Chicago will make its first playoff appearance in franchise history after going from the second worst team in the Eastern Conference last season to sitting atop the standings in 2013. Will the Sky bring the Eastern Conference back-to-back championships for the first time in league history? Are the Lynx, who have the WNBA's best record for the third straight season, the favorite to become the sixth team to win multiple titles? Set your rankings!


2013 WNBA playoff teams

Dream

Dream
Atlanta Dream
Record: 17-17
Eastern conf. 2-seed

Fever

Fever
Indiana Fever
Record: 16-18
Eastern conf. 4-seed

Lynx

Lynx
Minnesota Lynx
Record: 26-8
Western conf. 1-seed

Mercury

Mercury
Phoenix Mercury
Record: 19-15
Western conf. 3-seed

Mystics

Mystics
Washington Mystics
Record: 17-17
Eastern conf. 3-seed

Sky

Sky
Chicago Sky
Record: 24-10
Eastern conf. 1-seed

Sparks

Sparks
Los Angeles Sparks
Record: 24-10
Western conf. 2-seed

Storm

Storm
Seattle Storm
Record: 17-17
Western conf. 4-seed
Tags:

Chicago Sky, Atlanta Dream, Indiana Fever, Minnesota Lynx, Phoenix Mercury, Washington Mystics, Los Angeles Sparks, Seattle Storm, SportsNation Rank
The WNBA is set to tip off its 2013 campaign with the '3 To See' as the centerpiece of this summer's festivities. Will Skylar Diggins (Shock), Elena Della Donne (Sky) and Brittney Griner (Mercury) automatically help their respective teams improve on their less than stellar records from a season ago? Are the reigning champion Fever the early favorites to repeat as champions? Where do the defending Western Conference champion Lynx place?


2013 WNBA Power Rankings

Dream

Dream
Atlanta Dream
2012 record: 19-15

Fever

Fever
Indiana Fever
2012 record: 22-12

Liberty

Liberty
New York Liberty
2012 record: 15-19

Lynx

Lynx
Minnesota Lynx
2012 record: 27-7

Mercury

Mercury
Phoenix Mercury
2012 record: 7-27

Mystics

Mystics
Washington Mystics
2012 record: 5-29

Shock

Shock
Tulsa Shock
2012 record: 9-25

Silver Stars

Silver Stars
San Antonio Silver Stars
2012 record: 21-13

Sky

Sky
Chicago Sky
2012 record: 14-20

Sparks

Sparks
Los Angeles Sparks
2012 record: 24-10

Storm

Storm
Seattle Storm
2012 record: 16-18

Sun

Sun
Connecticut Sun
2012 record: 25-9
Your Rankings
1.

2.

3.

4.

5.

6.

7.

8.

9.

10.

11.

12.

The Lynx have become a consistent force in the WNBA, ending consecutive regular seasons as the league's top team. But that's not enough for Minnesota -- it wants to become the first team since the 2001-02 Los Angeles Sparks to win back-to-back titles. With a 16-1 home record this season and home-court advantage throughout the playoffs, are the Lynx your favorite to win the 2012 title? Click on the photos below to submit your rankings!
More: How will each playoff series end?


2012 WNBA playoff teams

Dream

Dream
Atlanta Dream
Record: 19-15
Eastern conf. 3-seed

Fever

Fever
Indiana Fever
Record: 22-12
Eastern conf. 2-seed

Liberty

Liberty
New York Liberty
Record: 15-19
Eastern conf. 4-seed

Lynx

Lynx
Minnesota Lynx
Record: 27-7
Western conf. 1-seed

Silver Stars

Silver Stars
San Antonio Silver Stars
Record: 21-13
Western conf. 3-seed

Sparks

Sparks
Los Angeles Sparks
Record: 24-10
Western conf. 2-seed

Storm

Storm
Seattle Storm
Record: 16-18
Western conf. 4-seed

Sun

Sun
Connecticut Sun
Record: 25-9
Eastern conf. 1-seed
Tags:

WNBA, Atlanta Dream, Connecticut Sun, Indiana Fever, Los Angeles Sparks, Minnesota Lynx, New York Liberty, San Antonio Silver Stars, Seattle Storm