SportsNation Blog Archives

Ottawa Senators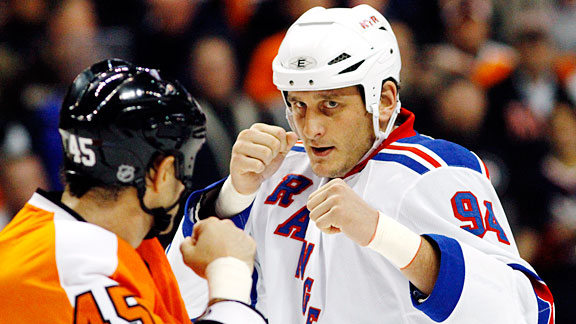 The old joke, "I went to a fight and a hockey game broke out!" isn't going over as well anymore. In fact, a young hockey fan might not even get it. Maple Leafs general manager Brian Burke certainly isn't laughing. The former head disciplinarian for the NHL is upset that fighting is down and suspensions are up. He thinks self-policing is the way to go. Agree?
t0astr0ven: "Keep fighting in hockey just the way it is. It's the last sport where the players stick up for each other. Football, basketball, baseball, and just about every other sport - players only look for penalties. If they don't get it, they (players, teammates, coaches) whine at the press conference and the media blows it up."
InniAudi: "More fights in hockey = More fights in the stands and around the stadium after the game. Why do we need to promote fighting in any sport?"
fredBBigg: "How many fights was Gretzky in? Any? Why was that? Was it because he had goons protecting him? No. It was because every guy in the league knew he was their meal ticket and left him alone. That proves that violence isn't necessary, that players can restrain themselves, hockey can be a game of skill, and people will come to watch skilled players."
bigblue212542: "He's not trying to promote fighting as much as he seems concerned that there is no accountability for cheap shots anymore. Fighting might not be ideal for the future of hockey, but it kept goons from potentially knocking stars out for a period of time - or at least having to answer for it when they did."

Join more fan posts. Or respond by signing in or creating a profile, and start blogging.
---
A change for the better?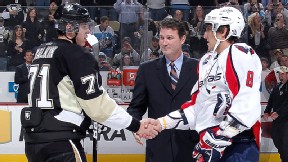 Hockey is evolving and the speedy skaters with abundant skill are pushing out the intimidating enforcers with fists clenched. Is this a good thing?

---
Last of the breed?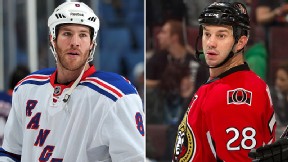 Brandon Prust and Zenon Konopka are tied with 11 fighting majors each which leads the league. Does that make either the best enforcer in the game?

---
More fights means less punishment?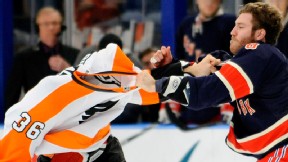 The NHL has been busy lately handing out suspensions for cheap shots. Burke believes making players back up their actions would cut down on punishable acts.