SportsNation Blog Archives

Josh Donaldson
The lineups for the 2014 Home Run Derby have been set, with National League captain Troy Tulowitzki picking Todd Frazier, Yasiel Puig, NL home run leader Giancarlo Stanton and Rockies teammate Justin Morneau, while AL caption Jose Bautista selected defending derby champion Yoenis Cespedes, Josh Donaldson, Adam Jones and, in somewhat of a surprise move, second baseman Brian Dozier of the hometown Minnesota Twins. How would you rank these eight sluggers? Set your list below!
More: Your thoughts on All-Star Game rosters?


HR Derby Participants
Jose Bautista

Jose Bautista
Blue Jays
17 HR
Yoenis Cespedes

Yoenis Cespedes
Athletics
14 HR
Josh Donaldson

Josh Donaldson
Athletics
20 HR
Brian Dozier

Todd Frazier

Adam Jones

Justin Morneau

Justin Morneau
Rockies
13 HR
Yasiel Puig

Giancarlo Stanton

Giancarlo Stanton
Marlins
21 HR
Troy Tulowitzki

Troy Tulowitzki
Rockies
20 HR
Tags:
SportsNation Rank, MLB, MLB, MLB All-Star Game, Jose Bautista, Yoenis Cespedes, Brian Dozier, Adam Jones, Troy Tulowitzki, Giancarlo Stanton, Yasiel Puig, Todd Frazier, Baltimore Orioles, Colorado Rockies, Cincinnati Reds, Toronto Blue Jays, Minnesota Twins, Oakland Athletics, Miami Marlins, Los Angeles Dodgers, Josh Donaldson, Justin Morneau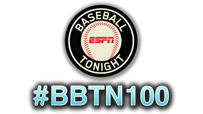 How do the top third basemen in Major League Baseball stack up? That question has been answered by our experts in the latest installment of the Baseball Tonight 100 (#BBTN100), a project to rank the top players across all 30 teams. We'll reveal a new position each day and unveil the overall 1-100 rankings March 27.
Do you agree with the experts' take on third basemen? Simply click on the images of the top 10 below to submit your ballot.


Rank: #BBTN100 Top Third Basemen
Pedro Alvarez

Pedro Alvarez
Pittsburgh Pirates
BBTN Rank: 10
Adrian Beltre

Adrian Beltre
Texas Rangers
BBTN Rank: 3
Matt Carpenter

Matt Carpenter
St. Louis Cardinals
BBTN Rank: 6
Josh Donaldson

Josh Donaldson
Oakland A's
BBTN Rank: 4
Chase Headley

Chase Headley
San Diego Padres
BBTN Rank: 9
Evan Longoria

Evan Longoria
Tampa Bay Rays
BBTN Rank: 1
Manny Machado

Manny Machado
Baltimore Orioles
BBTN Rank: 5
Pablo Sandoval

Pablo Sandoval
San Francisco Giants
BBTN Rank: 8
David Wright

David Wright
New York Mets
BBTN Rank: 2
Ryan Zimmerman

Ryan Zimmerman
Washington Nationals
BBTN Rank: 7