SportsNation Blog Archives

Buster Posey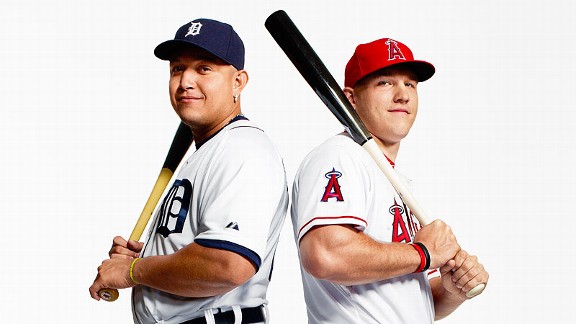 Chris Buck for ESPNMiguel Cabrera and Mike Trout battled it out for the AL MVP vote in 2012.
Voting for the 2013 ESPYS Awards is open, and today we're debating the best player in baseball from the past year. Miguel Cabrera pulled off the first Triple Crown in quite some time, but some stats have Mike Trout's 2012 season as far above Cabrera's. R.A. Dickey and David Price were nigh unhittable last season, and Buster Posey won NL MVP in the same year he added another World Series trophy to his case. Who gets your vote?
2. Would you leave off Posey or Heyward?
We're generally not fans of mindless orthodoxy around here, but sometimes, you can think a little bit too far outside the box. For example: the writers who either voted for Gaby Sanchez as their NL Rookie of the Year, or left Jason Heyward or Buster Posey off entirely. Could you see yourselves doing the same thing, SportsNation? Assuming you had a ballot. Which you don't. Probably.
"Thought Posey deserved it. Wouldn't have thought it criminal if it had gone to Jason either. That they were left off any ballots is a joke. Garcia, Castro, Alvarez, Vinters, Sanchez, et al, weren't good enough to knock either guy off anyone's ballot. " -- SN commenter Roulette1970
Maybe this is the "Year of the Pitcher" in Major League Baseball, but this week has offered its fair share of evidence pointing to another theme. At least until the Phillies traded for Roy Oswalt, the week's bggest pitching story was Stephen Strasburg's trip to the DL. The big Phillies news prior to the trade might have been Domonic Brown hitting a home run in his first game -- the same night Atlanta's Jason Heyward stole home against the Nationals.
Could this actually be the Year of the Rookie?
John Wall's performance in NBA summer ball receives detailed analysis. Sam Bradford's contract talks with the Rams is the subject of daily updates. Neftali Feliz's progress? Well, he probably has more name recognition in Dallas than Cowboys fifth-round pick DeAngelo Smith. Maybe. Actually, don't quote us on that.
Most of the time, even the best baseball rookies are hardly household names right away. In some cases (Jerome Walton, Marty Cordova and Bobby Crosby spring to mind), they stay that way even after winning Rookie of the Year. But as the news of the week suggests, and Jayson Stark pointed out in a recent chat, this year's class has a chance to be different.
Mike (SF)
Does Posey have a chance at the ROY? Has his power surprised you this early in his career?
Jayson Stark
Absolutely. Buster Posey is the real deal. In my midseason awards column, I gave Jaime Garcia the midseason ROY award. But a lot can change in the second half, with Jason Heyward coming back, Stephen Strasburg going out there every five days, Posey raking and one of the great rookie classes of recent times. If I were Jaime, I don't think I'd reserve a spot on my shelf for that trophy just yet. Full July 9 transcript