SportsNation Blog Archives

Toronto Maple Leafs
A very cold Winter Classic?
The Winter Classic is going to be huge this season, with the Maple Leafs and Red Wings suiting up to play in Michigan's Big House. It might also be a bit chilly, as game-time forecasts predict the temperature in the teens in addition to some light snow. It's unlikely to derail things too much, but if it does snow, it'll be interesting to see how the players deal with this extra element. It'll certainly keep the Zamboni machines working overtime. We also can't help but think of the upcoming Super Bowl in New Jersey, where cold temperatures and an open stadium could provide a strange experience for both teams.
Aren't Game 7s grand? Sure, you've got similar stakes in, say, the final match of a five-game series, but there's something about Game 7s that excites fans and causes sportswriters to break out the purple prose. Hockey fans are spoiled for choice tonight, as both the Rangers-Capitals and Bruins-Maple Leafs series are tied at three games apiece. Hockey Game 7s have a different tenor than those from other sports -- they seem more like wars of attrition than the titanic personality clashes of the NBA playoffs, or the nervy percentage plays that make up baseball's postseason -- but they're all a blast to watch.
---
Rangers or Capitals?
The Capitals would seem to have the advantage in this matchup, as the home team has won in every game in this series.

---
Bruins or Maple Leafs?
This series returns to Boston for Game 7, although the normal home-ice advantage seems to have been blunted, as both teams have been able to take games on the road.

Tags:

NHL, NHL, Boston Bruins, Toronto Maple Leafs, New York Rangers, Washington Capitals
We can understand if you don't want to take the time to grade your tech-support help on the other end of the telephone, but when we're talking about the dollars and emotion you've invested in sports, we think it's worth the effort. It's time for ESPN The Magazine's Ultimate Standings, in which SportsNation grades organizations on everything from ticket prices and stadium experience to the talent on the field, court or rink. Which team will end up on top this year? It depends on what you say.
Take part in the 2011 MLB survey
2010 MLB Ultimate Standings
1. Los Angeles Angels (Overall: No. 3)
2. Tampa Bay Rays (Overall: No. 6)
3. Colorado Rockies (Overall: No. 13)
4. Minnesota Twins (Overall: No. 14)
5. Atlanta Braves (Overall: No. 15)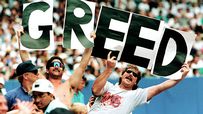 Take part in the 2011 NFL survey
2010 NFL Ultimate Standings
1. New Orleans Saints (Overall: No. 1)
2. Indianapolis Colts (Overall: No. 4)
3. Green Bay Packers (Overall: No. 9)
4. Arizona Cardinals (Overall: No. 19)
5. Baltimore Ravens (Overall: No. 20)
Take part in the 2011 NBA survey
2010 NBA Ultimate Standings
1. Orlando Magic (Overall: No. 2)
2. San Antonio Spurs (Overall: No. 7)
3. Cleveland Cavaliers (Overall: No. 10)
4. Dallas Mavericks (Overall: No. 24)
5. Oklahoma City Thunder (Overall: No. 25)
Take part in the 2011 NHL survey
2010 NHL Ultimate Standings
1. Pittsburgh Penguins (Overall: No. 5)
2. Detroit Red Wings (Overall: No. 8)
3. Washington Capitals (Overall: No. 11)
4. San Jose Sharks (Overall: No. 12)
5. Chicago Blackhawks (Overall: No. 16)
Tags:

Washington Wizards, Utah Jazz, Toronto Raptors, San Antonio Spurs, Sacramento Kings, Portland Trail Blazers, Phoenix Suns, Philadelphia 76ers, Orlando Magic, Oklahoma City Thunder, New York Knicks, New Orleans Hornets, New Jersey Nets, Minnesota Timberwolves, Milwaukee Bucks, Miami Heat, Memphis Grizzlies, Los Angeles Lakers, Los Angeles Clippers, Indiana Pacers, Houston Rockets, Golden State Warriors, Detroit Pistons, Denver Nuggets, Dallas Mavericks, Cleveland Cavaliers, Chicago Bulls, Charlotte Bobcats, Boston Celtics, Atlanta Hawks, Washington Redskins, Tennessee Titans, Tampa Bay Buccaneers, St. Louis Rams, Seattle Seahawks, San Francisco 49ers, San Diego Chargers, Pittsburgh Steelers, Philadelphia Eagles, Oakland Raiders, New York Jets, New York Giants, New Orleans Saints, New England Patriots, Minnesota Vikings, Miami Dolphins, Kansas City Chiefs, Jacksonville Jaguars, Indianapolis Colts, Houston Texans, Green Bay Packers, Detroit Lions, Denver Broncos, Dallas Cowboys, Cleveland Browns, Cincinnati Bengals, Chicago Bears, Carolina Panthers, Buffalo Bills, Baltimore Ravens, Atlanta Falcons, Arizona Cardinals, Washington Capitals, Vancouver Canucks, Toronto Maple Leafs, Tampa Bay Lightning, St. Louis Blues, San Jose Sharks, Pittsburgh Penguins, Phoenix Coyotes, Philadelphia Flyers, Ottawa Senators, New York Rangers, New York Islanders, New Jersey Devils, Nashville Predators, Montreal Canadiens, Minnesota Wild, Los Angeles Kings, Florida Panthers, Edmonton Oilers, Detroit Red Wings, Dallas Stars, Columbus Blue Jackets, Colorado Avalanche, Chicago Blackhawks, Carolina Hurricanes, Calgary Flames, Buffalo Sabres, Boston Bruins, Atlanta Thrashers, Anaheim Mighty Ducks, Anaheim Ducks, Washington Nationals, Toronto Blue Jays, Texas Rangers, Tampa Bay Rays, St. Louis Cardinals, Seattle Mariners, San Francisco Giants, San Diego Padres, Pittsburgh Pirates, Philadelphia Phillies, Oakland Athletics, New York Yankees, New York Mets, Minnesota Twins, Milwaukee Brewers, Los Angeles Dodgers, Los Angeles Angels, Kansas City Royals, Houston Astros, Florida Marlins, Detroit Tigers, Colorado Rockies, Cleveland Indians, Cincinnati Reds, Chicago White Sox, Chicago Cubs, Boston Red Sox, Baltimore Orioles, Atlanta Braves, Arizona Diamondbacks