SportsNation Blog Archives

Toronto Maple Leafs
Aren't Game 7s grand? Sure, you've got similar stakes in, say, the final match of a five-game series, but there's something about Game 7s that excites fans and causes sportswriters to break out the purple prose. Hockey fans are spoiled for choice tonight, as both the Rangers-Capitals and Bruins-Maple Leafs series are tied at three games apiece. Hockey Game 7s have a different tenor than those from other sports -- they seem more like wars of attrition than the titanic personality clashes of the NBA playoffs, or the nervy percentage plays that make up baseball's postseason -- but they're all a blast to watch.
---
Rangers or Capitals?
The Capitals would seem to have the advantage in this matchup, as the home team has won in every game in this series.

---
Bruins or Maple Leafs?
This series returns to Boston for Game 7, although the normal home-ice advantage seems to have been blunted, as both teams have been able to take games on the road.

We can understand if you don't want to take the time to grade your tech-support help on the other end of the telephone, but when we're talking about the dollars and emotion you've invested in sports, we think it's worth the effort. It's time for ESPN The Magazine's Ultimate Standings, in which SportsNation grades organizations on everything from ticket prices and stadium experience to the talent on the field, court or rink. Which team will end up on top this year? It depends on what you say.
Take part in the 2011 MLB survey
2010 MLB Ultimate Standings
1. Los Angeles Angels (Overall: No. 3)
2. Tampa Bay Rays (Overall: No. 6)
3. Colorado Rockies (Overall: No. 13)
4. Minnesota Twins (Overall: No. 14)
5. Atlanta Braves (Overall: No. 15)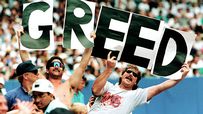 Take part in the 2011 NFL survey
2010 NFL Ultimate Standings
1. New Orleans Saints (Overall: No. 1)
2. Indianapolis Colts (Overall: No. 4)
3. Green Bay Packers (Overall: No. 9)
4. Arizona Cardinals (Overall: No. 19)
5. Baltimore Ravens (Overall: No. 20)
Take part in the 2011 NBA survey
2010 NBA Ultimate Standings
1. Orlando Magic (Overall: No. 2)
2. San Antonio Spurs (Overall: No. 7)
3. Cleveland Cavaliers (Overall: No. 10)
4. Dallas Mavericks (Overall: No. 24)
5. Oklahoma City Thunder (Overall: No. 25)
Take part in the 2011 NHL survey
2010 NHL Ultimate Standings
1. Pittsburgh Penguins (Overall: No. 5)
2. Detroit Red Wings (Overall: No. 8)
3. Washington Capitals (Overall: No. 11)
4. San Jose Sharks (Overall: No. 12)
5. Chicago Blackhawks (Overall: No. 16)