SportsNation Blog Archives

New York Islanders
Sidney Crosby has been out since suffering a broken jaw on March 30 against the New York Islanders, and it looks like the Pittsburgh Penguins will be without their captain when they open the playoffs against that same Islanders team. Crosby has not been cleared by doctors to play and will miss at least Game 1 of the Penguins' opening-round playoff series. Pittsburgh earned the Eastern Conference's top seed despite not having Crosby for the last 12 games of the season. Do they need him to advance in the playoffs?
Damastes0714: " The Penguins need Crosby to win the Cup, but I don't think they need him to win this series. They'll take their time with him. If we see him in this series its because the Pens NEED him, but I wouldn't expect him until Round 2."
Jacob880711: " This is why shero went out and got players like Iginla, Murray, Morrow, and Jokinen. There's no need to have him rush back. The pens will be fine tonight."
Hoss3138: " Came over here to say that the Pens will win this series without Crosby … they're that good."
Whisky tango 333: " Man, if only the Penguins had guys like Evgeni Malkin, James Neal, Jerome Iginla, Jussi Jokinen, Brendan Morrow, Kris Letang, they wouldn't need a guy like Crosby for a weak first-round playoff matchup. Oh wait."
danthefan1004: " It's the playoffs. If Crosby was ready he'd be playing. They are not sitting him out because it's only the Islanders that they're playing. That is ridiculous."
Join the conversation or respond by signing in or creating a profile and blogging.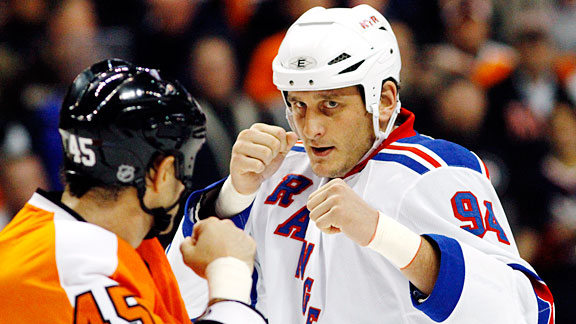 The old joke, "I went to a fight and a hockey game broke out!" isn't going over as well anymore. In fact, a young hockey fan might not even get it. Maple Leafs general manager Brian Burke certainly isn't laughing. The former head disciplinarian for the NHL is upset that fighting is down and suspensions are up. He thinks self-policing is the way to go. Agree?
t0astr0ven: "Keep fighting in hockey just the way it is. It's the last sport where the players stick up for each other. Football, basketball, baseball, and just about every other sport - players only look for penalties. If they don't get it, they (players, teammates, coaches) whine at the press conference and the media blows it up."
InniAudi: "More fights in hockey = More fights in the stands and around the stadium after the game. Why do we need to promote fighting in any sport?"
fredBBigg: "How many fights was Gretzky in? Any? Why was that? Was it because he had goons protecting him? No. It was because every guy in the league knew he was their meal ticket and left him alone. That proves that violence isn't necessary, that players can restrain themselves, hockey can be a game of skill, and people will come to watch skilled players."
bigblue212542: "He's not trying to promote fighting as much as he seems concerned that there is no accountability for cheap shots anymore. Fighting might not be ideal for the future of hockey, but it kept goons from potentially knocking stars out for a period of time - or at least having to answer for it when they did."

Join more fan posts. Or respond by signing in or creating a profile, and start blogging.
---
A change for the better?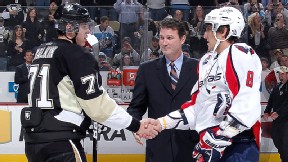 Hockey is evolving and the speedy skaters with abundant skill are pushing out the intimidating enforcers with fists clenched. Is this a good thing?

---
Last of the breed?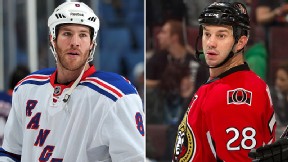 Brandon Prust and Zenon Konopka are tied with 11 fighting majors each which leads the league. Does that make either the best enforcer in the game?

---
More fights means less punishment?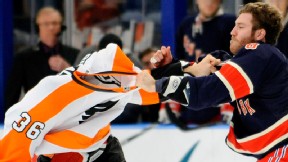 The NHL has been busy lately handing out suspensions for cheap shots. Burke believes making players back up their actions would cut down on punishable acts.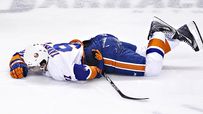 This is not the Atlanta Flames moving to Calgary, the Atlanta Thrashers moving to Winnipeg or any other team fleeing from Georgia. Only five franchises own more Stanley Cup titles than the New York Islanders, who won their four with Nassau Coliseum as home port. But after area voters rejected a plan to borrow $400 million for a new arena, the future of the franchise beyond its current lease, set to expire in 2015, appears to be in doubt.
"What we need is a national law or constitutional amendment that no state or local government can spend any money in the construction of sports facilities for use by private organizations (you could still build a high school gym). Let the owners build their own arenas." -- SN commenter Goudney district
"It's not just the Islanders that use the arena. Major concerts (and minor ones), the circus, Disney on Ice, etc. ... I've been to countless Islanders games, but also Billy Joel, Bruce Springsteen and other major events. I've been to the Wiggles (hey, the kids love it), car shows and NCAA basketball for the opening weekend. ... [Owner Charles] Wang wouldn't be the only person using the arena and it's important to know that since there are over 2 million people living on Long Island, having a place like this is important." -- SN commenter 96Orange
---
Do the Islanders need a new place?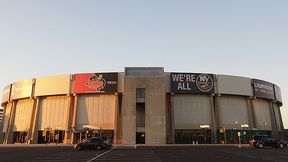 Nassau Coliseum has been the Islanders' home since both came to be. Bruce Springsteen, David Bowie and Julius Erving all starred there. In other words, it's kind of old. But is a new home crucial?

---
Would you open your wallet?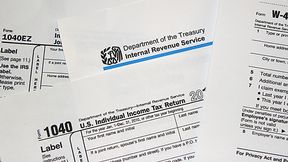 Taxpayers on Long Island weren't eager to add to their own burden. If it was your team's future in peril, what would you mark on the ballot?

---
Dark day for the NHL?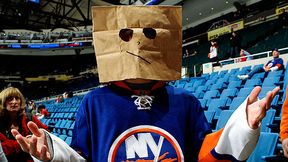 Is Long Island a lost market, or would losing the home of Mike Bossy, Denis Potvin and more be a major hit for professional hockey?

We can understand if you don't want to take the time to grade your tech-support help on the other end of the telephone, but when we're talking about the dollars and emotion you've invested in sports, we think it's worth the effort. It's time for ESPN The Magazine's Ultimate Standings, in which SportsNation grades organizations on everything from ticket prices and stadium experience to the talent on the field, court or rink. Which team will end up on top this year? It depends on what you say.
Take part in the 2011 MLB survey
2010 MLB Ultimate Standings
1. Los Angeles Angels (Overall: No. 3)
2. Tampa Bay Rays (Overall: No. 6)
3. Colorado Rockies (Overall: No. 13)
4. Minnesota Twins (Overall: No. 14)
5. Atlanta Braves (Overall: No. 15)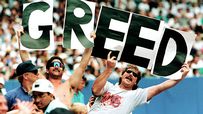 Take part in the 2011 NFL survey
2010 NFL Ultimate Standings
1. New Orleans Saints (Overall: No. 1)
2. Indianapolis Colts (Overall: No. 4)
3. Green Bay Packers (Overall: No. 9)
4. Arizona Cardinals (Overall: No. 19)
5. Baltimore Ravens (Overall: No. 20)
Take part in the 2011 NBA survey
2010 NBA Ultimate Standings
1. Orlando Magic (Overall: No. 2)
2. San Antonio Spurs (Overall: No. 7)
3. Cleveland Cavaliers (Overall: No. 10)
4. Dallas Mavericks (Overall: No. 24)
5. Oklahoma City Thunder (Overall: No. 25)
Take part in the 2011 NHL survey
2010 NHL Ultimate Standings
1. Pittsburgh Penguins (Overall: No. 5)
2. Detroit Red Wings (Overall: No. 8)
3. Washington Capitals (Overall: No. 11)
4. San Jose Sharks (Overall: No. 12)
5. Chicago Blackhawks (Overall: No. 16)