SportsNation Blog Archives

Ken Griffey Jr.
It's a testament to Ken Griffey Jr.'s immense talent that, as his career ends, fans look at his 630 home runs and 10 Gold Gloves and ask "What If?"
What if, for instance, Griffey had stayed in Seattle, where his career began in a dramatic fashion and continued in a record-breaking one. What if he'd stayed entirely healthy, averaging more than 99 games per year during his 30s? What if he'd hit more than 192 home runs over his last ten years? What if, what if, what if. Let's at very least appreciate the man for what he was: one of the greatest-hitting center fielders who ever lived, a player who was, at his best, pure energy on the field. That he retires quietly, a shell of the player he once was, is no shame. At his Hall of Fame induction five years hence, all we'll remember are the good times.
"

I was there for his first game in Seattle. Even then you had a sense he was going to be great. Thanks for all the memories and making things right by finishing your career with the Mariners.

"

-- triple_double_32
"

Thanks for the memories griffey.. He was the reason why i even liked baseball as a kid. The best pure swing ever, always the nicest person, and actual role model to a child.... HOF 1st ballot. Wish you could of played for the pin stripes.

"

-- casperusmc999
"

Not many class ac t guys like Griffey come around in a lifetime. He played the game exactly the way it should be played, with integrity and class. Thanks for the memories Junior !

"

-- sdchargersguy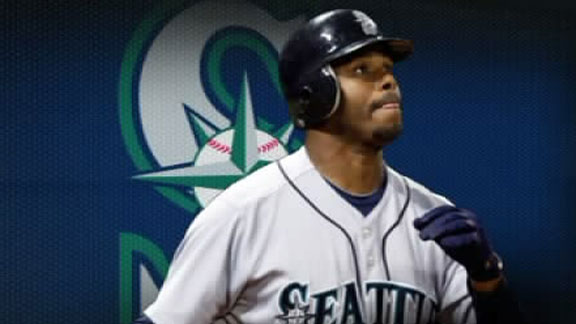 The Mariners went silent after Tuesday's game in Baltimore, ironically escalating how much the rest of us discuss precisely what they're mad about in the first place. Many players refused to speak to Tacoma News Tribune reporter Larry LaRue after he wrote the story, as told to him and confirmed by anonymous players, about Ken Griffey Jr. sleeping through a pinch-hitting opportunity. Luckily, the players wised up and spoke after Wednesday's loss ... oh wait, no, they still wouldn't talk. Counterproductive, much?
"So, the M's won't speak when the reporter is in the room? Probably because they don't want to have to answer his questions with lies. Also, boycotting this reporter hurts the fans, because we want to know the truth, and we want to have the players address the media. The way the team is handling this issue will drive fans farther away. Someone like Lee should have just said, I won't address that particular issue, but let's talk about my pitching performance and the team's performance. The more they deny, and keep the issue going, the more defensive they appear." -- SportsNation commenter coreyshank72
Of course, what probably has front office folks in Seattle sleepless is Griffey's anemic batting average and nonexistent power numbers. The problem is how do you gracefully kick him to the curb, even if you want to? Not only is Junior a Seattle icon, he might be one of the best outfielders ever to play the game. Rank 'Em.
Mike (Ohio)
So, was the biggest crime Griffey sleeping during the game or the 2 anonymous players going outside the clubhouse to the press?
Joe Morgan
That is a great fan question. For me, it's the two guys going outside the clubhouse. If you have something to say, say it to the guy you're talking about. Or, if you feel like you have to go to the newspaper, at least be man enough to put your name on it. But that clubhouse in Seattle has been in disarray for the last couple of years. Full transcript
Mike (Ohio)
Hi Jerry, a question I posed to Joe Morgan earlier: Was the biggest crime Griffey sleeping during the game or the 2 anonymous teammates who went outside the clubhouse to the press? Thanks
Jerry Crasnick
Mike, Obviously, it makes Griffey look bad, but this wouldn't be nearly as big an issue if the Mariners weren't so anemic offensively. As for the two anonymous teammates, I get the impression that they were just confiding in the reporter and didn't realize the story would blow up the way it did. For what it's worth, Larry LaRue, the guy who reported the story, has been around a long time and is well-respected in the industry. He's not a guy who would just invent something to stir the pot and cause problems. Full transcript
Mayor of Seattle? Governor of Washington? Overlord of Microsoft? Ken Griffey Jr. probably could have named his next gig in the Evergreen State during the height of the lovefest that accompanied his return to the Mariners last season. But missing a pinch-hitting call because of a clubhouse nap is a gaffe on part with some of the more memorable political campaign flubs -- from Michael Dukakis in a tank to the first George Bush and the grocery scanner.
So is it time for Griffey, hitting .208 this season, to take his 630 career home runs and ride off toward Cooperstown? SportsNation commenters are of different minds.
Update: Mariners' manager Don Wakamatsu now denies the claim that Griffey was snoozing in the clubhouse.
"If I were a 40 year old ball player who's main role was DH and Pinch Hitting i'd get drowsy to. I grew up a Griffey fan and have an autographer Mariners jersey of his (yes he AND his father signed it) hanging up in my man cave but watching him fade away like this sucks. Still love the guy regradless of how terrible he now is but it's time to say goodnight Kid. We've enjoyed watching you play for 20+ year and even through the forgettable Cincy years we still love you. Hang them up, go home and get some rest." -- cravenfrost01
"These stories span Griffey's entire career. He's always been an insomniac. Don Wakamatsu has talked about these issues very seriously. Lou Piniella has told stories of Jr. waking from a catnap, picking up a bat and hitting a homerun. The man is a living legend, and this story only adds to the lore of the greatest player from this past generation." -- johnnykilroy30
The Common Man (Underground Bunker)
So is this it for Junior Griffey? An ignominious end, to be sure.
Rob Neyer
You know what would be a "fun" project? Making a list of the greatest players, then rating (or ranking) their career endings. Right now I have to think Junior's would rate pretty low (even with style points for finishing with M's). Full transcript
"

Good thing they are counting on his leadership to right Bradley's ship. Junior should have retired after 600, IMO.

"

-- Fat_Pigs
"

All of the Griffey bashers can take a hike. KGJr is one of the greatest of all time. He's on a last place team that is going nowhere fast. I do agree, if he is having problems at home, he needs to hang it up and deal with it. His status and legacy is already cemented in the HOF.

"

-- japetus
Between absurdly prescient home run predictions and a dominant stretch run from Felix Hernandez, the Mariners did something rarely seen since the days of John Olerud and Kazuhiro Sasaki -- they made September interesting. That carried into October, with fans at Safeco Field saying farewell to Ken Griffey Jr. Sunday for potentially the final time.
Junior sounds like he wants to come back, and the fans in attendance made their feelings clear about the same, but he's also a 39-year-old DH with a bad knee who slugged .411 this season. If Sunday was it, Griffey's next stop would be Cooperstown. And with 630 home runs and a clean reputation, does he deserve to break Tom Seaver's record (98.84 percent) and become the first unanimous Hall of Fame selection?
SportsNation is pretty definitive that a lot of players with big numbers won't be making induction speeches in Cooperstown. But as more and more names are crossed off the list due to performance-enhancing drugs, will the plaque-making industry go under entirely?
It appears fans tired of disappointment are turning to Ken Griffey Jr. as a beacon of legitimacy. Among the four active players who either have 500 career home runs or are within striking distance, Griffey is the only player with anything close to unanimous support for the Hall of Fame.
SportsNation's Hall of Fame Approval Ratings
Ken Griffey Jr.: 97 percent
Jim Thome: 64 percent
Gary Sheffield: 50 percent
Carlos Delgado: 50 percent (if he reaches 500 home runs)
And what about Ivan Rodriguez, who Wednesday night set a record for career games caught? A guy with double-digit totals in Gold Gloves and All-Star appearances, Pudge has the support of a healthy -- but far from unanimous -- 67 percent of SportsNation.
"

if Pudge is the greatest catcher of all time I guess we have to say Bonds and Clemens are the gretest at their positions.

"

-- fmc132
"

Pudge is not only the greatest Pudge of all time, but the greatest catcher of all time as well. The fact that there are no substantial accusations, or even anecdotal evidence, linking him to steroids makes him all the more impressive. Congrats, Pudge Rodriguez, on a great achievement.

"

-- LL316