SportsNation Blog Archives

Kyle Lowry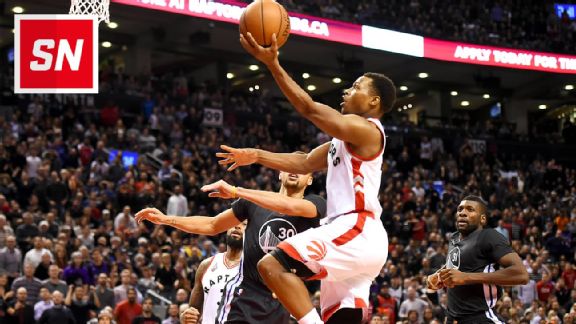 Dan Hamilton/USA TODAY Sports
NBA All-Star voting ends Monday night, and, as of the last round of results, Toronto Raptors guard Kyle Lowry trailed Cleveland Cavaliers guard Kyrie Irving by 32,285 for the second starting spot among Eastern Conference guards.
In the five days since that update was sent, every team in the league has made a push for its players, but there was no indication of a big move in either direction for Lowry or Irving.
Enter Lewis Hilsenteger.
The creator of the online show "Unbox Therapy" sent out this tweet on Sunday to help Lowry's All-Star bid:
Giving this iPhone to someone who helps vote @Klow7 onto NBA All Star Team - Just RT this tweet! #NBAVote RT RT RT! pic.twitter.com/jZDddCiCFS

— Lewis (@UnboxTherapy) January 18, 2016
As of 5 p.m. ET on Monday, that tweet had more than 33,000 retweets, each of which could count as a vote, since the tweet contained Lowry's @Klow7 Twitter handle and the #NBAvote hashtag.
But there was one problem: The tweet was the second Hilsenteger sent in support of Lowry that day, meaning it's possible those retweets were for naught. He realized his mistake Monday, and raised the stakes.
Apparently my tweet yesterday for @Klow7 may not be valid since it was 2nd tweet of the day on my acct. That's 33K votes that may not count!

— Lewis (@UnboxTherapy) January 18, 2016
Stakes = Raised. Giving away 3 iPhones! Vote @Klow7 for All Star. RT to cast your vote & enter! #NBAVote @Raptors pic.twitter.com/w0lP0lHKSS

— Lewis (@UnboxTherapy) January 18, 2016
In the first seven minutes the new tweet was up, it got more than 8,000 retweets, possibly enough to make Lowry a starter for the second straight season.
Last year, Lowry was voted in by the fans, thanks in large part to a tweet from Justin Bieber that got more than 50,000 retweets. This year, however, Bieber put his Belieber Army to work for Chris Paul, much to the ire of his native Canadian fan base.
Everyone RT this to get my man Chris Paul @cp3 into the All-Star game. #NBAVote @CP3

— Justin Bieber (@justinbieber) January 8, 2016
I got u bro. Best guy right here. Chris Paul. @CP3 #NBAVote

— Justin Bieber (@justinbieber) January 8, 2016
With the All-Star Game in Toronto, there's been even more of a push from Canada to get Lowry the start in his home city. Toronto city councilor Norm Kelly tweeted multiple times Monday, racking up more than 6,000 retweets, and Toronto mayor John Tory tweeted Sunday, garnering another 2,800-plus.
Meanwhile, Irving's only notable tweet on the final weekend of voting came, unsurprisingly, from teammate LeBron James, who secured Irving another 6,000-plus votes.
January 17, 2016
Whether that will be enough for Irving to make his second career All-Star Game start remains to be seen. NBA All-Star starters will be announced Thursday night before the Los Angeles Clippers visit Cleveland to face the Cavaliers. The 2016 NBA All-Star Game will be played Feb. 14 at Toronto's Air Canada Centre.