SportsNation Blog Archives

New York Yankees
September 28, 2014
Sep
28
Of all the tributes to Derek Jeter from fans, fellow athletes, celebrities and, really, everyone, this -- from Ashley Kelly, wife of Boston Red Sox pitcher Joe Kelly -- might be the best:
When I was 12, I thought I would marry Jeter. Instead I married the guy that took a selfie w/ him during his ceremony pic.twitter.com/3BrkWBQHgy

— Ashley Kelly (@ashleynicokelly) September 28, 2014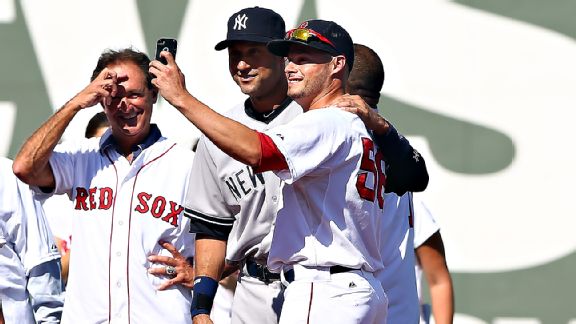 Elsa/Getty ImagesTake a guess as to which one is Derek Jeter.
So there you have it. This post goes out not only to Jeter, but to all the ladies who have had to settle for us non-Jeters. Our condolences.
Meanwhile, here is Kelly's selfie. Sorry, his #2ELFIE.
#RE2PECT #2ELFIE pic.twitter.com/s5ZfaVYSLf

— Joseph Kelly Jr. (@JosephKellyJr) September 29, 2014
H/T Bleacher Report
The horse head mask has been weirding out the Internet for over a decade, but its dark powers have not yet been harnessed in the realm of sports -- at least, not until now: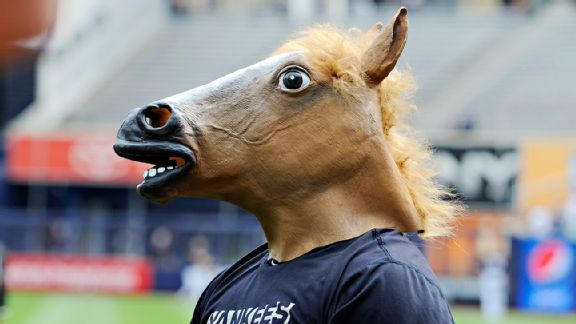 AP Photo/Bill Kostroun
That's Yankees pitcher Shawn Kelley during warm-ups on Saturday, wearing the horse head mask in an attempt to inspire his team. It's even worked, sort of. The Yankees are 5-0 since Kelley started wearing the mask, and though we recognize the volatility of small sample sizes, we really don't want to anger the horse.
"You can't help but laugh at a guy in a horse head," Yankees catcher Brian McCann told Yahoo! Sports, but we beg to differ. You can look at a guy in a horse head and cry. You can look at a guy in a horse head and shudder. You can look at a guy in a horse head and feel terror.