SportsNation Blog Archives

Sage Rosenfels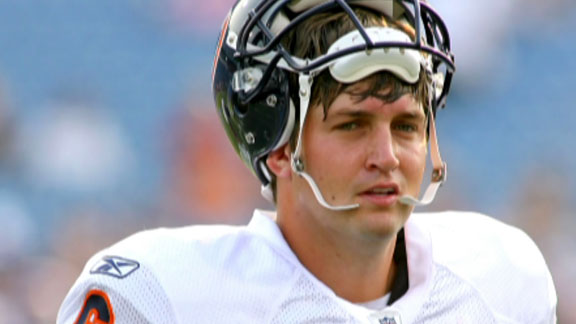 The NFL preseason isn't exactly the height of excitement. But when fewer than one out of five voters claim they don't watch any of it, and 40 percent of SportsNation is more interested in it than baseball's pennant races, well, it's difficult to ignore. At least the first full weekend of games offered some quarterback debuts to make way too much out of.
The Good: Mark Sanchez didn't get the start in the Jets' first preseason game, but he wasted little time completing a 48-yard pass when he did get on the field and will start the team's next game. Matthew Stafford survived his first game behind the Lions' line and even threw a touchdown pass (we grade on a curve when it comes to the Lions).
The Bad: Josh Freeman's numbers suggest he'll miss seeing Iowa State on the schedule, although Byron Leftwich wasn't any more prolific for the Bucs.
The Ugly: It's never good when the savior is cautioning people not to panic, as Jay Cutler had to after throwing a pick on an unmemorable day against the Bills (some would say it's also not good when Trent Edwards shows you up).
"

I actually think both Sanchez and Stafford will do well this year. They both seem to have "moxy", and are not afraid to try and fail.

"

-- teamjordan_2345
"

Childress im thinking you need some thicker glasses. Jackson once again looked right into the headlights and froze just like those northern deer. The guy you traded for shined with a hurt ankle. Keeping what performance in perspective. Jackson is not an NFL QB. The only reason this guy had any solid perfomances is because he was facing 8 and 9 man fronts to stop AP.

"

-- vikings42011