SportsNation Blog Archives

Matt Cassel
When you've got a good quarterback, you've got a chance to win in the NFL. When you don't, you change starters. Maybe you sign a free agent off the street as insurance. And maybe you take inspiration from Batman and illuminate the night sky with the Brett signal -- as in Brett Favre -- like the Rams reportedly did.
Now, don't expect live reports from Hattiesburg, Miss., as Favre says he's retired. For good. Really. But it makes us wonder how confident the Rams are in backup Kellen Clemens replacing the injured Sam Bradford. The Rams aren't alone in this boat -- not when the Browns are about to trot out their third starting QB of the season and the Vikings are choosing between Josh Freeman and Christian Ponder.
---
Meet Me In St. Louis?
Brett Favre gained a reputation for wavering on retirement, but he was firm Thursday that his career is over.

---
Is that Brett Favre's music?
The Rams reportedly reached out to Favre despite the fact it's been nearly three years since he has played in an NFL game.

---
Valhalla I am coming
Matt Cassel, center, quarterbacked the Vikings' only win of the season. But Christian Ponder, right, is set to start if Josh Freeman can't.

---
Opportunity knocks
Jason Campbell was passed over the first time the Browns changed quarterbacks. He'll get his chance Sunday against the Chiefs.

---
Hard times
Campbell is replacing Brandon Weeden, who has struggled mightily this season in Cleveland.

Tags:

Cleveland Browns, St. Louis Rams, Minnesota Vikings, Christian Ponder, Matt Cassel, Josh Freeman, Jason Campbell, Brandon Weeden, Sam Bradford
September 27, 2013
Sep
27
Cassel to start for Vikings
Matt Cassel will get another chance to recreate his success filling in for Tom Brady in 2008, as the Vikings will start him on Sunday against the Steelers. Christian Ponder's injury is too serious for him to start, but missing this game could be risky for him. Ponder hasn't played well this season, and if Cassel provides stability at the position, he could do to Ponder what Lou Gehrig did to Wally Pipp. But, you know, with much less historical significance.
It's no surprise that the Chiefs released Matt Cassel after acquiring Alex Smith, but the move brings up all sorts of questions about Cassel's future. He excelled in his one season as the Patriots' starter, but struggled to reach those same heights during his time in Kansas City. Will he ever be a team's primary starter again?

jessepinkman_walterwhite: "Good riddance. I hated the big contract as soon as they gave it to him."
KCAC_slaterd: "The day has finally come! I applaud his effort, as do most Chiefs fans, but he couldn't get it done."
LuccadiPonza: "He had a terrible coach,. he did very well in NE, and under Healey. Cassell can;t carry a team, few can, but he can function under a good system."
RH936: "Life after new england is not sweet see josh McDaniel, Laurence mauroney, ben jarvis-green ellis, deion branch,randy moss and ocho. Adam Viniteri maybe. Oh dont forget weis and crennel."
AI2077: "Good call Andy,,,,,So far your making the moves to be a much better football team. Nice to see you having Passion for the game again."
grillo88: "The Matt Cassel era is officially over. The Alex Smith era begins. The Bad Re-tread QB era continues."

Join the conversation or respond by signing in or creating a profile and blogging.
It's always easier to solve a problem if you start with what you know. And we know Adrian McPherson and Stefan LeFors are not the best quarterbacks selected in the 2005 draft. They may be better options at the position than JaMarcus Russell, but that's an entirely different problem.
Alex Smith's return to the starting lineup, on the heels of a quality relief appearance against the Texans, brings the class of 2005 back into focus. From surprise MVP candidates (Kyle Orton), big-money acquisitions (Matt Cassel) and the guy who pushed Brett Favre out of Green Bay (Aaron Rodgers) to a couple of guys fighting for starting snaps (Derek Anderson and Jason Campbell), it's not quite the class of 1983 but it's an interesting bunch.
After Smith lost out to Shaun Hill in the preseason, only 19 percent of SportsNation thought he would ever be a full-time NFL starter.
Sam (San Francisco, CA)
Thoughts on Alex Smith being named the Niners starter?
Gary Horton

I was really happy yesterday to see Smith get another chance. I really like him. Not only as a player, but people around him think highly of him and how he's handled the situation. The 49ers are last in the NFL for throwing to their WRs. For the most part, this passing game has been to RBs and TEs. That makes it easy to defend. Smith has the bigger arm than Shaun Hill. They now have Crabtree on the perimeter and they have the ability to really stretch the defense with Smith's arm strength and that opens up the run game. He's had a lot of time to study defenses and work on his weaknesses and I would like to think that this is not only a real positive for Smith but that it really opens up the 49ers offense. Full transcript.
Tags:

San Francisco 49ers, Alex Smith, Jason Campbell, Matt Cassel, Dan Orlovsky, Aaron Rodgers, Kyle Orton, Derek Anderson, Ryan Fitzpatrick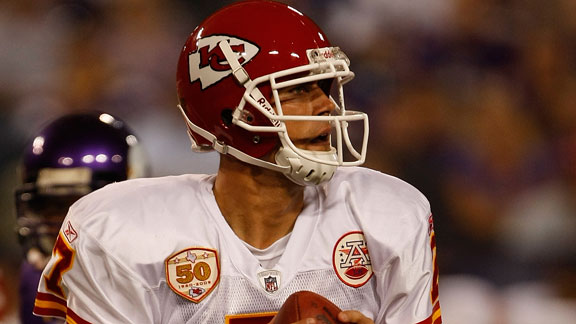 Kansas City fans weary of watching the likes of Steve Bono, Damon Huard or Tyler Thigpen take snaps at quarterback might have hoped the Chiefs had the next Tom Brady on their hands when they traded for Matt Cassel after last season. Odds are Cassel isn't quite the Tom Terrific impersonator Chiefs fans had in mind.
A year after Brady's injury in Week 1 opened the door for Cassel's emergence in New England, it's the latter who will reportedly miss at least the Chiefs' opener with a strained MCL.
That optimism aside, "Football Scientist" KC Joyner sounded the warning bell more than a month ago, when Cassel was healthy, about limitations of the Chiefs' new quarterback.
KC Chuck (Utah)
Do the Chiefs even have a chance to be somewhat better this year? Though ... could it get any worse?
KC Joyner

They have a collection of really talented young players, so getting better is almost a certainty. One issue could be at QB. Cassel was quite mediocre at vertical passing last year, and now he doesn't have Moss to throw to. If he can't turn that around, it will hinder this [offense] and make Chiefs fans question why Kansas City didn't stick with Tyler Thigpen. Full July 23 wrap.
Not that Cassel's old team is without its own quarterback issue. Brady went down hard after a hit from Albert Haynesworth on Friday night (in a preseason collision of contracts worth roughly the gross domestic product of Kiribati). More than half of SportsNation still expects Brady to start every game this season, and he better. Only extended members of the Walter family and a few others think the Patriots could make the playoffs with Andrew Walter at quarterback.
"

What are the Pats doing? They really think that if Brady where to get hurt again they will be able to match last season's record of 11-5 with Hoyer or Walter as the main QB? They are really brave or really sure that Brady will remain fine all year.

"

-- wsopstud
Tags:

Kansas City Chiefs, New England Patriots, Matt Cassel, Tom Brady, Andrew Walter, Tyler Thigpen, Brodie Croyle